Author Archives: Allan
As Angelina mentioned in her ode to Yotam Ottolenghi, there are several cookbook authors whose new works always have a reserved place on our shelves. Naomi Duguid is one of those authors. Her books are always gorgeous, her prose is eloquent without being too dense or wordy, and her topics are always fascinating. Duguid's works are one part travel guide, one part traditional cookbook. We have explored the Indian subcontinent with her in Mangoes & Curry Leaves, probed the lesser known provinces of China in Beyond the Great Wall, and delved into Southeast Asia in Hot Sour Salty Sweet.
Her newest work, Burma: Rivers of Flavor, continues where Hot Sour Salty Sweet leaves off, pulling back the curtain on an isolated country with a rich culinary tradition. Burmese cuisine has been described as a blend of Indian, Chinese, and Thai, but it has a distinctive style all to itself. Shallots, shrimp (fresh and dried), and small salads are all common. There is a heavy focus on fresh ingredients, but many of the recipes are perfumed with warm, sweet spices like cassia, cloves, nutmeg, and star anise. Burma is also a cuisine that favors a heavy dose of heat, and gets this from India red chile flakes, Japones, Indian cayenne, Tellicherry black pepper, and Szechuan peppercorns.
I had the opportunity to see Naomi Duguid speak last year at the Book Larder in Fremont. We all learned about the foods of Burma, from mohinga (a fish stew with rice noodles that is often eaten at breakfast) to laphet thoke (a fermented tea-leaf salad that's considered Burma's national dish), as the staff prepared several recipes from the book. However delicious the food was though, the most impactful moments came when Duguid discussed the changes she had seen in Burma through the years. She was repeatedly moved to tears as she spoke about Burma's transition away from the rigid military dictatorship that has been in power since 1962 and the recent thawing of relations between Burma and the U.S. Naomi's care shines through in Burma's beautiful photographs and warm paragraphs.
My first taste of romesco was not, sadly, in Catalonia. I first encountered this crimson sauce in Walla Walla, Washington at a going away party for a dear foodie friend. I prepped ribs, halibut, and vegetables while my compatriot raced around the kitchen preparing "the sauce". He toasted almonds, blistered heirloom tomatoes, roasted peppers and garlic, and (after several stops in the Cuisinart) it came out like ruby velvet. We served it with the halibut, where the rich sauce found its perfect match in the clean taste of the firm white fish.
That meal was my inspiration for this recipe. I'm embarrassed to admit it, but Seattle is my first city. I grew up in northeast Wisconsin, deep in the Northwoods, on the banks of the Wolf River. My home lies on Rocky Rips Road, a dead end named for the Class II whitewater that flows not 50 feet from my back porch.  The rushing water was my lullaby as an infant, my playground as a child, and when I found my love for food the river continued to provide. Smallmouth bass hid out in the deep holes at the bottoms of rapids. I pulled gallons of crayfish out of the water with a pair of diving goggles and my bare hands (they're amazing boiled like lobster and served over linguine with a spicy sauce of diced tomatoes, lemon, chiles, and heaps of garlic). My favorite, though, was the trout. It's delicious, simple to prepare, and environmentally sustainable. You can pick up Idaho-farmed rainbow trout at many grocery stores for $5-$6/lb and they only take a few minutes to prepare. We grilled ours and served it with our very own romesco. We bumped up the sauce's heat by adding some Pimenton Picante, spicy Spanish smoked paprika, while reducing the prep time by using jarred peppers and canned tomatoes. You wind up with a dish that's impressive enough for date night and simple enough for any week night. It even gets Delilah's paw of approval!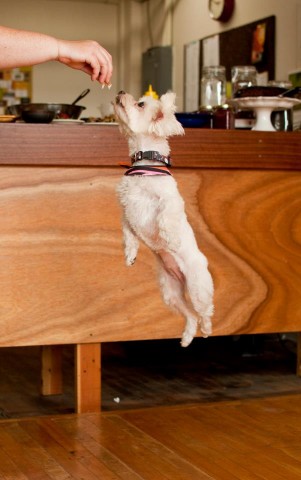 Spicy Smoked Paprika Romesco Over Grilled Trout
Ingredients
6 oz. roasted Marcona almonds (or substitute any roasted, skinned almond)
4 cloves fresh garlic
14.5 oz. can fire-roasted tomatoes (or roast your own in the oven)
12 oz. jar roasted red peppers (Spanish piquillos peppers if you can find them!)
3 Tbl. red wine vinegar (or sherry vinegar, which would be more traditional)
7 Tbl. extra virgin olive oil
Instructions
Put almonds in a food processor and process for about 2 minutes.
Add tomatoes and roasted peppers and process for another 2 minutes.
Then add vinegar, salt, Pimenton, olive oil, and lemon, processing until smooth.
Taste and adjust salt and vinegar if needed.
Serve immediately or refrigerate in a covered container.
http://www.silkroaddiary.com/spicy-smoked-paprika-romesco-over-grilled-trout/
World Spice Merchants http://www.worldspice.com
Fresh pineapple tastes of a wild summer, its tropical sweetness tempered by raucous acidity. Unfortunately, it can be difficult to find a ripe one and some folks can be overwhelmed by the tartness. My favorite way to tame pineapple is to cook it slowly until the pale yellow becomes a rich gold and the sugars take center stage, as in this grilled salsa. Make sure to place your pineapple slices away from the hottest parts of the grill; caramelized pineapple requires time (20-30 minutes) and indirect heat. Our Caribbean Spice, with the richness of allspice berries, is the perfect blend for this salsa. A bit of extra cumin adds an intense savory note that's perfect for grilling. While I broke everything down in a food processor for the smoother texture and ease of preparation, fans of chunky salsa can chop everything together by hand. The smoky flavor from the grill counterpoints the sweetness of the pineapple and tomato perfectly, leaving you with a well balanced and delicious side for tortilla or plantain chips, chicken, and fish.
Caribbean Spice Grilled Salsa
Ingredients
1 lb. ripe pineapple, peeled, sliced and cored (you can also use ripe mango or papaya, too)
1 medium red onion, peeled and sliced thick
4 roma tomatoes, halved
5 cloves garlic, peeled
2 oz. ginger, peeled and sliced (about a 2-3 inch piece)
1/2 large orange, juiced
2 lemons, juiced
1 lime, juiced
1/3 cup cilantro, chopped
1 tsp. honey
(optional) 2 Tbl. beer, rum or tequila
Instructions
Lightly oil the pineapple, tomato and onion, so that they won't stick to the hot grill (or grill pan). Place on the grill and cook on both sides, until almost done. (You mostly want to get good grill marks on them - that's flavor! You can also grill your citrus, too. It will make them easier to juice, and give you a little more flavor, but you might want to let them cool before you juice them.) After you take them off the grill, cut them into smaller pieces for the food processor.
In a food processor, add the garlic and ginger and process. (This will just break them down a little bit.) Now put in the rest of the ingredients the food processor and puree. Taste for seasoning - you might want to add more salt, lime juice or Caribbean Spice, depending on your taste. Depending on how sweet your fruit is, you might want to add more honey, too.
This is a great topping for grilled meats or fish, but is also just as good with chips.
http://www.silkroaddiary.com/caribbean-spice-grilled-salsa/
World Spice Merchants http://www.worldspice.com
Categories:

BBQ, Caribbean, Fruits of the Sea, Global Cuisines, Latin America, Recipes
Tags:

Appetizer, BBQ, Caribbean Spice, Cumin, Easy, Fruit, Grill, Healthy, Salsa, Seafood, Side-dish, Vegan
Leave a comment