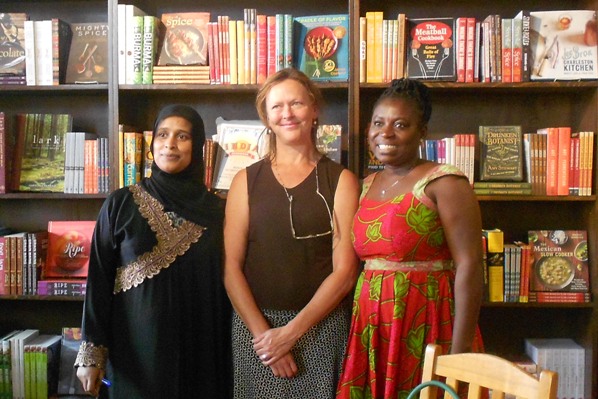 This month, World Spice Merchants was happy to host Georgina Koomsen from Ghana and Nefisa Siraj from Ethiopia. Participants in the African Women's Entrepreneurship Program, sponsored by the U.S. Department of State, both women work in the spice industry in their home countries and visited Seattle looking to connect with their peers in the United States. Lucky for us, our own Amanda Bevill was on their list.
As business leaders in their respective countries, Georgina and Nefisa are both pursuing fair trade and organic production practices. In September 2006, Georgina was the first woman and the first African ever awarded the 'Spirit of Organic' Award, by the International Federation of Organic Agriculture Movements in recognition of being the most progressive organic-producing co-operative having overcome huge odds.
Are these women representative of the type of farmer co-operatives with which we'd like to partner? You bet. Ghana happens to be the world's largest supplier of grains of paradise, a perennial herb belonging to the same family as ginger and turmeric. Georgina's farm grows many acres this exotic and expensive spice, and we are hoping to get just a modest quantity of that deliciousness to supply customer demand and to satisfy our own desire for Grains of Paradise Peanut Soup.
This last photo shows a sampling of their wares including from left to right, dried turmeric root, nigella seed, mixed sesame seed, coriander, white sesame seed, and dried ginger root. We're currently taste testing these and other samples provided against our current stock, and if they are superior we will be placing our first order. Either way, it was a delight to discuss trade with these two visionaries.
Is there a spice or blend that you would like to see added to our inventory? If so, please put in a comment below, and we'll investigate adding it to our shelves.