Bejeweled Spice Cake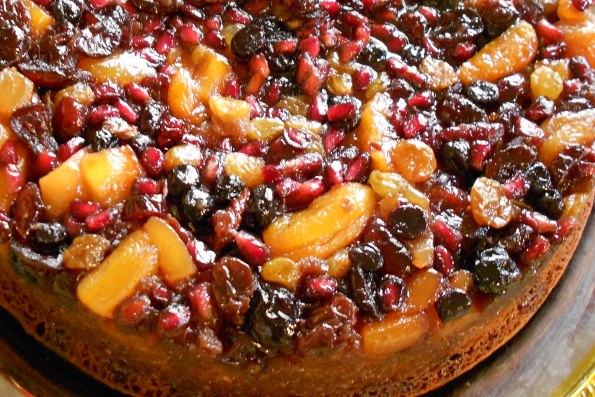 The holy trinity of baking spices: ginger, cassia-cinnamon and allspice combine in this traditional medieval spice blend called Poudre Douce. It makes this upside-down fruit cake an essential for the winter holidays — and it's a table-top stunner, too! We made a festive selection of dried fruits over the classic pineapple to allow the spices to shine through. Less sweet than those pineapple upside-down cakes of our childhoods, we like this cake at brunch as well as for dessert!
Ingredients
Topping:
2 cups mixed dried fruit
1/4 cup fresh pomegranate seeds
boiling water
2 tablespoons butter
1/3 cup dark brown sugar
Cake:
1-3/4 cups all-purpose flour
2 tablespoons Poudre Douce (see below)
3/4 teaspoon baking powder
1/2 teaspoon baking soda
1/2 teaspoon kosher salt
1/2 cup almond flour
10 tablespoons unsalted butter, softened
2/3 cup dark brown sugar, packed
1/2 cup honey
3 large eggs
1 teaspoon vanilla extract
Poudre Douce
Instructions
Preheat oven to 350 degrees.
Put the dried fruit into a small bowl and cover with boiling water. After 10 minutes, drain and set the rehydrated fruit aside.
To make Poudre Douce: Combine all into a small bowl and mix well. Store extra in a jar.
Put the 2 tablespoons of butter into a 10 inch round cake pan and put it into the oven to melt. Remove from oven and swirl the melted butter around, coating bottom and sides evenly. Sprinkle the 1/3 cup brown sugar onto the bottom of the pan and spread around evenly. Set aside.
Sift the flour, spices, baking soda, and baking powder into a bowl. Whisk in the almond flour and salt, and set aside.
Beat the softened butter, brown sugar and honey until creamy and a light color (about 3 minutes). Beat in the eggs, one at a time, then the vanilla extract.
Add the dry ingredients and mix until smooth. Put the drained, rehydrated fruit in the cake pan, patting down to make sure every inch is packed with fruit. Pour the cake batter on top of the fruit and smooth out.
Bake for about 40 minutes (or until a cake tester inserted in the middle of the cake comes out clean). Cool the cake in the pan on a rack for about 15 minutes. Run a knife around the sides of the pan (to make sure the cake is loosened), then invert cake onto a plate.
© 2023 World Spice Merchants https://www.worldspice.com