Hot Topics
Two great things come together in the Seattle Spice Shop Mysteries– a great mystery story and some great recipes! Inspired in turn by the Pike Place Market food scene and all the spice therein, Montana author Leslie Budewitz has created a feast for the senses.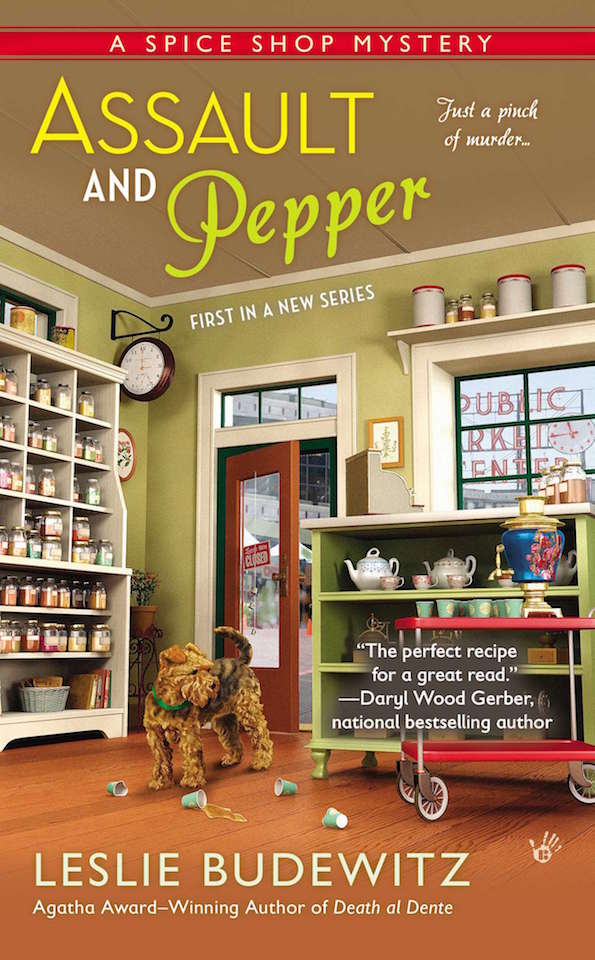 Leslie was good enough to share a recipe from the first book in this series with us, and it's delicious! Here's what she has to say about it……
"Inspiration for this recipe comes from the potatoes and broccolini in the Market. A hybrid of traditional broccoli and gai lan, also called Chinese broccoli or Chinese kale, broccolini has long, slender stalks with small florets and kale-like leaves, and a peppery taste that holds up well when cooked. If you can't find it, use traditional broccoli or broccoli raab. Traditional broccoli can be hard to find with the stalks intact, but the search is worth the effort. Use a paring knife or vegetable peeler to cut out any knots and peel off the tough skin. Those stalks carry a lot of flavor and vitamins and minerals.
If you don't have a chance to pop into the Spice Shop for Herbes de Provence, make your own with whatever you have on hand.  Herbes de Provence are spectacular sprinkled on sautéed potatoes, rubbed on chicken before grilling, or best of all, in roast chicken and potatoes. Add them to a lamb or a vegetable stew—think eggplant, tomatoes, and zucchini, maybe some cannellini (white beans). Use them to season homemade croutons or tomato sauce.
You can also wrap a teaspoon of Herbes de Provence in cheese cloth and tie with kitchen string to make an herb bouquet, also called a bouquet garni. Drop it into a small jar of olive oil for a few days to make an infusion for salads or sautées.
For this recipe- don't skimp on the Parmesan on top! If you need to cut it because you're watching sodium—Parmesan is naturally low in fat—reduce the amount that goes in the egg mixture. The cheese on top broils to such lovely salty, crunchy perfection—you don't want to miss that!
For dinner, serve with a green salad and crunchy bread, and a white wine—a light non-oaky Chardonnay, a Pinot Grigio, or any white with a clean, crisp touch."
Ingredients
For the Herbes de Provence

2½ tablespoons dried oregano
2½ tablespoons dried thyme
2 tablespoons dried savory
2 tablespoons dried crushed lavender flowers
1 teaspoon dried basil
1 teaspoon dried sage

For the Frittata

8 to 10 small white potatoes (about 10 ounces total), scrubbed and quartered
1 cup vegetable broth
¼ cup olive oil
8 ounces broccolini, trimmed and chopped into ½-inch pieces
1 small red onion, thinly sliced
1 tablespoon Herbes de Provence
8 large eggs
1 cup grated Parmesan cheese
½ teaspoon salt
½ teaspoon freshly ground black pepper
Instructions
For the Herbes de Provence

Mix spices in a small bowl. Store in a jar with a tightly fitting lid. Makes just over half a cup.

For the Frittata

Place the potatoes and broth in a large (10- to 12-inch) ovenproof skillet. On the stove top, bring to a boil and simmer for 10 minutes, turning the potatoes often, until almost all of the stock has been absorbed and the potatoes are tender.
Preheat your broiler. If yours has variable settings, use the high setting and leave the rack in the middle of the oven. If your broiler is not particularly hot, raise the rack.
Add the olive oil, broccolini, onion, and Herbes de Provence to the potatoes in the skillet. Continue cooking on the stove top on medium heat for about 2 minutes, turning frequently, until all the vegetables are coated with oil and herbs. Reduce heat to medium-low and cover the skillet, cooking about 3 minutes, until the broccolini has become mostly tender.
Beat the eggs with half the Parmesan and the salt and pepper. Check the heat in your skillet; you may need to turn it way down to avoid frying the eggs in the next step. Pour the egg mixture over the vegetables. Cover and cook on the stove top over medium-low until the eggs are lightly set, about 10 minutes.
Sprinkle the remaining Parmesan on top and place the pan under the broiler, until the top is bubbly and golden, and the eggs are just set throughout, about 5 minutes.
Let cool slightly before slicing into wedges. These reheat beautifully for breakfast or lunch.
Notes
As with all herb blends, experiment with your own touches. Let your taste be your guide. Other frequent additions: rosemary, sweet marjoram, or fennel seed. (Marjoram and oregano are distinct herbs but closely related and can be substituted for each other in some recipes.) Try a blend with whatever combination of the suggested herbs you have on hand. Then, next summer, grow a pot of lavender on your deck or in a sunny window!
https://www.silkroaddiary.com/seattle-spice-shop-mysteries/
World Spice Merchants https://www.worldspice.com
The stories and recipes just keep coming so connect with Leslie her on her website, http://www.LeslieBudewitz.com, on Facebook, http://www.Facebook.com/LeslieBudewitzAuthor, or on Twitter http://www.Twitter.com/LeslieBudewitz.
Her latest book, Butter off Dead will be hot off the presses July 7th!!!!