Cajun & Creole
Have you ever eaten something so good that it induces a trance? Well, check out our Voodoo Shrimp and Grits. This classic dish features our best-selling spice blend Voodoo, a robust seasoning which includes onion, garlic, whole mustard seeds, thyme and allspice on a base of peppercorns and sea salts. We are excited to share Voodoo Shrimp and Grits just in time for Mardis Gras. French for Fat Tuesday, Mardi Gras refers to the practice of the last night of eating richer, fatty foods before the ritual fasting of the Lenten season. With no shortage of richness, this recipe could be the inspiration for your own Mardi Gras ritual.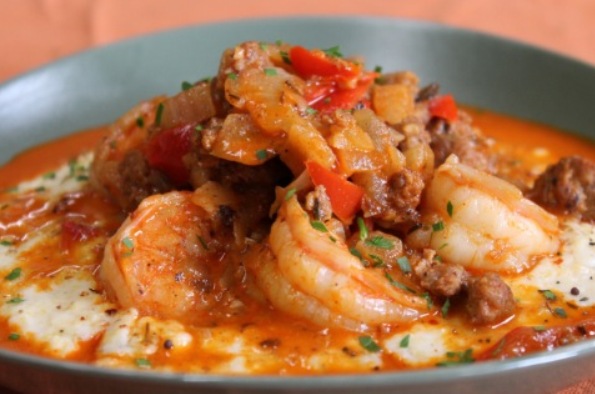 Ingredients
For the Grits

6 cups water
1 teaspoon kosher salt
1 1/2 cups stone ground grits or polenta
3 cups half and half
1 stick butter, cut into pieces
1/4 teaspoon freshly ground Tellicherry black pepper
1/2 teaspoon Voodoo

For the Sauce

2 tablespoons vegetable oil
2 andouille sausages
1 medium sweet onion
1 clove garlic
1 teaspoon dulce pimenton
1/4 teaspoon thyme
1/2 teaspoon Mexican oregano
1 1/2 cups fish stock or shrimp stock made from reserved shells
1/3 cup heavy cream
1 1/2 pounds fresh medium shrimp, peeled and deveined
Voodoo, to taste
Instructions
For the Grits:

Put water in a large pot and bring to a rolling boil. Add salt and slowly sprinkle in grits while stirring with a wooden spoon, then add the half-and-half and return to a simmer.
Cook the grits slowly, over low heat for 30-40 minutes until most of the liquid has been absorbed. Stir in butter, Tellicherry black pepper and Voodoo. Continue to cook grits until they are smooth and creamy.
Hold covered, in a warm spot, while you finish preparing the shrimp and sauce.

For the Sauce:

In a heavy saucepan, heat 1 tablespoon of the oil over medium heat and brown the andouille sausage. Once the sausage begins to brown, about 3-4 minutes, remove from pan and set aside.
Season both sides of the shrimp with a sprinkle of Voodoo and sear over medium high heat for about a minute on each side, working in batches to not crowd the pan. Remove from pan and set aside.
Add the remaining 1 tablespoon of oil to pan. Add cooked sausage onion, pepper, garlic and spices. Sauté for 3 minutes, until the onion is tender and translucent.
Add stock and bring to boil, gently scrape the bottom of the pan to remove any flavorful bits on the bottom of the pan. Reduce heat and slowly add the cream.
Bring up to a simmer and allow to reduce until sauce begins to thicken slightly, about 10 minutes.
Once thickened, add seared shrimp and simmer until the shrimp are just cooked, about 2-3 minutes.
When the sauce is finished, rewarm the grits and serve in a shallow bowl with the sauce spooned over the grits. Finish with Voodoo to taste.
https://www.silkroaddiary.com/mardi-gras-shrimp-and-grits/
World Spice Merchants https://www.worldspice.com
Categories:

Cajun & Creole, Course, Fruits of the Sea, Global Cuisines, Holiday, Hot Topics, Main Meals, Recipes
Tags:

Grits, Mardi Gras, party time, Shrimp, Voodo
8 Comments
Many of us fondly remember Sesto's Cafe, our neighbor here on Western Avenue and its New Orleans native and owner, Chuck Smith.  Chuck made some of the most memorable and mouthwatering Gumbo out of the Bayou.  We sure miss Sesto's. Lucky for us, though, Chuck generously shared his recipe for Chicken and Sausage Gumbo. We've "streamlined" his process just a tad (Don't worry, Chuck, your secret is safe!), and layered it with a classic roux from the cookbook of the Junior League of Lafayette, LA.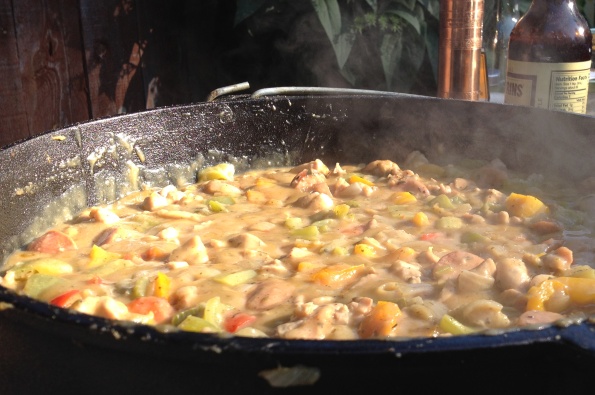 There's this big game happening on February 3rd in New Orleans – a city rich with culinary history, laden with exotic influences.  What an excellent opportunity to enjoy this delicious dish. Expect a huddle in the kitchen as well as around the TV with this Creole-inspired recipe.
Chicken and Sausage Gumbo
Ingredients
 
1/2 cup flour
1/2 cup vegetable oil or butter
 
 
4 cups onion, chopped
1-1/2 cups celery, chopped
1-1/2 cup bell pepper (red or green), chopped
4-5 cloves garlic, minced
1 teaspoon Worcestershire Sauce (or 1/4 teaspoon worcestershire powder)
1 tablespoon Herbes de Provence
1 tablespoon ground Creole Seasoning
1 teaspoon Tabasco sauce
2 links Andouille sausage, sliced (We like Uli's sausage)
2 pounds chicken thighs, skinless
4 cups chicken stock, heated
Salt, to taste.
Instructions
A large, heavy pot is a must - the heavier the better. Patience is a must - the more the better. (It will be rewarded! We promise!)
Mix flour and oil until thoroughly blended before heating. Turn heat on medium-low and immediately begin stirring. Allow roux to brown slooowly, stirring constantly.
When roux is dark brown, add chopped vegetables.Increase heat to medium and stir until onions are translucent. Add seasonings, stirring to blend. Add sausage and chicken, stirring until evenly browned.
Slooowly add heated chicken stock, stirring constantly. Continue stirring until gumbo comes to a simmer. Simmer 1 hour, stirring often and reducing heat if necessary to prevent sticking. Add salt to taste.
You can adjust the final thickness of the gumbo with file powder, or pass it at the table as a traditional accompaniment.
https://www.silkroaddiary.com/gumbo/
World Spice Merchants https://www.worldspice.com
Categories:

Cajun & Creole, Course, Global Cuisines, Holiday, Main Meals, North America, Recipes, Soups and Stews
Tags:

Creole Spice, File, Herbes de Provence, holiday, Mardi Gras, One pot meal, party time, Worcestershire
Leave a comment
I'll admit it… I was a little skeptical about developing a spiced coleslaw. Coleslaw is one of those things I've long appreciated for its' simplicity, but boy, have I been missing out! The depth of flavor added from the Creole Spice and the bold, assertive heat of the chile flakes and Piri Piri makes the cooling quality of the mayonnaise and crisp cabbage in this slaw even more pronounced and refreshing. The classic juxtaposition of creamy, tangy, and crunchy that we love in coleslaw still sings, here, but is undeniably enhanced by the savory blend of bell pepper, celery, and onion in the Cajun 'trinity' tradition.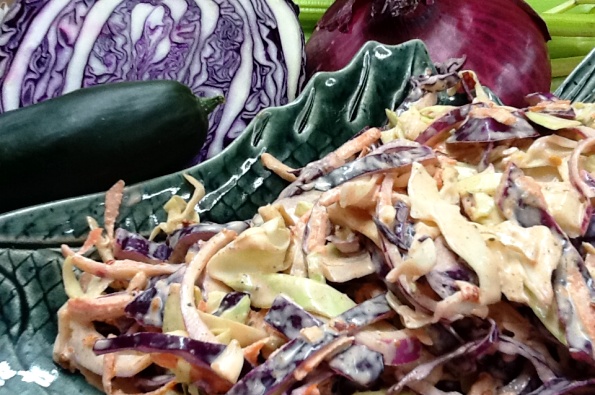 This slaw is interesting and delicious enough to be served as a side dish alongside any grilled entree, or top off a juicy pulled pork or fried fish sandwich with a generous scoop. Be warned- you may never be satisfied by the original version again!
Ingredients
Instructions
Combine the cabbage, carrot, red onion and green onions in a large bowl.
In another bowl, mix the mayonnaise, vinegar, lemon juice, spices and sugar, stirring well. Pour the dressing over the cabbage mixture and toss gently to mix. Season the slaw with celery seed, salt, and pepper.
Chill for 2 hours in refrigerator.
https://www.silkroaddiary.com/creole-spiced-coleslaw/
World Spice Merchants https://www.worldspice.com