Tools of the Trade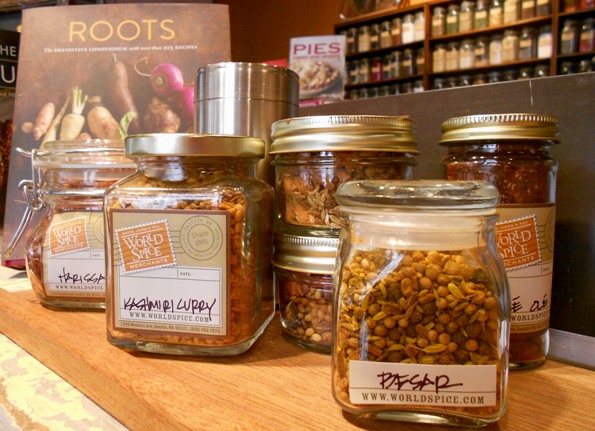 The Autumn Equinox brings many things around the Pacific Northwest: our infamous drizzle begins anew, the few maples and oaks color aflame in between the miles of evergreen, the oysters are firm and plump again, garden kale stems grow thick and tough in preparation for wintering over, and perhaps less famously but no less excitingly, my spice cabinet gets its quarterly makeover! Fall is when my cooking gets hearty, and I rely the heaviest of blended spices to warm my belly and my soul through the short, grey days, and the long, cold nights. It should come as little surprise to anyone who follows my blog-y musings that I delight in the unexpected, so here I'll share a few of my top, must-have-on-hand blends that add cheer, color, and interest to my standby fall dishes.
Hearty Things: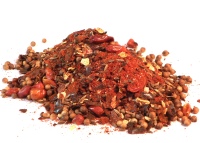 The man who shares my life also shares with me an almost unnatural love of Harissa. At once familiar and unexpected, Harissa adds such depth and warmth to everything it touches. Instead of the traditional thyme and rosemary, I rub harissa on a chuck roast before sealing it in my dutch oven and slow-roasting it overnight. The juices from the meat mingle with the exotic spice, and makes the most sumptuous little pan sauce- after you've pulled your tender roast, just reduce the liquid by half, and add a pat of butter.  Our cous cous with roasted vegetables and Harissa sauce is a year-round classic in my house, too.
My family is a bit "leftovers-challenged," which is a nice way of saying that even the meals that get raves on night one, die slow deaths in the refrigerator if not re-imagined in to other things. When I make our Turkey Mole, the first night I'll use the meat to make enchiladas or tacos, while the second, I'll thin the sauce with chicken stock until it's just thicker than broth consistency, and add chopped tomatoes, white beans, corn, and onion, and simmer for half an hour to make the world's fastest and most delicious chili. Soul satisfying, and infinitely more interesting that your traditional "bowl of red."
Roasted Things:
Acorn, Butternut, Delicata, Hubbard, Kabocha, Spaghetti, Turban… Gardens and markets abound with scores of winter squashes — to say nothing of the dozens of pumpkin varieties — all delicious, nutritious, inexpensive, and begging for a roasting. A dash of cinnamon, a grate of nutmeg- fine, I suppose, but who settles for "fine" when "amazing" is available? I stock Kashmiri Curry and Besar for just these occasions. Both have the toasty, sweet spices that bring out the inherent sweetness of the squash, but add so much more, whether you're roasting whole to mash, or cubing and caramelizing your gourds.
The easiest side dish at this time of year is roasted root vegetables. Heat a sheet pan in a 450 degree oven, toss a sampling of carrots, parsnips, turnips, potatoes, and onions in a bit of oil, spread in an even layer on your hot pan, and roast until tender and golden. It may be natural to reach again for the rosemary, or even the Italian Herbs, but I prefer the savory crunch of Svaneti Seasoned Salt. This eastern European blend is so versatile that I find it pairs no matter how I've seasoned the main dish — European, north African, Middle Eastern, or Indian. I go through quarts of the stuff, I just can't get enough.
Sweet Things:
I have to preface all of this by saying that I do not consider myself a baker. I usually find the excessive measuring and strict orders of operations stifling, and too math-like to be enjoyable to my free spirit. However, creatively spicing puts the joy back in. Pumpkin pies abound at every gathering this time of year, and though I love them, I do grow weary. I prefer this pie, adapted from a very traditional Southern recipe, using sweet potatoes and Sri Lankan curry. Deeply toasted and just a bit spicy, this warm, sweet blend has all but replaced Pumpkin Pie Spice in my kitchen, for sweet potato and pumpkin pies.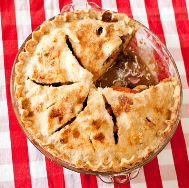 This Apple-Carrot pie has also become a standby in my kitchen. When I first posted it, great Seattle food blogger cook.can.read commented that "Cinnamon is the gateway drug. Chinese Five Spice is the destination." I couldn't agree more! Try using Chinese Five Spice anywhere your autumn baking calls for cinnamon- I'm talking pumpkin or zucchini breads, muffins- even toss it with sugar to coat the outside of your snickerdoodles!
So, if you're open to any advice from your humble spice merchant,  although nature may be hunkering down for the chilly months ahead, use this time to re-awaken your spice stash. Grab a few unfamiliar and exotic blends, and turn over those spices that have been languishing for six months or longer. The bright flavors of fresh spices will all but erase the dreary skies from your psyche. We've got an entire display dedicated to these blends and a few other fall staff favorites, (as well as a bunch of new books!) so drop by for a sniff and a chat!
Categories:

Hot Topics, Notes from the Field, Spice Notes, Tools of the Trade
Tags:

autumn, besar, chili, Chinese Five Spice, exotics, Fall, Harissa, kashmiri curry, Mole Ole, pie, pot roast, Sri Lankan Curry, svaneti seasoned salt
Leave a comment