Chipotle Chili Powder Black Bean Burger
Meat. It tastes good, and I love it. Perhaps a bit ashamedly so, mostly for environmental reasons. Inspired by my sister, the tireless vegan, I've jumped on the trendy Meatless Monday bandwagon in an effort to mitigate my carbon footprint. Believe it or not, and I've got a hard time believing it myself, I've actually come to like it!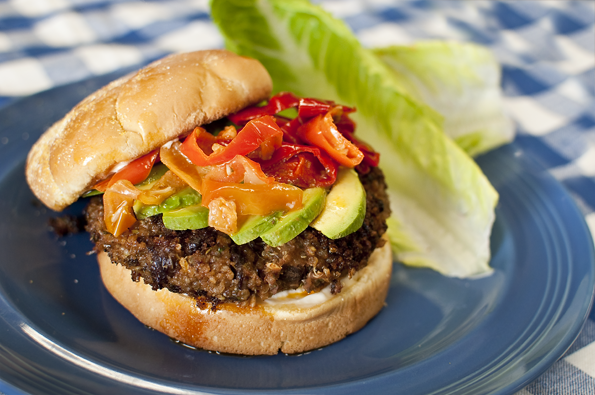 This burger represents the best of my vegetarian/vegan efforts. Quinoa gives the black beans bulk, along with a nutty flavor and pleasing texture. The Chipotle Chili Powder adds smoke and spice, and the Epazote, that enigmatic ingredient- adds that "umami" characteristic that we so take for granted when eating meat. Most of the World Spice team shares my adoration for all things meat and cheese, but the combination of creamy avocado, tangy vegenaise spread, and crisp, spicy Mama Lil's peppers had us all vegans for the day. This one is a guaranteed hit, even with the most devoted carnivores.
Chipotle Chili Powder Black Bean Burger
Ingredients
3 cans black beans, drained and rinsed
1 cup of uncooked quinoa
2 cups water
2 tablespoons olive oil
½ yellow onion, diced
3 large cloves of garlic, minced
1 tablespoon mustard powder
4 tablespoons tomato paste
2 teaspoons alderwood smoked salt
1 tablespoon Chipotle Chili Powder
1 tablespoon soy sauce
1 teaspoon whole cumin seeds
¼ cup dried epazote
½ bunch cilantro, minced
Panko bread crumbs
Oil for pan frying
Instructions
Combine quinoa and water over medium heat in a large sauté pan. Bring to a simmer, and cover until quinoa has absorbed all water.
Add oil, onion, garlic, chili powder, and cumin seeds, and sauté together until onion has softened.
In a large bowl, mash one can of the black beans with the mustard powder, tomato paste, salt, soy sauce, epazote, and cilantro, and fold the other two cans of beans in whole.
Add in the quinoa and onion mixture, and combine thoroughly.
Form handfuls of batter in to patty shapes, and dredge in Panko.
Heat oil over medium-high heat, and pan-fry burgers for 3 to 5 minutes per side, or until golden and crispy.
Serve on toasted buns with vegan "mayonnaise" spread, sliced avocado, crisp romaine lettuce, and Mama Lil's Mild Pickled Peppers.
https://www.silkroaddiary.com/chipotle-chili-powder-black-bean-burger/
World Spice Merchants https://www.worldspice.com