It's almost Buddha's birthday! Buddha's birthday is celebrated on the eighth day of the fourth month of the Chinese lunar calendar in nearly all east-Asian countries, and this year it falls on Friday May 17th in the Western calendar. Because it is customary to eat rice on Buddha's birthday, we developed this heavily spiced vegetarian biryani to honor the Buddha and many of the exotic lands from which our spices come. Our Continental Curry is the perfect blend for this occasion, as it combines the best elements of several varieties of yellow curry. While we can't promise a permanent Nirvana as a result of this dish, we guarantee at least a transient one!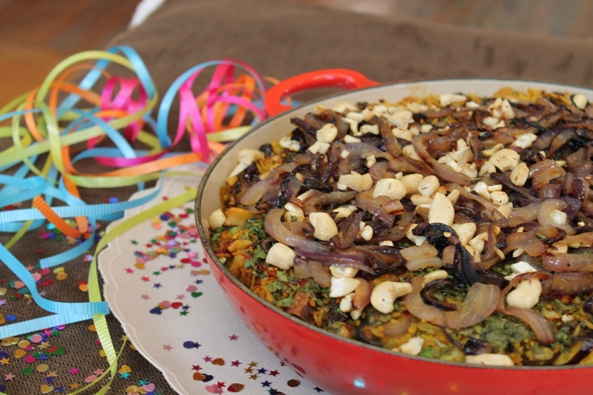 Continental Curry Biryani
Ingredients
For the Rice

1 cup basmati rice, well rinsed
1 tablespoon olive oil
1 red onion, thinly sliced
1 big pinch of saffron
2 tablespoons golden raisins
2 tablespoons chopped cashews
1/4 teaspoon whole cloves
1/2 teaspoon whole cumin seed
1/2 teaspoon whole Indian coriander seed
3 whole green cardamom pods
2 cups water
1 teaspoon Murray River flake salt

For the Curry Paste

6 large cloves garlic, chopped
3 inch piece of ginger, chopped
2 tablespoons ground Continental Curry
2 medium onions, chopped
7 mint leaves
1 jalapeno, chopped
2 roma tomatoes, seeded and chopped
1/2 teaspoon Murray River flake salt
1 tablesoon olive oil
1/2 cup broccoli florets
1/2 cup cauliflower florets
1/2 cup green beans, cut into 1 inch pieces
1/2 cup peas
1 medium sweet potato, cut into 1 inch pieces
1/2 cup water

For Baking the Biryani

1/2 cup chopped cilantro
1/2 cup warm milk
1 pinch saffron
2 tablespoons olive oil
1 large red onion, thinly sliced
2 tablespoons cashews, chopped
Pan spray
Greek yogurt
Instructions
Preheat oven to 350 degrees.

For the Rice

In a medium-sized pan over medium heat, add the oil. When hot, add the onion and cook until softened. Add raisins, cashews, cloves, cumin, Indian coriander, green cardamom and cassia sticks and saute until fragrant and the seeds start to "pop", about 3 minutes.
Add salt, water and saffron and bring to a boil. Add rice and turn heat down to simmer. Cover and cook for about 10 minutes. Rice will be 3/4 of the way cooked. Spread in a shallow pan to cool.
While rice is cooking, par-cook the vegetables. In a shallow pan over medium-high heat, add the vegetables and water. Cover and steam for about 5 minutes.

For the Paste

In a food processor, puree the garlic, ginger, onions, mint leaves, Continental Curry, jalapeno, salt and tomato.
In a medium saute pan, heat 1 tablespoon oil. Add puree and saute for 5 minutes. Add par cooked vegetables, stirring well to combine. Taste for seasoning and salt.

To Bake the Biryani

In a small saucepan, warm a pinch of saffron and the milk. Remove from heat.
Spray a large ovenproof casserole dish with pan spray. Layer in half of the rice and sprinkle with half of the cilantro. Evenly spread the vegetable curry paste mixture over the rice, top with remaining rice, and sprinkle with remainder of cilantro.
Drizzle with the saffron-infused milk, cover the casserole dish and bake for 15 minutes, until the rice is cooked through. Turn the oven off and let the biryani stay in the hot oven for another 10 minutes.
While the biryani is baking, heat 2 tablespoons of oil in a large saute pan over medium-high heat.
Add the sliced onions and fry until golden. Drain on paper towels. Next, add chopped cashews and fry until golden. Drain on paper towels.
Remove the biryani for the oven. Top with fried onions and cashews and serve with Greek yogurt on the side.
https://www.silkroaddiary.com/continental-spice-biriyani/
World Spice Merchants https://www.worldspice.com