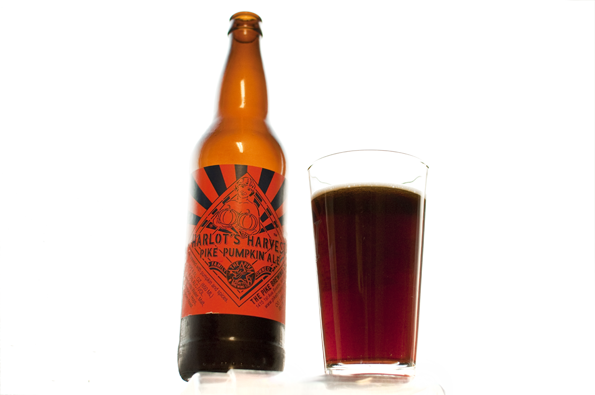 As we all mourn the end of summer (say it ain't so!) it's easy to forget all the great things that fall has to offer: apple season, football season, sending those kids back to school, acorn squash, and pumpkins! There are a plethora of things one can do with a nice pumpkin, but one of my personal favorites is to brew beer. These days, my first indication that fall is right around the corner is getting that call from our friends over at Pike Brewing looking for some spices for their seasonal pumpkin ale. A few weeks later, nothing softens the blow of the shorter days and cooler nights like getting a taste of the first batch. It seems like breweries are everywhere today, and as the seasons change the shelves are just packed with options for pumpkin beer, some far better than others. I have to say that this is hands down one of the very best I've tasted, and having a lovely lady at home who adores pumpkin beer, I've tasted almost every one we can find. This makes me especially proud to say that I had a hand in helping our Pike Place neighbors with such a great product.
Anyone who has brewed a spiced beer can tell you being able to filter out the spices is a crucial step in the process, and anyone who has tried to get nutmeg to a roughly "cracked" state can tell you it's not real easy. After lots of experimenting, research, and trial-and-error, we finally came to the conclusion that the simplest method of cracking nutmeg is the most effective, using a good old-fashioned hammer. We even keep a specially designated (and sanitized!) hammer around our warehouse for just this occasion, and this time I seem to have gotten caught on camera.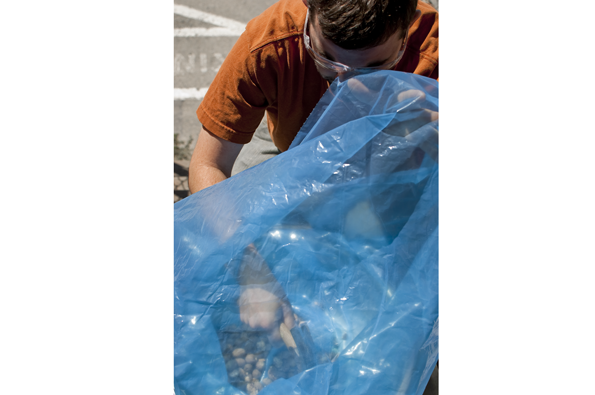 I could describe the Pike Brewing Harlot's Harvest, but I couldn't do nearly as good a job as their official press release. So as I wrap this up, I notice that it's already five minutes past closing time on a Friday and time to open a Harlot's Harvest for myself, since blogging is such thirsty work! So this weekend, if you're putting in a tough shift on your own blog, or tailgating down at the CLink (go Hawks!), or however you choose to enjoy these last lingering days of summer, check out this great pumpkin offering from our friends at Pike Brewing.