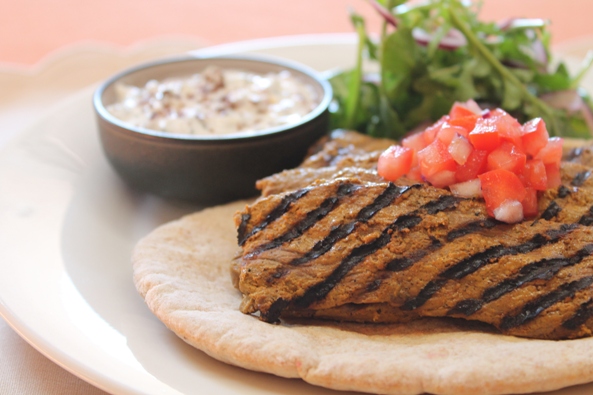 "Do you have shawarma spice?" – It's a request we hear often, and if you've tasted it, you know why! If you're yet unfamiliar, shawarma is an Arabic and Middle Eastern street food traditionally prepared on a rotating spit over an open fire. The open flame cooks the meat to juicy perfection on the inside, with a crisp crust on the outside. Slivers are sliced off the spit all day long, and stuffed in to pitas overflowing with tomatoes, cucumber, tahini, or hummus. It's a "four napkin" sandwich – meat juices running together with creamy sauce, punctuated by crisp vegetables and fresh herbs. It's even the official food of superheroes, if you believe 2012's Avengers movie… and we do!
Spice merchants are curious merchants, so with the first inquiry, we were pouring over cookbooks to find exactly what would be in a Shawarma blend. We turned to Yotam Ottolenghi's Jerusalem for our initial inspiration and reveled in the heavy use of spices, including, cloves, cardamom, fenugreek, cinammon, nutmeg, fennel, cumin, star anise, sumac, and coriander just to name a few. Our test kitchen is without the traditional rotisserie setup, so we grilled our marinated shawarma instead. Tucked in to warm pitas with all the traditional accompaniments, we're confident that our version will earn Iron Man's seal of approval… and yours, too.
Ingredients
Instructions
In a bowl, whisk together everything but the lamb and the oil. Pour this marinade over the lamb and marinate for at least two hours but preferably overnight.

To Cook Shawarma

Prepare your grill- charcoal, preferably- to medium-high heat and remove lamb from marinade, shaking off excess marinade to avoid burning.
Grill the strips of meat directly over the flame. Once the pieces have some color, rotate them 180 degrees to get good, crosshatched grill marks and that toasty flavor- about five minutes. Repeat on the other side, brushing with the oil, until the desired internal temperature has been reached.
Serve with salad of cucumbers, tomatoes, and parsley, yogurt and warmed pitas.
https://www.silkroaddiary.com/lamb-shawarma/
World Spice Merchants https://www.worldspice.com