I absolutely love to cook, but there are some days when I don't want to make anything more complicated than a phone call for pizza. I recently had just such a night and was thrilled to discover that Pagliacci was running a special featuring Link Lab sausage.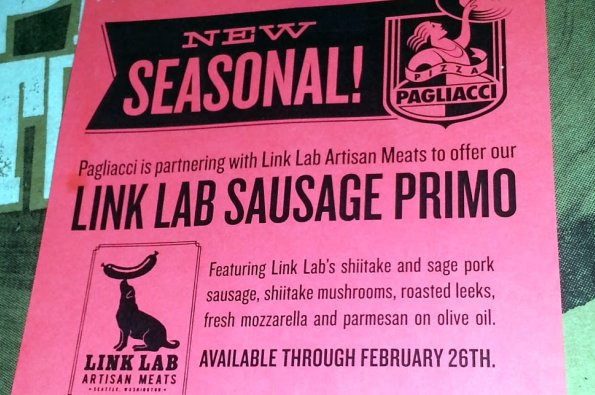 The shiitake and sage pork sausage on this pizza is fantastic; it works especially well paired with the fresh shiitake on the pizza. David, the owner and driving force behind Link Lab, has been a client of World Spice since they started grinding out sausage. I remember tip-toeing up to the door at David's house, being careful not to wake his newborn, to drop spices off at his converted home-workshop. Now, he has a beautiful, dedicated facility to keep up with the growing demand for Link Lab products. So to David and everyone at Link Lab: Congratulations on having your fantastic sausage featured on a great pizza!  All of us here at World Spice can't wait to taste what you come up with next.
If you miss February's pizza special, be sure to check out Link Lab's website for the most up-to-date information about where you can find their incredible sausage. If you're in the mood for pizza, but were too late for the Link Lab special, be sure to try Pagliacci's pie featuring Salumi products, another one of our favorite clients at World Spice.