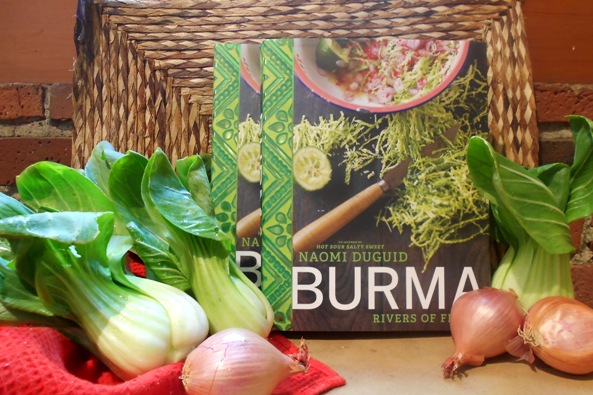 As Angelina mentioned in her ode to Yotam Ottolenghi, there are several cookbook authors whose new works always have a reserved place on our shelves. Naomi Duguid is one of those authors. Her books are always gorgeous, her prose is eloquent without being too dense or wordy, and her topics are always fascinating. Duguid's works are one part travel guide, one part traditional cookbook. We have explored the Indian subcontinent with her in Mangoes & Curry Leaves, probed the lesser known provinces of China in Beyond the Great Wall, and delved into Southeast Asia in Hot Sour Salty Sweet.
Her newest work, Burma: Rivers of Flavor, continues where Hot Sour Salty Sweet leaves off, pulling back the curtain on an isolated country with a rich culinary tradition. Burmese cuisine has been described as a blend of Indian, Chinese, and Thai, but it has a distinctive style all to itself. Shallots, shrimp (fresh and dried), and small salads are all common. There is a heavy focus on fresh ingredients, but many of the recipes are perfumed with warm, sweet spices like cassia, cloves, nutmeg, and star anise. Burma is also a cuisine that favors a heavy dose of heat, and gets this from India red chile flakes, Japones, Indian cayenne, Tellicherry black pepper, and Szechuan peppercorns.
I had the opportunity to see Naomi Duguid speak last year at the Book Larder in Fremont. We all learned about the foods of Burma, from mohinga (a fish stew with rice noodles that is often eaten at breakfast) to laphet thoke (a fermented tea-leaf salad that's considered Burma's national dish), as the staff prepared several recipes from the book. However delicious the food was though, the most impactful moments came when Duguid discussed the changes she had seen in Burma through the years. She was repeatedly moved to tears as she spoke about Burma's transition away from the rigid military dictatorship that has been in power since 1962 and the recent thawing of relations between Burma and the U.S. Naomi's care shines through in Burma's beautiful photographs and warm paragraphs.