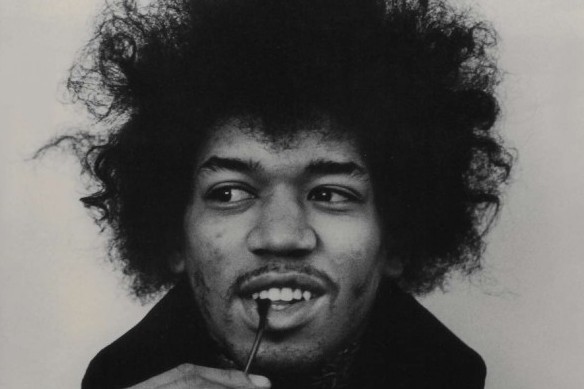 Great Seattle original Jimi Hendrix described seeing emotion as color, and played his music to match the colors he felt. While I'd never compare my palate to Jimi's guitar prowess, I like to take the way he felt his art, and apply it to food, drink, and flavor. I choose from these teas – the lighter of our new offerings – when we get those clear, crisp, cloudless days… The kind when, if the breeze falls still over the Puget Sound for just a moment, the sun is toasty warm on an upturned face, the energy ebbing in Pike Place Market is gentle and communal, and the light that filters down through the trees is the same color as a perfectly brewed cup of green tea.
Ti Kuan Yin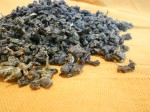 We've carried a Ti Kuan Yin (or Tieguanyin,  or any number of other spellings) for some time in the shop. Although technically an oolong, that example is quite lightly oxidized, and has a bright, verdant flavor. Our newest Ti Kuan Yin is produced in the traditional method of coal firing, which results in a very robust toasty and sweet character, which I strongly prefer when the weather snaps cold. The toastiness is matched with a deep, lingering floral nose, and a subtle astringency. This Baked Ti Kuan Yin is nicknamed the "Iron Goddess of Mercy;" the "iron" is meant to indicate the strength and lasting power of this tea, though I secretly think of it as the elixir that turns me in to a superheroine of the same name…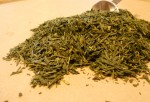 Sencha
The Japanese talent for focusing on the beauty of single ingredients is as visible in their teas as it is elsewhere in their cuisine. Sencha is – with good reason – the most popular tea in Japan. This tea differs from the more common Chinese greens for the fact that it is steamed after picking (as opposed to the Chinese tradition of pan-roasting) to stop the oxidization process. This steaming imparts a fresh, pleasing, almost seaweed-like flavor to the grassy, vegetal, gold-green liquor, which so complements the characteristic "umami" profile of the leaves themselves. Brewed gently, it's an exquisitely balanced cup.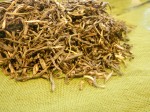 Yin Hao Jasmine
Shop owner Amanda Bevill sips a fragrant cup of jasmine tea all day long. In fact, if you don't know her by sight, you could sleuth out who she is by the glass mug of clear green brew never far from her hands! Jasmine-scented green tea is traditionally made by stacking sheets of green tea leaves and jasmine flowers, one on top of the other, for anywhere from hours on in to days or weeks. Our Yin Hao Jasmine tea has been scented five times in this fashion, which imparts a heady jasmine fragrance in the nose, well balanced by the nutty undertone of lightly oxidized green tea. Often, jasmine tea is rolled in to pearls to make it hearty and protect the fragrance, but with these delicate leaves, take more notice of your brew time and water temperature or the tea may become too strong or astringent.
So, I solemnly swear, right hand raised, that I'm done complaining about the departure of summer. The promise of watching the rain come down in sheets (and maybe even snow? Yes, I said it!) on Western Avenue from the safety of our big windows here in the shop, while sipping these seven, new, delectable teas (for our first post on our new black teas click here), has me cozy and content, and ready for whatever the season brings. Swing by for a taste of any one of these teas, or to tell me how you're preparing to weather the Pacific Northwest monsoon season!