Tagged With:
Assam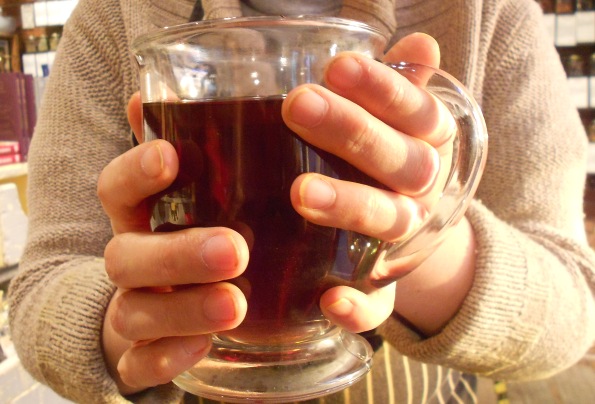 It's always long about this part of October that I find myself finally letting go of the end-o'-summer doldrums, and suddenly excited to break out my wool sweaters and boots, hear that satisfying crunch of frosted grass as I cross my lawn in the morning, and most especially, to curl my fingers around a hot mug of steamy tea that fogs my glasses and fills my nose with its intoxicating aroma. In preparation for that first freeze, we've added a bounty of new varieties to the tea section that I'm certain you'll enjoy– they've even enticed me out of my all-day-every-day chai habit! This post, the first of a two-part installment about our updated menu, will cover the darker teas- three black teas, and one phenomenal pu-ehr. Oolong and green tea drinkers, stay tuned for part two!
Dian Hong (Golden Needle):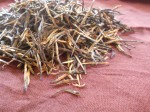 Though we in the west refer to fully oxidized tea as "black," referring to how it appears dry, the Chinese call it "red," for the color of the brew. Dian Hong is a classic Chinese black tea from Yunnan Provence; "Dian" for Yunnan, and "Hong," meaning "red." Our variety comes from the large leaf pu-erh tea trees, and is full of enormous golden buds- which to the connoisseur means a sweeter cup with less astringency. After the first steeping, the soup has a bold, rich texture, and flavor like hot chocolate with a bit of a malty tone. Brew each serving of leaves three to four times, and taste as the body gets lighter, but the aroma gets sweeter. I drink this one first thing in the morning, and let it carry me up until noon!
Loose-Leaf Pu-Ehr: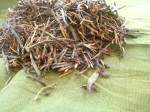 Pu-erh is also produced in the Yunnan province of China, from the same trees that give us the gorgeous Dian Hong. To process these leaves in to pu-ehr, the tea leaves are picked, piled, dampened, and turned periodically for six months to a year to ensure even fermentation. Once the tea is considered ripened, it is dried. The highest quality leaves are left loose, while the rest are graded, then steamed in to a variety of shapes- pressed in to citrus fruits, bricks, or little cakes. This gorgeous loose pu-erh does not need the usual rinse cycle of our tuocha pu-erh. The the earthy, barnyard quality of pu-erh may be an acquired taste, but for me, it's reminiscent of a clean forest floor after a rain. If you like beets, mushrooms, and figs, chances are, you'll appreciate this unique flavor. Each steeping of the leaves produces progressively sweeter tea- as many as ten times! This is the tea for rainy Saturday mornings with the crossword.
First Flush Darjeeling:
When talking tea, "flush" refers to the time of harvest. Darjeeling, from West Bengal, India, is harvested five times throughout the year. At "First Flush," in mid-March, only the new spring growth- one bud and two tiny leaves- are harvested, and minimally processed. The result is heavenly- complex, nuanced, like orange blossoms and sweet grapes. Though it's sold as a black tea, our rare and prized First Flush Darjeeling has more in common with Chinese oolongs than it does most black teas, with a gentle, light brew that absolutely lives up to its reputation as the "champagne of teas." This is my two-o'clock tea- my reward for a day two-thirds done! (For a more classic black with the Darjeeling profile, try the Second Flush-harvested in June- a more robust, spicier, darker amber cup- it's my go-to pairing for that chai I said I was giving up!)
Assam:
The state of Assam in India is home to rolling, verdant hills, and a venerable tea tradition. Political unrest and poor weather have plagued the area for some time, so procuring an Assam tea that lives up to our exacting standards has been no easy task! Though we've always managed to get our hands on a tea that satisfies us, this crop is easily the best we've seen in years. The heavy rains of the monsoon season in this region are what give Assam tea its classic "malty" characteristic, and this tea has no shortage of that, but is matched with a unique sweetness, reminiscent of wildflower honey. Its brisk flavor and medium body make it ideal as breakfast tea, though the World Spice team takes it all day long, buoyed by milk and sugar in the British tradition. It's again, a classic pair with any of our chai masalas.
These teas are a lovely start to embracing the autumn chill, and expanding your horizons beyond your hot beverage rut du jour, whatever it may be. Order a few ounces of a soon-to-be-favorite online, or pay us a visit on a foggy morning for an in-person taste!