Tagged With:
Berries
The rich and toasty taste of our Besar blend makes an ideal complement for the pop of fresh cranberry in this exotic twist on a holiday classic. Candied ginger and dried apricots round out the fruity flavors, and the result is an intensely flavored chutney that you can serve well past Thanksgiving. You can try variations too- add an apple to mellow the flavors or some chopped walnuts for a little crunch. Any way you make it, the bright flavor of cranberries add a bit of sunshine to a winter feast. Go cranberries!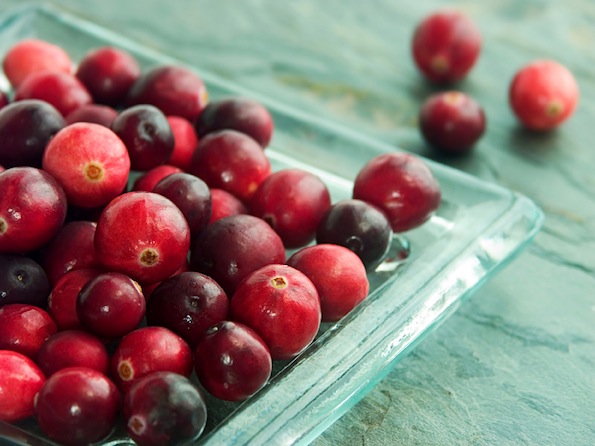 Ingredients
2 tablespoons olive oil
1 bag (12 oz) fresh cranberries
1 onion, diced (use a sweet or red onion for extra flavor)
1/4 cup chopped candied ginger
1/2 cup chopped dried apricots
1 large orange (or 2 medium), zested and juiced
1 lime, juiced
3/4 cup brown sugar
3/4 cup cider vinegar
1 teaspoon Murray River flake salt
3 tablespoons ground Besar
2 teaspoons Aleppo pepper
Instructions
Put olive oil in a medium saucepan over medium heat. Add the diced onions and saute for 5 minutes.
Add the rest of the ingredients and, stirring frequently, cooking for about 15 minutes. Taste for seasoning. You might want to add more salt, vinegar or brown sugar.
If you want a 'smoother' sauce, cook for another 10 minutes. Remove from heat. Let cool, then put into a covered container in the refrigerator. This will keep for about a week.
https://www.silkroaddiary.com/besar-cranberry-chutney/
World Spice Merchants https://www.worldspice.com
Categories:

Course, Global Cuisines, Holiday, Hot Topics, Middle East, North America, Recipes, Sides
Tags:

aleppo, Appetizer, Berries, Easy, Fall, holiday, Lamb, Make Ahead, meat, Sauce, Side-dish, Vegan
6 Comments
Sometimes I get so busy doing things that I forget to eat breakfast and/or lunch. I know, I shouldn't do that, but I do. I've tried various power or energy bars, but I find them too sweet, lacking in flavor, or really just not very healthy. So I make my own.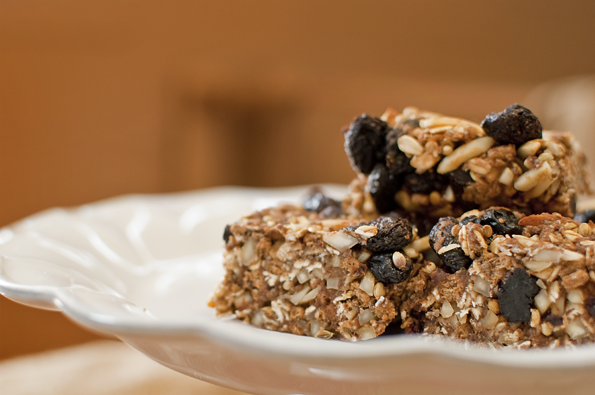 For this recipe, I set out to make an energy bar that tasted good, was high in all of the "good" stuff we're supposed to be eating every day, and was full of things that I loved, like Indian Coriander. I'm also a huge fan of chia seeds, and using them eliminated the need to use oil or eggs in my energy bars. Chia seeds are full of essential fatty acids, antioxidents, calcium, iron, fiber, and are a source of natural extended energy. Yes, I will admit to sometimes putting chocolate chips in them, but chocolate is good for you, too, right?
Indian Coriander Energy Bars
Ingredients
¼ cup chia seeds
1 cup water or juice
¼ cup Indian Coriander seeds
½ cup high-fiber cereal (like Fiber One or Bran Buds)
½ cup whole wheat, oat or spelt flour
1 cup Scottish or Irish oatmeal
½ teaspoon Murray River flake salt
1 cup raw or toasted nuts
1 cup dried fruit, in bite sized pieces
1-1/2 tablespoons Poudre Douce or Pumpkin Pie Spice
¼ cup pure maple syrup or honey
1 orange, zested and juiced
Instructions
Pre-heat the oven to 350 degrees. Line an 8 x 8 pan with foil, making sure that you have extra hanging over the sides. (To make it easier to take the bars out of the pan.)
In a small bowl, add the chia seeds and water. Whisk together with a fork, being careful to make sure that all of the seeds are submerged in the water. Set aside for 10 minutes, gently stirring after 5 minutes.
In a large bowl, combine Indian coriander, cereal, flour, oatmeal, salt, nuts, dried fruit and Poudre Douce. Mix together well.
Add the maple syrup or honey and the orange zest and juice to the chia seeds. Stir well. Add to the ingredients in the large bowl and gently mix all of the ingredients together. This makes a slightly soft bar - if you want a more cake-like bar, add about 1/4 cup more juice.
Scoop mixture into the foil-lined pan and press down to fill every corner, smoothing out as you do it. Bake for 20 – 30 minutes – when you touch the center of the bar mixture, it should be very firm. (If you want a drier, firmer bar, cook for an extra 5 - 10 minutes.)
Let cool in the pan. Place a cutting board on top of the pan and flip it over, so that the pan is on top of the board. Unwrap the bar from the foil carefully, and cut the bar into pieces.
Place in a zip-loc bag or covered container and keep in the refrigerator. These will keep for over a week.
Notes
I've found this to be a great recipe for experimentation and using up tasty odds and ends. Got a quarter cup left of fig butter? Put it in your next batch. Found an apple or banana you need to use? Mash the banana or grate the apple, and add it to your next batch. (These are also good with grated carrots, too.)
Don't be afraid to change up the ingredients in this recipe! Try different fruit and nut combinations, or you can even use pumpkin or sunflower seeds in place of the nuts!
https://www.silkroaddiary.com/indian-coriander-energy-bars/
World Spice Merchants https://www.worldspice.com
Categories:

Course, Global Cuisines, North America, Recipes, Snacky Bits, Sweet Somethings
Tags:

Berries, Easy, Fruit, Healthy, nuts, snacks, Vegan, Vegetarian
Leave a comment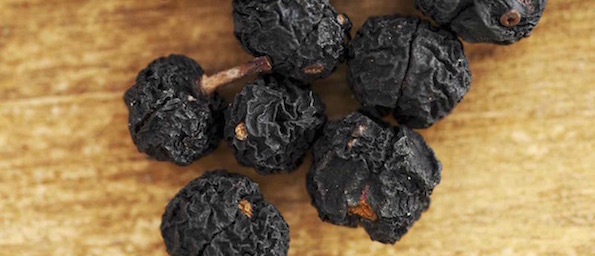 The Tasmanian pepperberry is a rare find, native to Australia and wild harvested in limited quantities. The pepperberry holds a dazzling array of flavors- from floral and camphor to a sassy pepper peak. Added bonus? In some infusions the pepperberry will turn your mixture a dreamy pink-purple hue.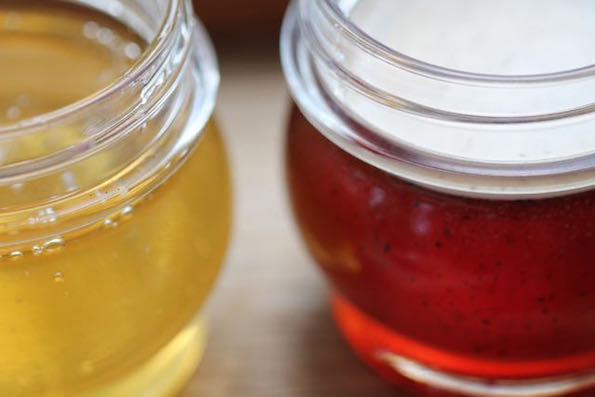 In this recipe, we've created a simple syrup using a pepperberry-infused honey mixed in with fresh berries, orange juice and a hint on liquor to create a heavenly combination perfect for brunch or dessert. Try it on waffles, french toast or pancakes, or better yet… liberally pour it over ice cream, then sit on the front porch and enjoy the lazy summer afternoon. We won't tell…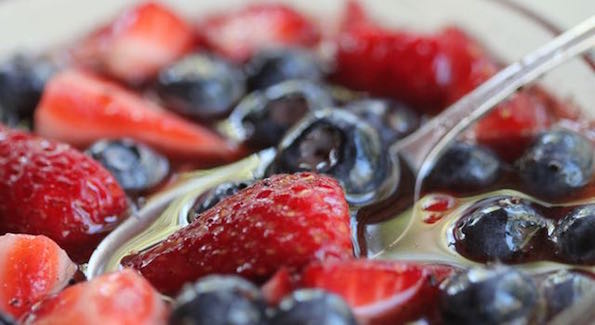 Tasmanian Pepperberry Macerated Berries
Ingredients
1/3 cup honey
1-1/2 teaspoons ground Tasmanian pepperberry
1/4 cup orange juice
1/2 pint fresh blackberries
1/2 pint fresh raspberries
1/2 pink fresh blueberries
1 pint fresh strawberries, cut into bite-sized pieces
1 teaspoon vodka, rum, tequila or other liquor (optional)
Instructions
Put the honey into a small pan and heat on low until the honey liquefies. Pour into a bowl and add the ground Tasmanian pepperberry, stir well and allow to cool slightly. Add the orange juice and liquor, and stir until combined.
Put the berries into a large bowl. Pour the syrup over the berries and gently toss. It's ok if some of the berries get smooshed.
Let sit at room temperature for about an hour, stirring occasionally. This will help the berries break down a bit and absorb the delicious flavors in the syrup.
Notes
You can make the infused honey ahead of time. Even consider making extra, so you have extra to use for other things.
Serving Suggestion: You can serve this for any meal or snack. This tastes just as good on pancakes as it does on ice cream or even just mixed in with Greek yogurt.
https://www.silkroaddiary.com/tasmanian-pepperberry-berries/
World Spice Merchants https://www.worldspice.com
Categories:

British Isles, Global Cuisines, Recipes, Snacky Bits, Sweet Somethings
Tags:

Berries, Brunch, Easy, Healthy, Sweet Somethings, Tasmanian Pepperberry, Vegetarian
Leave a comment