Tagged With:
Beverages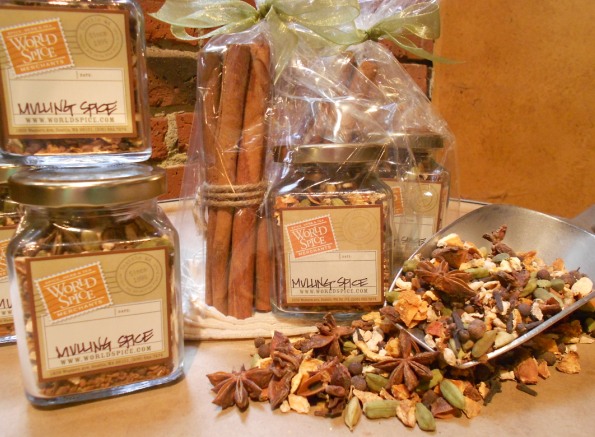 Few things say "winter" better than a steamy cup of spiced cider or mulled wine. Mulling Spice takes many forms, but ours is heavy on the cassia cinnamon and with a hint of orange peel for the power to banish those grey-day blues.
It's important to choose the right wine to mull, and through much "research" we've settled on Pinot Noir as the optimum choice. It's fairly robust, so stands up to the spices, but the less expensive varieties are not so nuanced so as to make covering their intricacies with spice criminal. Look for one whose shelf-talker boasts a larger body and hints at black or red cherry flavors that will complement the star anise in the Mulling Spice.
A good-quality, unfiltered apple cider is all that's required for heavenly spiced cider. As the apple capital of the world, Washington state farmers markets are chock full of cider choices, and we've yet to find one that disappoints. A few even pair other local fruits with apple- try apple-cranberry, apple-cherry, or apple-blackberry. Simply substitute a quart of apple cider for the wine in the recipe below and perhaps omit the sugar, depending on the variety of cider that you choose.
Mulling Spiced Wine and Cider
Ingredients
1 bottle Pinot Noir or other larger-bodied, semi-sweet red wine
1/3 cup granulated sugar
1/2 cup filtered water
2 tablespoons freshly crushed Mulling Spice
Instructions
Whisk half of the sugar in to the wine until it's dissolved.
Add the water and Mulling Spices, and bring to a simmer over medium heat.
Reduce heat to low, cover, and steep for fifteen to twenty minutes, tasting at five-minute intervals to check the intensity level of the spice flavors. The longer you steep, the more pronounced the spice!
When desired flavor is reached, remove from heat, and whisk in more sugar, a tablespoon at a time to taste. Strain, and serve.
Notes
It's also possible to combine wine and cider. Winter Sangria, anyone? Add one bottle of wine to four cups of apple cider, along with 1/4 cup of honey or brown sugar, and 1/3 cup of freshly crushed Mulling Spice. Steep for twenty minutes before straining and serving, and don't forget the cassia stick stirrers!
https://www.silkroaddiary.com/mulling-spiced-wine-and-cider/
World Spice Merchants https://www.worldspice.com
Categories:

British Isles, Course, French, Global Cuisines, Holiday, Mediterranean, North America, Recipes, Sweet Somethings
Tags:

apples, Beverages, cider, drinks, Mulling Spice, Wine, winter coctails
Leave a comment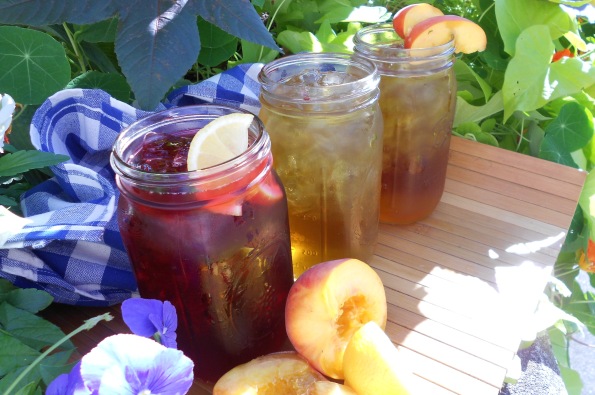 It's true. We love a good cocktail. There happens to be several hours between Bloody Mary o'clock and Happy Hour, though, and to pass that time in the dog days of summer, I've come up with a list of unique and refreshing beverages that should keep you (and I both!) hydrated all summer long. Any one of these could handle a jigger of locally made spirits, too, if you haven't gotten your fill by five o'clock.
Black Tea
For those mornings when it's hot by 9:00, or those afternoons when your refresher needs a pick-me-up, my hands down favorite is our High Mountain Keemun. When it's chilled, it gives the barest hint at the smokiness evident in a hot cup, and progresses quickly to a fruity smoothness that the spice team can't get enough of. We like it best barely sweetened with agave syrup, and perhaps with a few fresh raspberries or a wedge of perfect Northwest peach thrown in for garnish. Try blending it with lemonade in equal parts for a decadent Arnold Palmer.
Herbal Blends
Our Moroccan Mint combines earthy Gunpowder green tea with refreshing mint, and it's a natural to serve chilled. Sweeten with raw or brown sugar for best results- the subtle molasses flavors in these sweeteners bring out the most nuance in the tea. I'll occasionally muddle a sprig of fresh mint in  my glass for a fresh little bite.
Cold Hibiscus tea is a common offering in Mexican and South American homes and from street vendors, but it has yet to attain its' well-deserved popularity stateside! Tart, floral, and perhaps a little earthy, hibiscus tastes like lemon meets pomegranate meets red berries in the best way. Sweetened to taste and doctored with a few drops of Scrappy's Lime Bitters, this one's over the top. Freeze it into popsicles, simmer it with sugar to make a syrup to pour over shaved ice, or just sip it from a frosty mason jar.
The ice cubes are crystal clear, the lemons are poised for action on the kitchen counter, the pitchers are standing at the ready… we're prepared! Let's bring on that heat!