Tagged With:
Easter
If you thought that the Easter fun was over far too soon, not to fear! Greek Easter is this coming Sunday, awash with delicious traditions all its own. Not to be missed are these tasty little pockets of meat, rice, and nuts, expertly seasoned with our savory and tangy El Greco blend. They're called "dolmas" in the singular, and "dolmades" when referring to the scores of them you'll eat once you've had a taste of their perfect balance of Mediterranean flavors, all wrapped in a convenient little two-bite gnosh.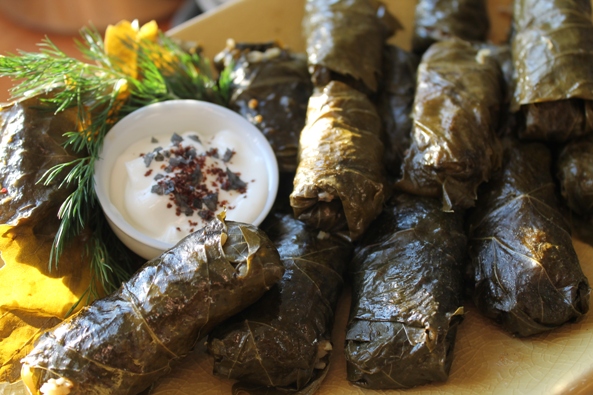 All of the ingredients ought to be readily available in most markets, including grape leaves, which often come in cans or jars. If you've got a grape vine over an arbor, fresh work wonderfully, too; just poach them a bit of salted water with a half a lemon thrown in. Admittedly a little time-consuming, the dolmades can be prepared 2 to 3 days before serving, and refrigerated or frozen until you're ready to use them.  If you do freeze them, they can be thawed overnight in the refrigerator, and gently heated with a little broth or water before serving. You'll find them more than worth the effort! Kalo Pascha!
Ingredients
For the Filling:

1/4 cup olive oil
1 medium onion, finely chopped
1 pound lean ground lamb
1/2 cup short-grain rice
1/4 cup El Greco
1/2 cup dill weed
1/3 cup pine nuts
1/4 cup water
2 tablespoons tomato paste
Freshly ground Tellicherry black pepper
1 quart jar grape leaves in brine, well rinsed
3/4 cup chicken broth
3 tablespoons fresh lemon juice
1 lemon, thinly sliced for garnish
Instructions
For the Filling:

Heat the oil in a large skillet. Add onion and saute until translucent, then add meat, stirring to break up pieces.
Add rice, dill, El Greco, pine nuts, water and tomato paste and cook over medium heat until water is absorbed, about 10 minutes. Season to taste with salt and pepper.

To Stuff The Grape Leaves:

Cover the bottom of a Dutch oven with a layer of grape leaves.
Stuff remaining leaves by placing leaf (shiny side down) on the palm of your hand, with the base of leaf the toward your wrist and tip pointing to your middle finger.
Put a spoonful of meat mixture in center. Fold the base of the leaf over the filling, then fold sides of leaf over like an envelope, tucking the edges in snugly. Arrange, tip side down to prevent unrolling, in the Dutch oven.

To Cook The Stuffed Grape Leaves:

Add broth to Dutch oven within 1 inch of top layer of stuffed grape leaves. Use any left over leaves to cover top layer. Place a heat-proof plate upside down over the top layer of dolmas, and press firmly.
Cover and cook over medium heat until rice is tender, about 30 minutes. Sprinkle with lemon juice and cook 5 minutes longer.
Let cool to room temperature, or chill thoroughly. Serve garnished with lemon slices and a little greek yoghurt for dipping.
https://www.silkroaddiary.com/dolmas-for-easter/
World Spice Merchants https://www.worldspice.com
Categories:

Course, Global Cuisines, Holiday, Mediterranean, Recipes, Sides, Snacky Bits
Tags:

Appetizer, Dolmas, Easter, Greek., holiday, Lamb, Make Ahead, party time
Leave a comment
Easter can be the time for pastel-dyed confections, day-glo-hued eggs, baskets filled with cheap plastic toys, waxy chocolate, and dapper-dressed rabbits  intent on stuffing you with all of the above… unless you're World Spice! We're big believers in featuring the earth's natural gifts, and with a host of spices and teas to choose from, we decided try our hand at the season's chosen craft of dyeing eggs.  What resulted were beautifully dappled eggs in a rainbow of subtle spicy hues. Below are some of our favorites, and a bit of our process, too!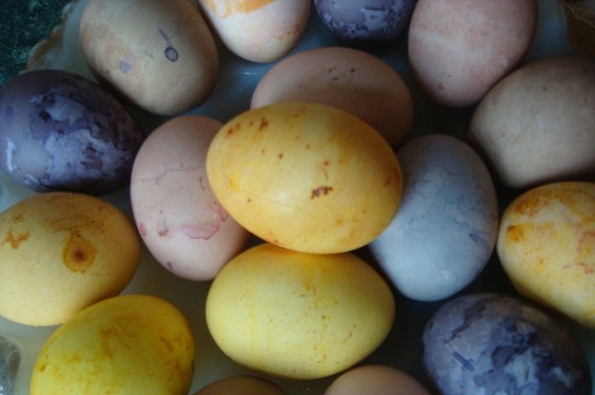 The vibrant yellow you see, is of course, from turmeric. The pinkish color is from beet powder, which we expected to make a more intense color, but instead came out as closer to a dusty rose. Hibiscus flower tea made the periwinkle color right in the middle, but combining beet powder and hibiscus made the intense indigo up in the left-hand corner. The hibiscus was so intense that if another of our experiments didn't work, we soaked them in the hibiscus after, and came up with all sorts of odd colors, some even close to black!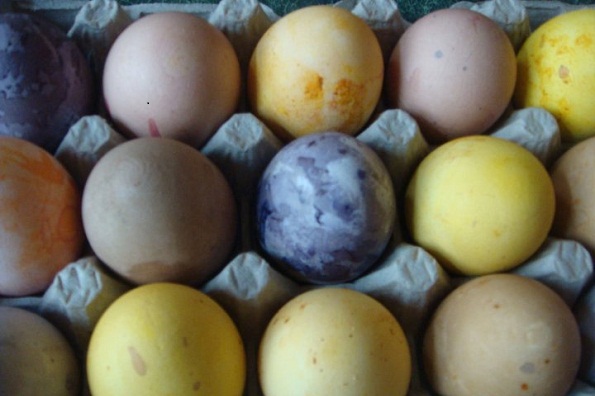 We used white vinegar for our mordant, but you can use cream of tartar, as well. Distilled water works better than tap for dyeing, too. We were less than scientific in our measurements, but a good ratio is two tablespoons of mordant per four cups of water, and about a half cup of dyestuff. Bring mordant and water to a boil with your spice or tea to dye, turn off the heat, and allow the eggs to soak for at least half an hour, but in the fridge as long as overnight for the best results.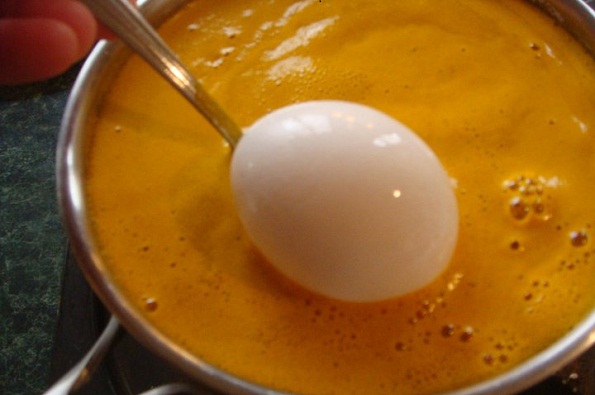 To make designs on your spice and tea dyed eggs, you can draw on the shells with beeswax prior to dyeing, or wrap the egg in rubber bands for a fun batik effect. To increase the dappled look, marbleize your egg by adding a drop of oil to the dye liquid. If you prefer a smoother look, strain the dyeing liquid before soaking the eggs. Which ever you do, be sure not to stir or shake up the eggs when they're soaking, or you'll disturb the setting of the mordant, and they won't color as deeply.
Happy Easter from the World Spice team!
Categories:

Holiday, Hot Topics, North America, Notes from the Field, Spice Notes
Tags:

beet powder, cream of tarter, Easter, Easter eggs, Hibiscus, holiday, spice dye, tea dye, turmeric
Leave a comment