Tagged With:
exotics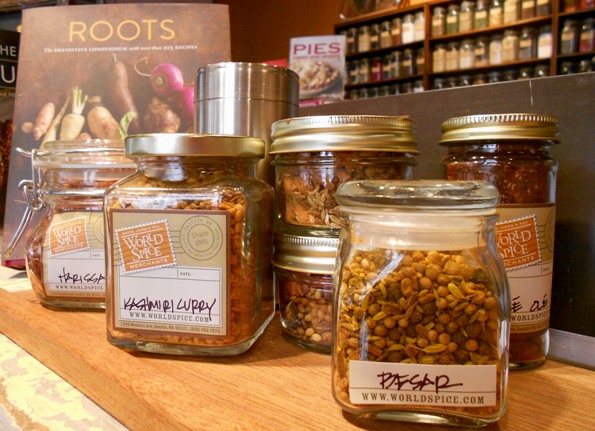 The Autumn Equinox brings many things around the Pacific Northwest: our infamous drizzle begins anew, the few maples and oaks color aflame in between the miles of evergreen, the oysters are firm and plump again, garden kale stems grow thick and tough in preparation for wintering over, and perhaps less famously but no less excitingly, my spice cabinet gets its quarterly makeover! Fall is when my cooking gets hearty, and I rely the heaviest of blended spices to warm my belly and my soul through the short, grey days, and the long, cold nights. It should come as little surprise to anyone who follows my blog-y musings that I delight in the unexpected, so here I'll share a few of my top, must-have-on-hand blends that add cheer, color, and interest to my standby fall dishes.
Hearty Things: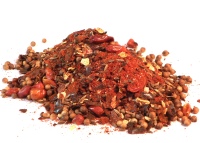 The man who shares my life also shares with me an almost unnatural love of Harissa. At once familiar and unexpected, Harissa adds such depth and warmth to everything it touches. Instead of the traditional thyme and rosemary, I rub harissa on a chuck roast before sealing it in my dutch oven and slow-roasting it overnight. The juices from the meat mingle with the exotic spice, and makes the most sumptuous little pan sauce- after you've pulled your tender roast, just reduce the liquid by half, and add a pat of butter.  Our cous cous with roasted vegetables and Harissa sauce is a year-round classic in my house, too.
My family is a bit "leftovers-challenged," which is a nice way of saying that even the meals that get raves on night one, die slow deaths in the refrigerator if not re-imagined in to other things. When I make our Turkey Mole, the first night I'll use the meat to make enchiladas or tacos, while the second, I'll thin the sauce with chicken stock until it's just thicker than broth consistency, and add chopped tomatoes, white beans, corn, and onion, and simmer for half an hour to make the world's fastest and most delicious chili. Soul satisfying, and infinitely more interesting that your traditional "bowl of red."
Roasted Things:
Acorn, Butternut, Delicata, Hubbard, Kabocha, Spaghetti, Turban… Gardens and markets abound with scores of winter squashes — to say nothing of the dozens of pumpkin varieties — all delicious, nutritious, inexpensive, and begging for a roasting. A dash of cinnamon, a grate of nutmeg- fine, I suppose, but who settles for "fine" when "amazing" is available? I stock Kashmiri Curry and Besar for just these occasions. Both have the toasty, sweet spices that bring out the inherent sweetness of the squash, but add so much more, whether you're roasting whole to mash, or cubing and caramelizing your gourds.
The easiest side dish at this time of year is roasted root vegetables. Heat a sheet pan in a 450 degree oven, toss a sampling of carrots, parsnips, turnips, potatoes, and onions in a bit of oil, spread in an even layer on your hot pan, and roast until tender and golden. It may be natural to reach again for the rosemary, or even the Italian Herbs, but I prefer the savory crunch of Svaneti Seasoned Salt. This eastern European blend is so versatile that I find it pairs no matter how I've seasoned the main dish — European, north African, Middle Eastern, or Indian. I go through quarts of the stuff, I just can't get enough.
Sweet Things:
I have to preface all of this by saying that I do not consider myself a baker. I usually find the excessive measuring and strict orders of operations stifling, and too math-like to be enjoyable to my free spirit. However, creatively spicing puts the joy back in. Pumpkin pies abound at every gathering this time of year, and though I love them, I do grow weary. I prefer this pie, adapted from a very traditional Southern recipe, using sweet potatoes and Sri Lankan curry. Deeply toasted and just a bit spicy, this warm, sweet blend has all but replaced Pumpkin Pie Spice in my kitchen, for sweet potato and pumpkin pies.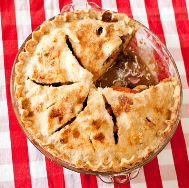 This Apple-Carrot pie has also become a standby in my kitchen. When I first posted it, great Seattle food blogger cook.can.read commented that "Cinnamon is the gateway drug. Chinese Five Spice is the destination." I couldn't agree more! Try using Chinese Five Spice anywhere your autumn baking calls for cinnamon- I'm talking pumpkin or zucchini breads, muffins- even toss it with sugar to coat the outside of your snickerdoodles!
So, if you're open to any advice from your humble spice merchant,  although nature may be hunkering down for the chilly months ahead, use this time to re-awaken your spice stash. Grab a few unfamiliar and exotic blends, and turn over those spices that have been languishing for six months or longer. The bright flavors of fresh spices will all but erase the dreary skies from your psyche. We've got an entire display dedicated to these blends and a few other fall staff favorites, (as well as a bunch of new books!) so drop by for a sniff and a chat!
Categories:

Hot Topics, Notes from the Field, Spice Notes, Tools of the Trade
Tags:

autumn, besar, chili, Chinese Five Spice, exotics, Fall, Harissa, kashmiri curry, Mole Ole, pie, pot roast, Sri Lankan Curry, svaneti seasoned salt
Leave a comment
Of the five classic French "mother sauces," béchamel gives us some of the most rich small sauces. Although béchamel may be the most simple to prepare, that doesn't mean it can't also show off some pretty complex flavors. Taking the time to create layers of flavor in the building blocks of a recipe ensures that the sauces and dishes created from those blocks will build palaces of flavor. As the recipe below demonstrates, there are not many ingredients in the basic béchamel sauce; just milk, roux, and the onion cloute. An onion cloute is an onion studded with cloves and a bay leaf, and although I've seen some recipes call the cloute optional- it is not. The onion cloute is essential as it is the only flavor added to the milk besides butter.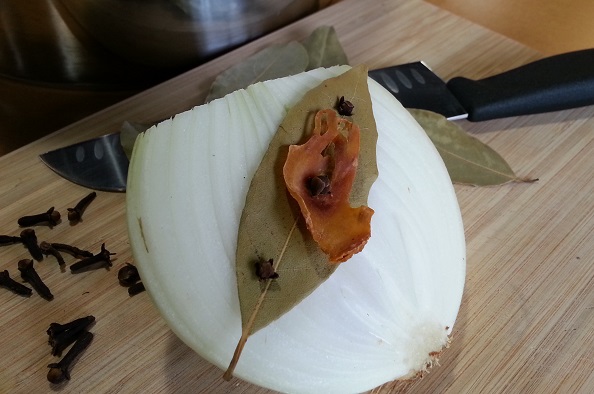 An Italian chef I once worked for insisted that a béchamel was never complete without a bit of nutmeg, an ingredient that was conspicuously absent from béchamel recipes in my traditional French culinary education. Once I tasted his version, I never again made my béchamel without a dusting of freshly ground nutmeg to finish it. Never, that is, until a few weeks ago when we were lucky enough to get the first shipment of mace blades we've been able to secure in years. I had always used a mixture of mace powder as well as a little extra freshly grated nutmeg when making creamed spinach from a béchamel base, but I had been reluctant to to try including mace powder in every batch of my béchamel for fear of the flavor being overpowering. This is a perfect application for mace blades! By adding a nice mace blade or two to my onion cloute, I could get the subtle mace flavor I was looking for without overshadowing other flavors.
Bechamel with Mace Blades
Ingredients
4 tablespoons unsalted butter
4 tablespoons all purpose flour
2 cups whole milk
Freshly grated nutmeg(optional)

For the onion cloute:

1/2 onion, white or sweet
3 cloves
1 large or 2 small mace blades
Instructions
Push the cloves through the bay leaf and mace blade and into the onion as shown in the picture above.
Add the onion cloute to the milk and scald the milk by bringing it to just below a boil.
In a separate heavy bottom sauce pan over medium heat melt the butter and add the flour to make a roux.
Cook the roux until very lightly colored.
Whisk the hot milk into the roux one cup at a time, carefully transfer the onion cloute.
Turn the heat down to low and simmer for 15-20 minutes, stirring constantly.
Grate nutmeg into the sauce, if using.
Strain sauce through a fine mesh strainer, discarding the onion.
https://www.silkroaddiary.com/heavenly-bechamel/
World Spice Merchants https://www.worldspice.com
Béchamel itself is used in many recipes for lasagna, croque madames, or soups, but there are quite a few other sauces that can be derived from a basic béchamel, often by adding just a few ingredients. The French call these "small sauces" and some of my favorites are:
Cheddar cheese – add some shredded cheddar cheese, dry mustard, and worcestershire sauce or powder.
Mustard sauce – add some prepared mustard.
Crème Sauce – just whisk in some heavy cream (I also like to add a heavy pinch of Piment d'Espelette.)

Pickling Spice with Mace Blades
As our long-time customers may remember, we used to include mace blades in our pickling spice. Now that they're back, we really wish that we could go back to using them in our pickling spice recipe, but unfortunately the market shortage has driven the price up considerably and would make our pickling spice much more expensive. That doesn't mean that the dedicated home pickler can't buy an ounce or two and add it to their pickling spice themselves! We'd recommend a ratio of about an once and a half of mace blades to each pound of pickling spice. Having been born and raised in Pennsylvania Dutch country, beet pickled eggs are one of my favorite snacks (great for a quick breakfast too,) and one of the first things I tried making with the mace blades when I finally got my hands on them. I've even heard that some people use a beet pickled egg as an outrageous garnish for a bloody mary.
Ingredients
12 chicken eggs, hard boiled and peeled -or- 12 duck eggs if you're feeling fancy.
2 medium size beets, roasted or boiled and sliced -or- 1 can of sliced beets if you're feeling lazy.
1 red onion, thinly sliced
3/4 cup apple cider vinegar
1/3 cup white sugar
3 tablespoons pickling spice
1 large or 2 small mace blades
1 tablespoon dried orange peel
Instructions
Combine the beets, vinegar, sugar, orange peel, pickling spice and mace blades in a medium size sauce pan and bring to a boil. Reduce heat and simmer for 8-10 minutes.
Allow mixture to cool.
Arrange eggs and sliced red onion in layers in a large canning jar or other glass vessel.
Pour cooled pickling mixture over the eggs and onions and refrigerate.
Allow the eggs to sit in the fridge for at least a day or two, but they will just get better over the next couple weeks (if you can wait that long!)
https://www.silkroaddiary.com/heavenly-bechamel/
World Spice Merchants https://www.worldspice.com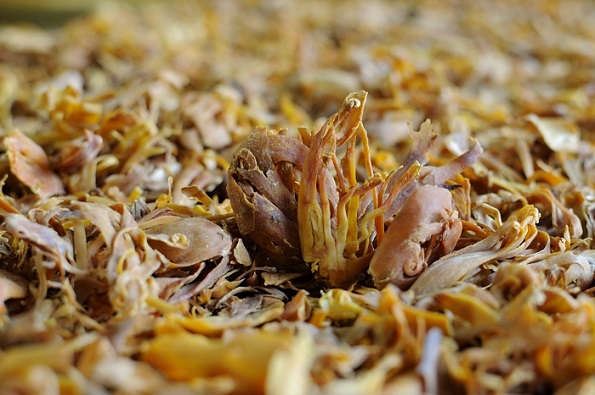 They're back! After years of searching we are happy to announce that we were able to get our hands on a shipment of mace blades that meet our quality standards. The mace blade naturally grows in wiry fingers around the nut of the nutmeg tree. Most often, this outer membrane is simply ground and sold as mace powder. When the crop is good, however, and merits the extra care required to harvest the whole mace blades, workers carefully snip the blade away from the nutmeg. As you can imagine, harvesting this spice is incredibly labor intensive, behind only saffron and perhaps pollens.
Mace, like its cousin nutmeg, can be very overpowering and "hot" on the tongue. Used in small amounts, however, mace can act like pepper; exciting the pallet and complimenting all the flavors of a dish. It's fairly easy to overdo it with ground mace powder, I've ruined a few soups, cream sauces, and rum butters by going overboard with the mace. This is where whole mace blades can be particularly useful. By using the whole mace like a bay leaf, a chef can impart just a hint of mace flavor. Steeping just a couple mace blades in cream can yield a béchamel that will leap off the plate and dance across the tongue.
Although we love freshly ground spices, and encourage everyone to grind their spices a la minute, the home chef may be disappointed in the results of trying to grind mace blades. If the blade is dry enough to grind, it's far too dry. If one is particularly determined to grind their whole mace into a powder, freezing or lightly toasting the blades can make the process a bit easier, but at the cost of lost flavor. This is one of those rare cases where it may just be best to buy the powder if a recipe requires powdered mace.
If you're thinking about giving this exotic spice a try, you may not want to wait, we were only able to secure a small shipment. We hope we can get more, but the spice markets can be unpredictable. Come back next week for a few recipes using mace blades. I'll be using mace blades to spruce up our pickling spice to make one of my favorite snacks: beet pickled eggs!