Tagged With:
File
Many of us fondly remember Sesto's Cafe, our neighbor here on Western Avenue and its New Orleans native and owner, Chuck Smith.  Chuck made some of the most memorable and mouthwatering Gumbo out of the Bayou.  We sure miss Sesto's. Lucky for us, though, Chuck generously shared his recipe for Chicken and Sausage Gumbo. We've "streamlined" his process just a tad (Don't worry, Chuck, your secret is safe!), and layered it with a classic roux from the cookbook of the Junior League of Lafayette, LA.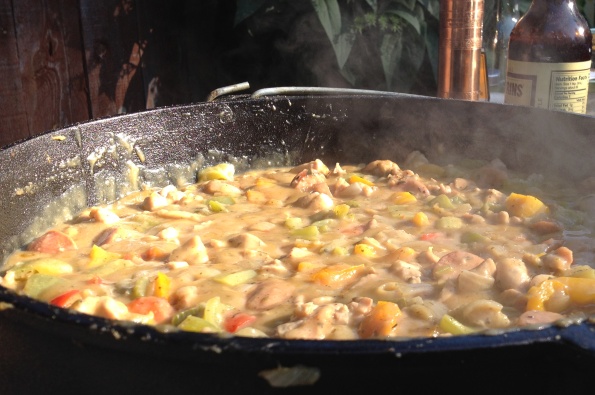 There's this big game happening on February 3rd in New Orleans – a city rich with culinary history, laden with exotic influences.  What an excellent opportunity to enjoy this delicious dish. Expect a huddle in the kitchen as well as around the TV with this Creole-inspired recipe.
Chicken and Sausage Gumbo
Ingredients
 
1/2 cup flour
1/2 cup vegetable oil or butter
 
 
4 cups onion, chopped
1-1/2 cups celery, chopped
1-1/2 cup bell pepper (red or green), chopped
4-5 cloves garlic, minced
1 teaspoon Worcestershire Sauce (or 1/4 teaspoon worcestershire powder)
1 tablespoon Herbes de Provence
1 tablespoon ground Creole Seasoning
1 teaspoon Tabasco sauce
2 links Andouille sausage, sliced (We like Uli's sausage)
2 pounds chicken thighs, skinless
4 cups chicken stock, heated
Salt, to taste.
Instructions
A large, heavy pot is a must - the heavier the better. Patience is a must - the more the better. (It will be rewarded! We promise!)
Mix flour and oil until thoroughly blended before heating. Turn heat on medium-low and immediately begin stirring. Allow roux to brown slooowly, stirring constantly.
When roux is dark brown, add chopped vegetables.Increase heat to medium and stir until onions are translucent. Add seasonings, stirring to blend. Add sausage and chicken, stirring until evenly browned.
Slooowly add heated chicken stock, stirring constantly. Continue stirring until gumbo comes to a simmer. Simmer 1 hour, stirring often and reducing heat if necessary to prevent sticking. Add salt to taste.
You can adjust the final thickness of the gumbo with file powder, or pass it at the table as a traditional accompaniment.
https://www.silkroaddiary.com/gumbo/
World Spice Merchants https://www.worldspice.com
Categories:

Cajun & Creole, Course, Global Cuisines, Holiday, Main Meals, North America, Recipes, Soups and Stews
Tags:

Creole Spice, File, Herbes de Provence, holiday, Mardi Gras, One pot meal, party time, Worcestershire
Leave a comment