Tagged With:
grilling season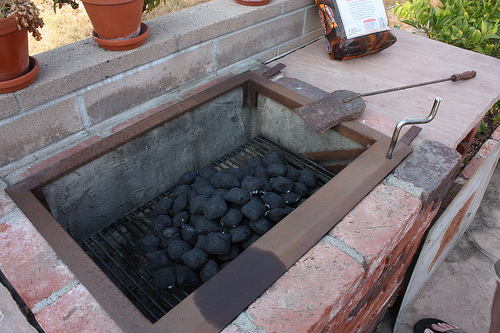 The smell of charcoal always brings me back to camping trips with my dad, specifically watching him struggle to light briquettes without the benefit of lighter fluid. I would eye campers in adjacent sites jealously, sending up enormous spouts of flame as they liberally applied lighter fluid to just about anything that could burn. I'd get impatient and tell dad that I was just going to head over and ask to borrow a bit of lighter fluid.
My father, being the food snob he is, forbade it. His method, he assured me, was superior. There are lots of fancy chimney starters on the market, but pops used a simple coffee can with holes punched in the bottom.
"No lighter fluid stinking up my grill, son," he'd say, attempting to light the charcoal for the fourth time.
I'd roll my eyes at that, but soon enough he'd have the coals glowing and ready to use.
You could call him a purist, I suppose. For all you charcoal purists out there, we've got some ideas that you might enjoy.
Aside from avoiding lighter fluid, you can enhance the flavor from your charcoal grill by making your own charcoal.
Different types of wood will yield different flavor, so do a bit of research to find the right type of wood for you. Apple wood and mesquite are popular choices. There are a few methods out there to turn your chosen wood into charcoal- they all involve burning the wood in a low oxygen environment. You can even use your grill if you can make it airtight.
Now that you've gotten your charcoal and chimney starter together, you can start grilling. There's a lot of conventional grilling wisdom out there, and it's good stuff to know. Here's a quick rundown:
Create hot and cool sides of the grill for temperature control – You can accomplish this simply by piling your coals a little higher on one side of the grill.
Don't overcook it – Cuts of meat shouldn't be gray inside.
Turn once and flip once – For steaks and burgers, turning once gives you an attractive cross hatch pattern on your meat and helps it cook more evenly. No need to turn after the flip, however, or even touch the meat at all until it's done.
That's the conventional wisdom, anyhow. Nothing wrong with it. Here with a rebuttal, however, is Adam Perry Lang, author of Charred & Scruffed, who takes a distinctively more active approach to grilling:

Looks tasty, Adam!  Pick up his book, Charred & Scruffed, right here to learn more about his insanely delicious techniques.
photo credit: ewen and donabel via photopin cc
Halfway through June, the summer grilling season is finally beginning to heat up. Are you ready to take your summer cookouts to the next level?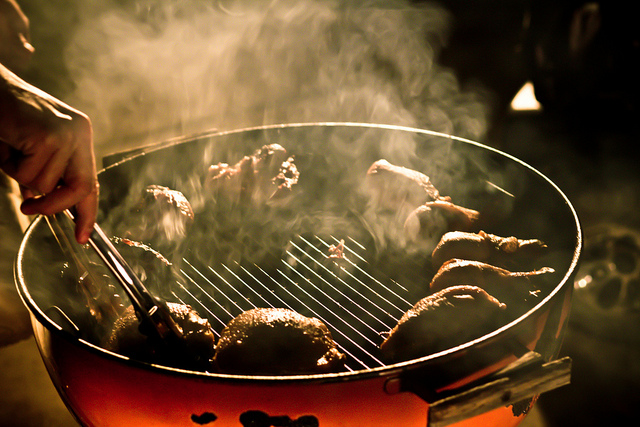 Dry rubs are a combination of herbs, spices, salt, and sugar that will infuse fabulous flavor into your meat and form a delicious crust for anything you care to throw on the fire. Whether you're grilling with steak, fish, pork, or chicken, there are different dry rubs that are best suited for each, sometimes so many it can be hard to choose. Here are the World Spice staff picks for each:
Ribs and Brisket:
We recommend our Memphis Beale St. for ribs and brisket, or anything you want to cook low and slow. In this rub, coriander, celery seeds and mustard seeds are left whole to pop open on the grill for some extra kick and crunchy texture!
Steak and Salmon:
Sherrie created our Sassy Steak Spice for… well steak, primarily, but we've found it delightful on salmon, too. The exotic flavors fit the bill when you're looking to season outside the box. With Alderwood smoked salt, chipotle flakes, Mexican oregano, long pepper, and Vietnamese cinnamon, this smoky/spicy/sweet dry rub is refreshingly different and perfectly balanced. Is Sassy the next culinary sensation? You decide.
Fish and Seafood:
For fish, we've got to hand the prize to our Yucatan Rojo blend. This traditional mix combines annatto seeds, true cinnamon, and hints of citrus and chile with cumin and Mexican oregano for great taste and a rich red color. We like it best on white fish, shrimp or scallops. It can be used as a dry rub, or a combined with vinegar and lime (or orange) juice to create a tasty paste. The piquant flavors settle perfectly into fish tacos!
Pork:
Simple and straightforward, our Smoky BBQ Rub can turn any cut of pork into a smoky southern treat. A perfect way to add a touch of heat to the classic overcast Seattle summer day (regardless of what city you live in).
Chicken:
Our Fin & Feather blend was created with a more delicate hand than some of our more robust rubs. It still boasts plenty of flavor and a paprika base, but we've added a hint of citrus, extra onion and more herby notes from sage and marjoram. It remains our first choice for grilled chicken and has also become a favorite for Thanksgiving turkey on the grill. Try it any time as an addition to your flour mixture when frying chicken. Seriously, try it out.
Did we miss something? Maybe you're feeling adventurous and are grilling with more exotic meats. Ask questions or tell us about your awesome summer grill stories in the comments.
photo credit: Bruce W Martin II via photopin cc