Tagged With:
Lecosho
Recently, Holly admitted her powerlessness over the char grilled prawns at the West Edge's favorite eatery, Lecosho. She recommended following the dish with this fantastic cardamom olive oil cake for dessert, and my ears perked right up.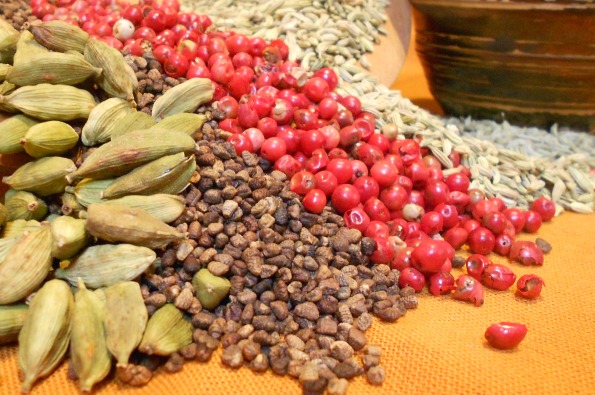 Now as a Sicilian, when you say "olive oil," I say "more!" So I called over to beg pastry chef Andrea for her recipe and she graciously gave it up. The Ranier cherries that she serves with it are at the end of their season now, but don't let that stop you from attempting this cake! Try a few slices of Northwest pear, poached in wine and sugar, or a few cubes of caramelized pumpkin, roasted until soft to garnish. This cake is heavenly with freshly ground cardamom, but is also a brilliant vehicle to feature any number of exotic spices- try pink peppercorns, saffron, fennel (or fennel pollen!) or anise seed, paired with a different flavors of gelato.
A word on the recipe itself: "Real deal" bakers and pastry chefs weigh their ingredients, much like we weigh our spices here in the shop. Weighing provides far more consistent and accurate measurements, which is why we choose to sell our spices that way, too. I left Chef Andrea's original weights in the recipe in case you're in possession of a gram scale, but also translated them to the more commonly used volume measurements for the average home cook, too.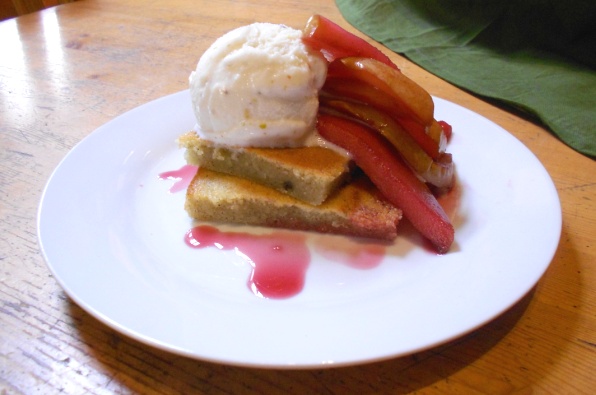 Chef Andrea's Cardamom Olive Oil Cake
Ingredients
290 grams all-purpose flour (2 1/3 cups)
6 grams baking powder (1 1/2 teaspoons)
4 grams Utah Basin salt (1 scant teaspoon)
2 eggs
316 grams sugar (1.5 cups plus 1 tablespoon)
2 cups whole milk
2 cups olive oil- pomace, or a mild-tasting extra virgin
Freshly ground cardamom seed, to taste (~2 tablespoons, for us)
Instructions
Preheat oven to 325 F if you've got a convection oven, 350 F for standard.
Line a half sheet tray (for the home cook, a full-sized jelly roll pan) with parchment paper, and grease it liberally with olive oil or non-stick spray.
Cream sugar and eggs to ribbon stage.
Sift together the dry ingredients, and set them aside.
Combine the olive oil and milk (they won't incorporate, but this is okay).
With a stiff rubber spatula, add the dry ingredients and milk/olive oil mix to the creamed sugar and egg mix in alternating thirds- that is, 1/3 of the dry ingredients, mix, 1/3 of the milk/oil, mix, repeat until all ingredients are just incorporated.
Add your desired amount of freshly ground cardamom.
Pour into the prepared pan, and spread until even.
Bake for 20 minutes, or until the edges are golden brown and a toothpick inserted in the center comes out clean. If you're not using a convection oven, turn the cake pan halfway through baking.
Allow the cake to cool on a wire rack.
To serve as they do at Lecosho, top with a scoop of almond gelato (Chef Andrea makes her own, but we love Procopio!) and pile of pitted local Rainer cherries, mascerated in just a bit of sugar. Enjoy!
https://www.silkroaddiary.com/chef-andreas-cardamom-olive-oil-cake/
World Spice Merchants https://www.worldspice.com
Categories:

Course, Holiday, Recipes, Sweet Somethings
Tags:

autumn, cardamom, cherries, easy dessert, Fall, Fennel Pollen, Lecosho, pears, pink peppercorn, pumpkin
5 Comments
Hello, my name is Holly, and I am an addict. I have ordered Lecosho's Chargrilled Prawns too many times to count in the past five weeks.
And, why not? This dish is the perfect, delicious embodiment of late summer. The corn has the delicate smoky sweet that only grilled corn can have, the prawns are consistently succulent, and the slightly sweet fennel salad is the perfect juxtapositon to the mild heat of the creamy chile sauce. It's an addiction for sure, but one that I don't want to quit.
Like many professionals, Chef Cody of Lecosho doesn't work from a recipe but instead uses intuition and knowledge to guide him to the perfect dish, seasoning as he goes. When asked for a recipe, he happily described the process and the how-tos, but had no exact measurements to share. So, for those that prefer precise measurements, this recipe's a challenge — but a challenge well worth undertaking! Go on, try it out, and test your cooking chops. If you decide to just go to Lecosho and order the prawns off the menu, I highly recommend ending your evening with the cardamom olive oil cake served with macerated Rainier cherries and almond gelato. You can't go wrong with that!
Lecosho's Chargrilled Prawns
Ingredients
Prawns
Fennel bulb
Orange supremes
Extra virgin olive oil
Corn
Fresno chiles
Garlic
Shallots
Heavy cream
Pomace oil
Instructions
Shuck fresh corn, char grill, then chill. Once chilled, remove from cob, set aside.
Sautee Fresno chiles with garlic and shallot. Once aromatic, add corn back in, seasoning with Murray River flake salt and freshly ground Tellicherry black pepper.
Add just enough heavy cream to cover. Simmer over medium-high heat until the cream has reduced, and the corn has absorbed most of the liquid.
To make the house roasted tomato oil, roast fresh roma tomatoes with fresh thyme, sliced garlic, salt, Tellicherry black peppercorn, and just a pinch of Indian cayenne.
Roast for about 45 minutes at 350.
Puree in a high speed blender with Pomace oil until smooth.
Toss prawns in tomato oil, and grill over high heat very quickly--about 45 seconds each side.
Dress grilled prawns with a little more tomato oil.
Shave fennel bulb a thin as possible - with a very sharp knife or on a mandoline.
Toss with orange supremes and a little extra virgin olive oil.
Season with a little salt and Tellicherry black peppercorn.
Prepare the bowl with a little tomato oil in the bottom, and add a spoonful of creamed corn. Top with prawns, garnish with fennel salad and a fennel frond, and dust with Murray River Flake Salt.
Enjoy!
Notes
For those unfamiliar, the pomace oil that Chef Cody calls for is oil that has been extracted from olive pulp after the first mechanical press with the use of solvents - a technique more common to the production of canola or safflower oils.
It's a more cost-effective oil (though it still retains good olive flavor), so many chefs use it in place of extra-virgin during the cooking process. It's a good ingredient to have on hand, but if you do not, you can dilute your precious extra-virgin olive oil in equal parts with canola oil.
https://www.silkroaddiary.com/lecoshos-chargrilled-prawns/
World Spice Merchants https://www.worldspice.com