Tagged With:
mace blade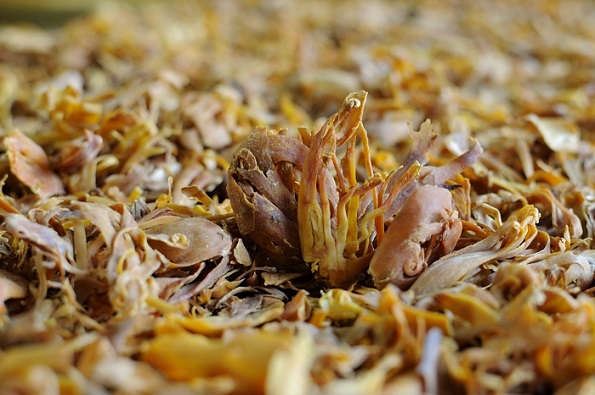 They're back! After years of searching we are happy to announce that we were able to get our hands on a shipment of mace blades that meet our quality standards. The mace blade naturally grows in wiry fingers around the nut of the nutmeg tree. Most often, this outer membrane is simply ground and sold as mace powder. When the crop is good, however, and merits the extra care required to harvest the whole mace blades, workers carefully snip the blade away from the nutmeg. As you can imagine, harvesting this spice is incredibly labor intensive, behind only saffron and perhaps pollens.
Mace, like its cousin nutmeg, can be very overpowering and "hot" on the tongue. Used in small amounts, however, mace can act like pepper; exciting the pallet and complimenting all the flavors of a dish. It's fairly easy to overdo it with ground mace powder, I've ruined a few soups, cream sauces, and rum butters by going overboard with the mace. This is where whole mace blades can be particularly useful. By using the whole mace like a bay leaf, a chef can impart just a hint of mace flavor. Steeping just a couple mace blades in cream can yield a béchamel that will leap off the plate and dance across the tongue.
Although we love freshly ground spices, and encourage everyone to grind their spices a la minute, the home chef may be disappointed in the results of trying to grind mace blades. If the blade is dry enough to grind, it's far too dry. If one is particularly determined to grind their whole mace into a powder, freezing or lightly toasting the blades can make the process a bit easier, but at the cost of lost flavor. This is one of those rare cases where it may just be best to buy the powder if a recipe requires powdered mace.
If you're thinking about giving this exotic spice a try, you may not want to wait, we were only able to secure a small shipment. We hope we can get more, but the spice markets can be unpredictable. Come back next week for a few recipes using mace blades. I'll be using mace blades to spruce up our pickling spice to make one of my favorite snacks: beet pickled eggs!