Tagged With:
Marinade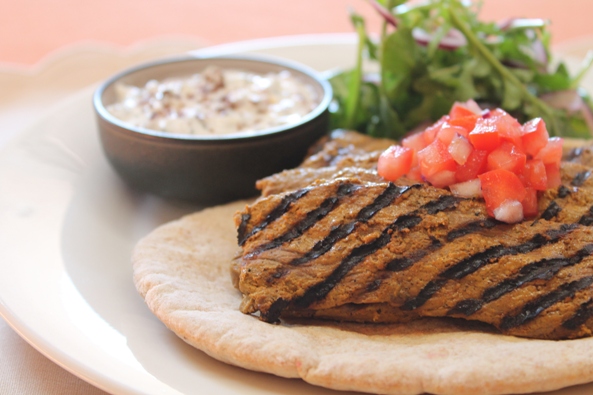 "Do you have shawarma spice?" – It's a request we hear often, and if you've tasted it, you know why! If you're yet unfamiliar, shawarma is an Arabic and Middle Eastern street food traditionally prepared on a rotating spit over an open fire. The open flame cooks the meat to juicy perfection on the inside, with a crisp crust on the outside. Slivers are sliced off the spit all day long, and stuffed in to pitas overflowing with tomatoes, cucumber, tahini, or hummus. It's a "four napkin" sandwich – meat juices running together with creamy sauce, punctuated by crisp vegetables and fresh herbs. It's even the official food of superheroes, if you believe 2012's Avengers movie… and we do!
Spice merchants are curious merchants, so with the first inquiry, we were pouring over cookbooks to find exactly what would be in a Shawarma blend. We turned to Yotam Ottolenghi's Jerusalem for our initial inspiration and reveled in the heavy use of spices, including, cloves, cardamom, fenugreek, cinammon, nutmeg, fennel, cumin, star anise, sumac, and coriander just to name a few. Our test kitchen is without the traditional rotisserie setup, so we grilled our marinated shawarma instead. Tucked in to warm pitas with all the traditional accompaniments, we're confident that our version will earn Iron Man's seal of approval… and yours, too.
Ingredients
Instructions
In a bowl, whisk together everything but the lamb and the oil. Pour this marinade over the lamb and marinate for at least two hours but preferably overnight.

To Cook Shawarma

Prepare your grill- charcoal, preferably- to medium-high heat and remove lamb from marinade, shaking off excess marinade to avoid burning.
Grill the strips of meat directly over the flame. Once the pieces have some color, rotate them 180 degrees to get good, crosshatched grill marks and that toasty flavor- about five minutes. Repeat on the other side, brushing with the oil, until the desired internal temperature has been reached.
Serve with salad of cucumbers, tomatoes, and parsley, yogurt and warmed pitas.
https://www.silkroaddiary.com/lamb-shawarma/
World Spice Merchants https://www.worldspice.com
Rule #1 of the Spice Merchant's Camping Handbook: Just because you are sleeping on the ground, doesn't mean you have to eat franks and beans! We took Chimichurri sauce camping with us this weekend, and the results were fantastic! We had Chimichurri flank steak for dinner plated up with Voodoo grilled zucchini and followed by Dutch Oven peach and huckleberry cobbler, cause that's how we roll. (For great information on using a Dutch Oven click here.)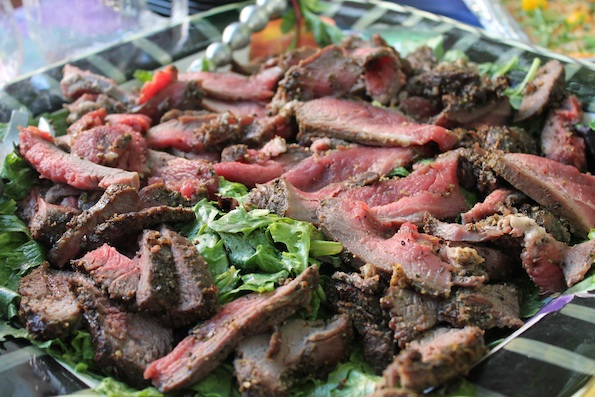 Classic Argentinian Chimichurri sauce combines the almost apricot flavor of the aji mirasols, the peppery sweetness of guajillo and New Mexico chiles, and the earthiness of oregano, cumin and bay with fresh herbs, citrus, plenty of garlic, vinegar and oil, to create a sauce that you'll find excuse after excuse to use. It couldn't be easier to make– just throw the sauce ingredients together in a blender and voila! You're headed down, down to flavor town.
When used as a marinade, the grill fire tames the acidity of the vinegar, enhances the sweetness of the citrus, and intensifies the heat of the chiles. Another drizzle of sauce to finish leaves any cut of meat, beef especially, perfectly balanced in that sweet-tart-spicy-meaty union that screams "summer food" the world over. The flavors of Chimichurri sauce bloom over time, melding together and becoming even more cohesive, so make enough to keep in the fridge for about a month. Insider tip: A "month's worth" is double what you think it is.
Ingredients
For the Chimichurri Sauce

1 cup fresh parsley, roughly chopped
1/4 cup minced garlic
2 tablespoons Chimichurri Spice
3/4 cup white vinegar
1/4 cup sherry vinegar
1/4 cup water
2 cups canola or vegetable oil
Murray River flake salt, to taste
1 or 2 limes, juiced plus extra for serving with the steak

For the Steak

2 - 3 lbs. flank steak
Instructions
For the Chimichurri Sauce

Combine all ingredients in a blender or food processor and blend. Pour into a glass jar with good seal. It will keep for a couple of months in the refrigerator...and just keep getting better. Give it a good shake before using.

For the Steak

Put the flank steak in a large resealable bag, and add enough of the Chimichurri Sauce to thoroughly coat the steak. Squeeze all of the air out of the bag, and seal. Place bag on a plate and put in the refrigerator. Marinate for at least 2 hours, but overnight is even better.
You can either grill or broil this flank steak. When your coals are hot and ready for cooking, take the flank steak out of the bag, but make sure that it still has some of the Chimichurri Sauce coating it when you put it on the grill.
Grill or broil it to your desired doneness, being sure to get good grill marks on both sides. When you take it off the grill, allow it to rest for 5 - 10 minutes.
Slice the steak against the grain, put it on a platter (no sneaking a piece!), and drizzle with more Chimichurri Sauce. Serve it with a little bowl of sauce and some fresh cut up limes on the side.
Notes
You can mix some cilantro in with the parsley for extra flavor.
https://www.silkroaddiary.com/chimichurri-flank-steak/
World Spice Merchants https://www.worldspice.com
Categories:

BBQ, Course, Global Cuisines, Grilling Season, Latin America, Main Meals, North America, Recipes, Sides
Tags:

BBQ, Beef, Chimichurri Spice, Easy, Grill, Marinade, Seafood, Vegetables
3 Comments
There's a regular cornucopia of great food tips floating around the web.  Today, we have compiled a sampler platter of some of these appetizing articles and videos for your enjoyment, but first, a palate cleanser:

A chicken salad sandwich walks into a bar.  The bartender gives it a nasty look, points at a sign over his head, and says "Hey!  Can't you read?"
The chicken salad sandwich looks up to read the sign.
"No food served after 10:00 PM."
The chicken salad sandwich turns toward the door and grumbles as it walks outside, "Sassafrassin' Urban Spoon."
Zing!  Anyhow, on to the fun stuff:
Food52 has this article that you'll surely find useful this week.  Step one is start with the best ingredients.  You know where to find those, right?  Food52 has approximately one million articles of interest, like the virtues of millet for you gluten-free folks, so don't stay up all night browsing.  Or do.  I'm not your mom.
Thekitchn.com has an great Q&A section with user questions and answers from the editors and community.  There's a few cooking knowledge power houses lurking in the comments, so don't dismiss those.  Pureed vegetable soup can be an awesome summer meal, since many of these soups have low prep time and can be served cold.  Don't miss out on the rest of their awesome answers to questions like "I've got me some saffron, now what," and "can I make homemade wine from bananas?"
Man, if this stuff turns out tasting as good as it looks, your chicken salad sandwich won't be getting kicked out of any bars.  Smitten Kitchen's recipe uses whole mustard seeds, in case you need any.
Seattle native(ish) Joel McHale poses some good questions to Adam Perry Lang, Adam Corolla is on hand, mostly to drink beer and get flipped off by Joel.  They are joined by comedian Jimmy Pardo, and they all seem pretty hungry.
That's a wrap!  Thanks for reading.  If I missed something awesome, let me know in the comments!