Tagged With:
outdoor cooking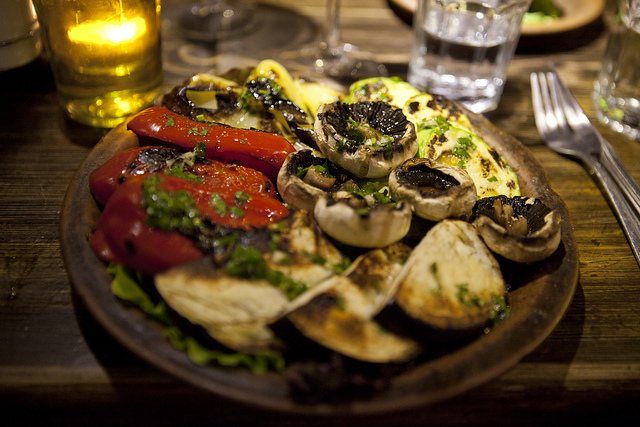 Our selection of cookbooks here at World Spice Merchants is vast, and can possibly be a little daunting. Since summer is in full swing, we've thrown together a handy guide to cookbooks you can add to your shelf to use all summer long without breaking a sweat:
The Gardener And The Grill
I don't know about you, but folks in my family are a little, well, garden crazy.  My brother is one of the few folks I know who will go for a hike in the mountains and come home with a salad. My mother prefers the tame vegetables that she plants every year like clockwork, but her garden still gets a little out of control.  From spring to early fall she commands an abundance of asparagus, tomatoes, onions, several varieties of squash, swiss chard, string beans, and snow peas.  There's a whole segment of her garden devoted to herbs.
How she is able to coordinate all these delicious plants with the proper time to plant, water, and harvest is beyond me.  However, how she is able to swiftly convert this vegetable matter into a delicious meal is not so hard to understand with the help of  The Gardener And The Grill.  This book will give you plenty of ideas for what to do with this years crop. It may even have you making plans for what to plant next year.
Personally, after checking out the prosciutto wrapped asparagus spears, I've got my own plans for the neighborhood p-patch. Make your own plans for your garden, and enjoy the fruits (and veggies) of your labors!
Plenty
Plenty is a more than just a word that brilliantly describes the produce of the summer season, it's also an inspired book of vegetable cookery by Yotam Ottolenghi. Perfect for the time of year when all of our figures beg for lighter fare, the recipes are so succulent that even the most devoted carnivore won't miss the meat at the barbecue.
Ranging from simple techniques like poaching, to more beautiful and complicated frittatas and tartlettes, veggies are taken to new levels with Ottolenghi's focus on featuring the best ingredients and pairing them with unique spices and flavors. A hands-down favorite of nearly every spice merchant, Plenty is a must-have for spring and summer cuisine.
Campfire Cuisine
This handy book by Robin Donavan offers more than 100 recipes for the earnest camper. Once you get your paws on this book, you may want to plan a camping trip just for the express purpose of trying some of these simple and delicious recipes out.
While I understand that you probably don't want to go camping 100 times in a year, the good news is the old backyard is a fine place to practice the craft of outdoor cooking as well, so you can keep whipping up your favorites well into fall.
Campfire Cuisine also contains practical guidance on menus, shopping for those fresh ingredients, and the best equipment that won't break the bank or your back. Chefs of every skill level will enjoy this travel sized camping companion.