Tagged With:
prawns
Hello, my name is Holly, and I am an addict. I have ordered Lecosho's Chargrilled Prawns too many times to count in the past five weeks.
And, why not? This dish is the perfect, delicious embodiment of late summer. The corn has the delicate smoky sweet that only grilled corn can have, the prawns are consistently succulent, and the slightly sweet fennel salad is the perfect juxtapositon to the mild heat of the creamy chile sauce. It's an addiction for sure, but one that I don't want to quit.
Like many professionals, Chef Cody of Lecosho doesn't work from a recipe but instead uses intuition and knowledge to guide him to the perfect dish, seasoning as he goes. When asked for a recipe, he happily described the process and the how-tos, but had no exact measurements to share. So, for those that prefer precise measurements, this recipe's a challenge — but a challenge well worth undertaking! Go on, try it out, and test your cooking chops. If you decide to just go to Lecosho and order the prawns off the menu, I highly recommend ending your evening with the cardamom olive oil cake served with macerated Rainier cherries and almond gelato. You can't go wrong with that!
Lecosho's Chargrilled Prawns
Ingredients
Prawns
Fennel bulb
Orange supremes
Extra virgin olive oil
Corn
Fresno chiles
Garlic
Shallots
Heavy cream
Pomace oil
Instructions
Shuck fresh corn, char grill, then chill. Once chilled, remove from cob, set aside.
Sautee Fresno chiles with garlic and shallot. Once aromatic, add corn back in, seasoning with Murray River flake salt and freshly ground Tellicherry black pepper.
Add just enough heavy cream to cover. Simmer over medium-high heat until the cream has reduced, and the corn has absorbed most of the liquid.
To make the house roasted tomato oil, roast fresh roma tomatoes with fresh thyme, sliced garlic, salt, Tellicherry black peppercorn, and just a pinch of Indian cayenne.
Roast for about 45 minutes at 350.
Puree in a high speed blender with Pomace oil until smooth.
Toss prawns in tomato oil, and grill over high heat very quickly--about 45 seconds each side.
Dress grilled prawns with a little more tomato oil.
Shave fennel bulb a thin as possible - with a very sharp knife or on a mandoline.
Toss with orange supremes and a little extra virgin olive oil.
Season with a little salt and Tellicherry black peppercorn.
Prepare the bowl with a little tomato oil in the bottom, and add a spoonful of creamed corn. Top with prawns, garnish with fennel salad and a fennel frond, and dust with Murray River Flake Salt.
Enjoy!
Notes
For those unfamiliar, the pomace oil that Chef Cody calls for is oil that has been extracted from olive pulp after the first mechanical press with the use of solvents - a technique more common to the production of canola or safflower oils.
It's a more cost-effective oil (though it still retains good olive flavor), so many chefs use it in place of extra-virgin during the cooking process. It's a good ingredient to have on hand, but if you do not, you can dilute your precious extra-virgin olive oil in equal parts with canola oil.
https://www.silkroaddiary.com/lecoshos-chargrilled-prawns/
World Spice Merchants https://www.worldspice.com
A word of advice from a novice gardener: Carrots are much bigger than carrot seeds. Somehow, fifty-odd square feet of garden space doesn't seem like that much when it's being planted, but it can produce a surprising haul, most especially in the carrot department. Praise be that carrots are delicious, so their being excessively plentiful is a problem I'm thankful to have! This soup is hearty and delicious, made velvety by the soft puree of carrots, and from the toasted rice in the Poudre de Colombo curry. We've dressed it up a little with the prawns, but this soup can easily be made vegan by omitting them and using red miso paste in favor of the Worcestershire powder.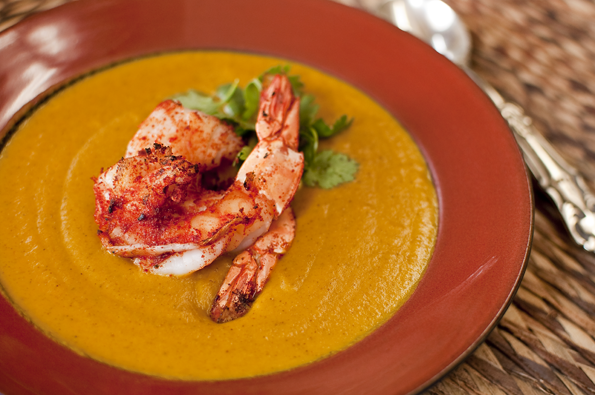 Poudre de Colombo Carrot Soup
Ingredients
Olive oil, for sautéing
1 medium onion, chopped
3 cloves garlic, chopped
1.5 inch piece fresh ginger, peeled and chopped
1.5 lbs. carrots, peeled and chopped
3 cups chicken, vegetable, or seafood stock
3/4 cups mild, dry white wine
1/4 cup ground Poudre De Colombo Curry
1 can coconut milk
1 tablespoon Worcestershire powder
Juice of 1 lime, plus wedges from 1 more for serving
Pinch of brown or raw sugar
Freshly picked cilantro leaves for garnish
12 prawns
1 Tablespoon Hungarian paprika
1 Teaspoon Indian cayenne
Instructions
Heat oil, and sauté onions, garlic, ginger, and carrots for five minutes. Deglaze with wine, and reduce until pan is nearly dry
Add stock, bay leaf, and 1 tablespoon of the curry, cover, and simmer until carrots are very tender, about 15 minutes.
Remove bay leaf. In a food processer or blender, puree soup until smooth. Work in small batches for best results, adding in the coconut milk to aid in the blending. Strain the processed soup through a wire mesh strainer in to a clean pot, and return the mixture to the stove over low heat.
Add the remaining coconut milk, Worcestershire powder, sugar, and curry, 1 tablespoon at a time, until desired seasoning level is reached. Add lime juice, and adjust for salt.
Rub prawns with paprika and cayenne, and grill or sear them.
Ladle soup in to bowls, and garnish each with two prawns, a wedge of lime, and a few leaves of cilantro.
Notes
If you're short on time, or you perhaps planned your garden space better than I did, and therefore the creative utilization of carrots is not a pressing issue for you, a can of pumpkin puree is an excellent substitution.
https://www.silkroaddiary.com/poudre-de-colombo-carrot-soup/
World Spice Merchants https://www.worldspice.com
Categories:

Caribbean, Course, Curries & Masalas, Fruits of the Sea, Global Cuisines, Main Meals, North America, Recipes, Soups and Stews
Tags:

autumn, carrots, curry, Easy, Fall, harvest, prawns, pumpkin, Soup, Vegan, Vegetarian, warming
Leave a comment