Tagged With:
pumpkin
Recently, Holly admitted her powerlessness over the char grilled prawns at the West Edge's favorite eatery, Lecosho. She recommended following the dish with this fantastic cardamom olive oil cake for dessert, and my ears perked right up.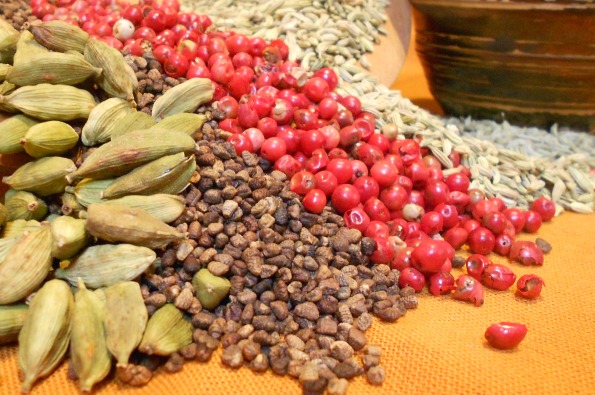 Now as a Sicilian, when you say "olive oil," I say "more!" So I called over to beg pastry chef Andrea for her recipe and she graciously gave it up. The Ranier cherries that she serves with it are at the end of their season now, but don't let that stop you from attempting this cake! Try a few slices of Northwest pear, poached in wine and sugar, or a few cubes of caramelized pumpkin, roasted until soft to garnish. This cake is heavenly with freshly ground cardamom, but is also a brilliant vehicle to feature any number of exotic spices- try pink peppercorns, saffron, fennel (or fennel pollen!) or anise seed, paired with a different flavors of gelato.
A word on the recipe itself: "Real deal" bakers and pastry chefs weigh their ingredients, much like we weigh our spices here in the shop. Weighing provides far more consistent and accurate measurements, which is why we choose to sell our spices that way, too. I left Chef Andrea's original weights in the recipe in case you're in possession of a gram scale, but also translated them to the more commonly used volume measurements for the average home cook, too.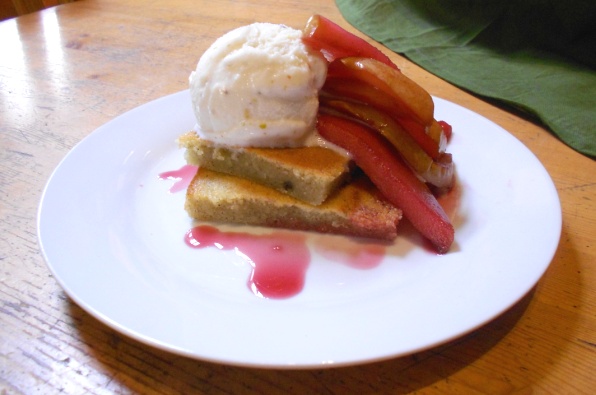 Chef Andrea's Cardamom Olive Oil Cake
Ingredients
290 grams all-purpose flour (2 1/3 cups)
6 grams baking powder (1 1/2 teaspoons)
4 grams Utah Basin salt (1 scant teaspoon)
2 eggs
316 grams sugar (1.5 cups plus 1 tablespoon)
2 cups whole milk
2 cups olive oil- pomace, or a mild-tasting extra virgin
Freshly ground cardamom seed, to taste (~2 tablespoons, for us)
Instructions
Preheat oven to 325 F if you've got a convection oven, 350 F for standard.
Line a half sheet tray (for the home cook, a full-sized jelly roll pan) with parchment paper, and grease it liberally with olive oil or non-stick spray.
Cream sugar and eggs to ribbon stage.
Sift together the dry ingredients, and set them aside.
Combine the olive oil and milk (they won't incorporate, but this is okay).
With a stiff rubber spatula, add the dry ingredients and milk/olive oil mix to the creamed sugar and egg mix in alternating thirds- that is, 1/3 of the dry ingredients, mix, 1/3 of the milk/oil, mix, repeat until all ingredients are just incorporated.
Add your desired amount of freshly ground cardamom.
Pour into the prepared pan, and spread until even.
Bake for 20 minutes, or until the edges are golden brown and a toothpick inserted in the center comes out clean. If you're not using a convection oven, turn the cake pan halfway through baking.
Allow the cake to cool on a wire rack.
To serve as they do at Lecosho, top with a scoop of almond gelato (Chef Andrea makes her own, but we love Procopio!) and pile of pitted local Rainer cherries, mascerated in just a bit of sugar. Enjoy!
https://www.silkroaddiary.com/chef-andreas-cardamom-olive-oil-cake/
World Spice Merchants https://www.worldspice.com
Categories:

Course, Holiday, Recipes, Sweet Somethings
Tags:

autumn, cardamom, cherries, easy dessert, Fall, Fennel Pollen, Lecosho, pears, pink peppercorn, pumpkin
5 Comments
Last October, the shop was bedecked with lovely heirloom pumpkins. Once they had seen the end of their lives as decorations, we roasted them and added them to everything — and I mean everything! This recipe was conceived to please the vegetarian we had on staff at the time, as well as all of the ardent carnivores we always have around. It's the best of our pumpkin experimentation and was the first dish to disappear at our most recent tasting.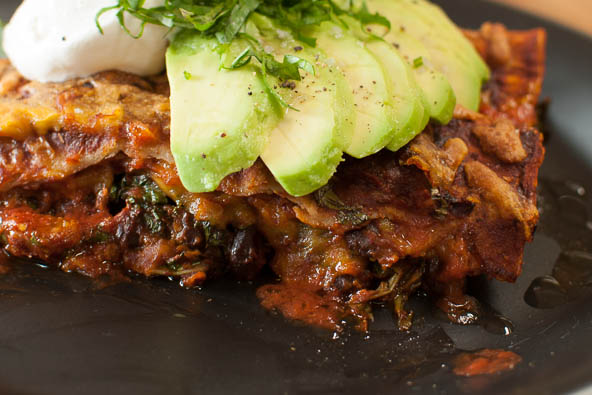 Cooking with whole chile pods can be intimidating if you've never done it, but it isn't difficult and the flavors are unparalleled. It should be mentioned that "chile" is not synonymous with heat. In this sauce, darkly sweet Anchos complement the roasted pumpkin, while Pasilla Negro and Mulato provide an earthy base to support the sharpness of the kale. Just a touch of smoke is added with the Pasilla Oaxaca, producing a rich and complex concoction that is remarkably mild. If you like your Latin fare a little spicier, you can customize the heat level with a pinch or two of Chipotle Flakes.
Ingredients
2 cloves garlic
1 bottle of beer (or can substitute 3/4 cup of pinot grigio)
1 12-14 oz. can tomato sauce
1 tablespoon vegetable bouillon
Water
2 cups cubed raw pumpkin
2 tablespoons ground cumin
2 tablespoons Utah basin salt
2 tablespoons Vietnamese cassia cinnamon
canola (or other neutral oil) to coat
1 bunch kale (we like curly or dinosaur kale)
1 can of drained, rinsed, whole black beans
1 tablespoon whole toasted cumin seeds
12-16 soft corn tortillas
3 cups shredded cheese, Monterey Jack or other
Instructions
Sauce:

Remove stems from chiles and add to a 2 quart saucepan with beer, garlic and bouillon. Cover with water and allow to simmer for about one hour, then allow to cool.
Remove cooled chiles and garlic from poaching liquid and puree in batches with the tomato sauce, adding back enough of the poaching liquid to form a thin sauce (about the consistency of teriyaki sauce). You should end up with about seven cups of sauce.

Pumpkin:

Preheat oven to 450 degrees. Put an empty sheet pan in the oven to heat up. Toss the cubed raw pumpkin with the spices and enough neutral oil (canola, corn, safflower, peanut) to coat. Pour spiced pumpkin on to the hot sheet pan in an even, single layer. (Be careful to avoid over-crowding or you won't get good caramelization.) Roast until tender but still 'al dente.'

Filling:

Wash, stem and chop the kale, then combine with the cooled, roasted pumpkin, beans, and cumin seeds.

Assembly:

Heat up enchilada sauce until it simmers, and place enough sauce in a 9x13 casserole dish to thinly coat the bottom.
Dip tortillas in to heated sauce, coating both sides.
Add a bit of cheese, and a generous handful of the pumpkin/kale/bean mix to the sauced tortilla, and roll it up. Plan to use about 2/3 of the cheese inside the enchiladas, and reserving 1/3 for the top.
Place rolled enchilada in the prepared pan, and repeat until filled. For best results, pack them in tightly. Pour remaining sauce over the top of the rolled enchiladas, and top with remaining cheese.
Bake at 325 degrees until bubbly and cheese has browned on top, about forty minutes.
Notes
The chiles can be cooked the night before and refrigerated overnight for maximum efficiency.
https://www.silkroaddiary.com/pumpkin-kale-enchiladas/
World Spice Merchants https://www.worldspice.com
Categories:

Course, Global Cuisines, Latin America, Main Meals, North America, Recipes
Tags:

Ancho chile, kale, Mulato, Pasilla Negro, Pasilla Oaxaca, pumpkin
Leave a comment
A word of advice from a novice gardener: Carrots are much bigger than carrot seeds. Somehow, fifty-odd square feet of garden space doesn't seem like that much when it's being planted, but it can produce a surprising haul, most especially in the carrot department. Praise be that carrots are delicious, so their being excessively plentiful is a problem I'm thankful to have! This soup is hearty and delicious, made velvety by the soft puree of carrots, and from the toasted rice in the Poudre de Colombo curry. We've dressed it up a little with the prawns, but this soup can easily be made vegan by omitting them and using red miso paste in favor of the Worcestershire powder.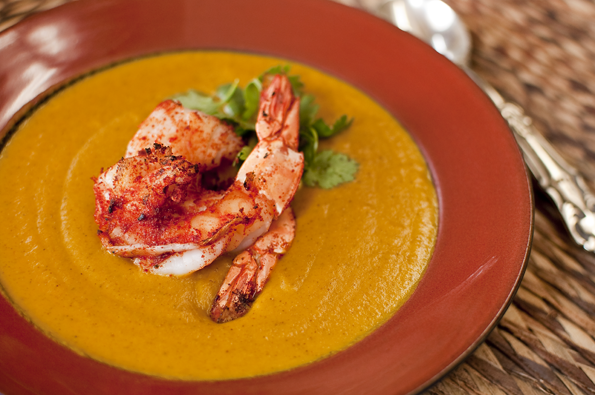 Poudre de Colombo Carrot Soup
Ingredients
Olive oil, for sautéing
1 medium onion, chopped
3 cloves garlic, chopped
1.5 inch piece fresh ginger, peeled and chopped
1.5 lbs. carrots, peeled and chopped
3 cups chicken, vegetable, or seafood stock
3/4 cups mild, dry white wine
1/4 cup ground Poudre De Colombo Curry
1 can coconut milk
1 tablespoon Worcestershire powder
Juice of 1 lime, plus wedges from 1 more for serving
Pinch of brown or raw sugar
Freshly picked cilantro leaves for garnish
12 prawns
1 Tablespoon Hungarian paprika
1 Teaspoon Indian cayenne
Instructions
Heat oil, and sauté onions, garlic, ginger, and carrots for five minutes. Deglaze with wine, and reduce until pan is nearly dry
Add stock, bay leaf, and 1 tablespoon of the curry, cover, and simmer until carrots are very tender, about 15 minutes.
Remove bay leaf. In a food processer or blender, puree soup until smooth. Work in small batches for best results, adding in the coconut milk to aid in the blending. Strain the processed soup through a wire mesh strainer in to a clean pot, and return the mixture to the stove over low heat.
Add the remaining coconut milk, Worcestershire powder, sugar, and curry, 1 tablespoon at a time, until desired seasoning level is reached. Add lime juice, and adjust for salt.
Rub prawns with paprika and cayenne, and grill or sear them.
Ladle soup in to bowls, and garnish each with two prawns, a wedge of lime, and a few leaves of cilantro.
Notes
If you're short on time, or you perhaps planned your garden space better than I did, and therefore the creative utilization of carrots is not a pressing issue for you, a can of pumpkin puree is an excellent substitution.
https://www.silkroaddiary.com/poudre-de-colombo-carrot-soup/
World Spice Merchants https://www.worldspice.com
Categories:

Caribbean, Course, Curries & Masalas, Fruits of the Sea, Global Cuisines, Main Meals, North America, Recipes, Soups and Stews
Tags:

autumn, carrots, curry, Easy, Fall, harvest, prawns, pumpkin, Soup, Vegan, Vegetarian, warming
Leave a comment