Tagged With:
Quail
Exotic. Aromatic. Romantic. We prepared this intimate feast with a table for two in mind. Using Ras El Hanout, which contains a hint of Moroccan rose petals, succulent quail are pefectly roasted and finished with a finger licking honey glaze.  Our Wild Rice Pilaf accompaniment features the bold flavor of cassia cinnamon while Paradise Pistachio Relish combines grains of paradise and Aleppo pepper to bring everything together for a memorable Valentine's Day Feast, we'll leave the desert up to you.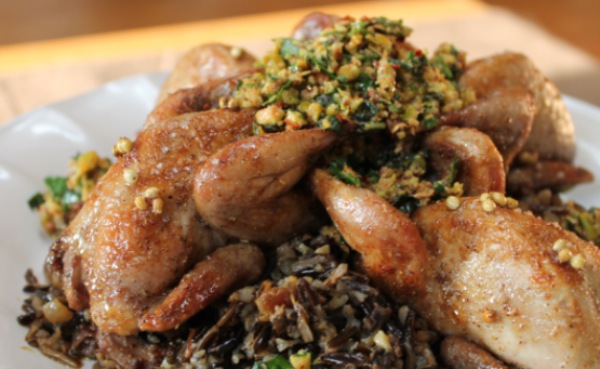 Honey Glazed Roasted Quail
Ingredients
Instructions
For the Brine

Bring water to a boil in a large stock pot. Once boiled, remove from heat and add sugar and salt. Stir until sugar and salt have dissolved. and add enough ice to bring water volume to 1 gallon
Once the brine has cooled, add quail and spices and refrigerate for 2 1/2 hours.

For the Quail

Preheat oven to 450 degrees.
Remove quail from brine and pat dry with paper towels Set aside to bring to room temperature, about 30-40 minutes.
While quail are setting, melt butter in a small skillet, add Ras el Hanout, whisk and remove from heat. Apply butter mixture liberally to quail.
Roast quail, preferably on a grill rack, for 12-17 minutes

For the Glaze

In a small saucepan, heat honey and coriander over medium heat, stirring often, until honey is reduced by half, about 8 minutes. Discard coriander seeds.
With a pastry brush, glaze the roasted quail with honey and finish with Sel de Mer.
Serve with rice pilaf and pistachio relish (recipes below)
https://www.silkroaddiary.com/honey-glazed-roasted-quail/
World Spice Merchants https://www.worldspice.com
Ingredients
1 cup wild rice
3-3 1/2 cups chicken or vegetable stock
1/2 medium yellow onion
2 cloves garlic, diced
4 tablespoons dates, chopped
1 3" cassia cinnamon
2 tablespoons olive oil
Instructions
In a small saucepan, brink stock to boil. Add rice, cinnamon stick and bay leaf, reduce heat and simmer until rice kernels open, about 45-50 minutes.
While rice cooks, saute onion on medium heat until lightly browned, about 10 minutes. Add garlic to onions and continue sauteing until garlic is lightly browned.
When rice is nearly cooked, add onion/garlic mixture, and dates. Cover until the dates have dehydrated, about 10 minutes.
Season with salt to taste
https://www.silkroaddiary.com/honey-glazed-roasted-quail/
World Spice Merchants https://www.worldspice.com
Paradise Pistachio Relish
Ingredients
1 cup shelled, unsalted pistachios, toasted
3 tablespoons chopped flat leaf parsley
3 tablespoons chopped fresh mint
1 clove garlic, crushed
Zest and juice of 1 lemon
2/3 cup extra virgin olive oil
1 tablespoon Aleppo pepper flakes
1 teaspoon ground grains of paradise
Salt to taste
Instructions
Use the bottom of a bowl to roughly crush pistachios.
Combine pistachios, parsley, mint, garlic and lemon in a mixing bowl. Slowly add olive oil, mixing as you go, then add Aleppo pepper, grains of paradise and salt.
Cover and allow to sit at room temperature for 1 hour.
https://www.silkroaddiary.com/honey-glazed-roasted-quail/
World Spice Merchants https://www.worldspice.com
Categories:

Course, Global Cuisines, Holiday, Main Meals, Middle East, North America, Recipes, Sides, Spice Notes
Tags:

holiday, Quail, Ras el Hanout, Rose Petals, Valentine's Day
2 Comments