Tagged With:
Sami Tamimi
The book section of the shop is ever-evolving. Some books we keep ordering and selling for years, and we count on their presence in the shop like trusted friends. For others our love affair is brief, but we never carry a book that we aren't excited about. With a shop full of cooks, all with varying palates and preferences, we end up with a pretty impressive spread of titles that span the globe in origin, and run the whole spectrum of cooking difficulty.
Every now and again, we come upon an author whose every work we just have to have. You know the kind- every photo mouth-wateringly composed, every recipe introduction rich in back story and promise of sweet reward, and every combination of ingredients tantalizing and inspiring. Yotam Ottolenghi is just such an author. His cookbook "Plenty" is a work of art in the arena of vegetable cookery, so when his latest book about the flavors of his homeland, written in combination with Sami Tamimi, was published, we were first in line for a copy.
"Jerusalem" begins with a nod to the diverse population of the city, with its Greek, Russian, Tunisian, and Eastern European immigrants, and reveals the ways that they infuse their culinary histories in to the local, making for a varied and rich local cuisine. The book then eases in to the first chapter, "Salads". The dish we find most exciting? Kohlrabi salad with mint and sumac… crisp kohlrabi in a creamy, tangy yoghurt dressing? Yes please! These first recipes are interspersed with the history of za'atar and information on some ingredients Westerners are likely to be unfamiliar with.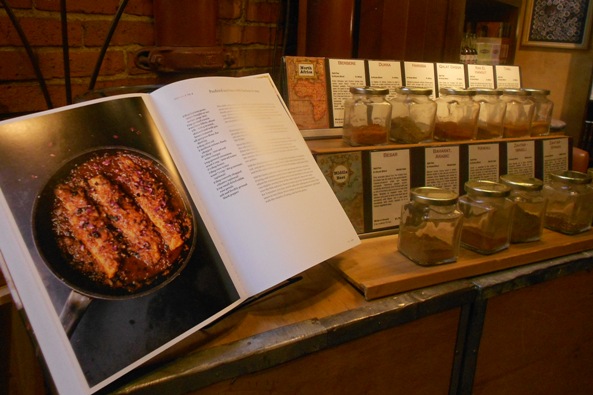 The recipes only get more impressive from there. Wade through the various spreads and dips in to the meat section, and be dazzled by the likes of Braised Quail with Apricots, Currants, and Tamarind, accented with crushed fennel seeds, Saffron Chicken & Herb Salad, and the dish so phenomenal looking, they used it for the cover: Braised Eggs with Lamb, Tahini, & Sumac. Every page is more delightful than the last, and every recipe the spice test kitchen has attempted has turned out phenomenally.
Whether you have yet to experiment with the flavors of this diverse region, or even if you're a seasoned veteran of Middle Eastern cuisine, this book has something for you. If eating more vegetables was near the top of your New Years resolution list, you'd be wise to arm yourself with a copy, as so many of these recipes feature creative and simple ways to enjoy the most basic market staples (all expertly spiced, of course). We can't say enough good things about this book, and are sure it's soon to become one of your favorites, as it has ours.