Tagged With:
Seafood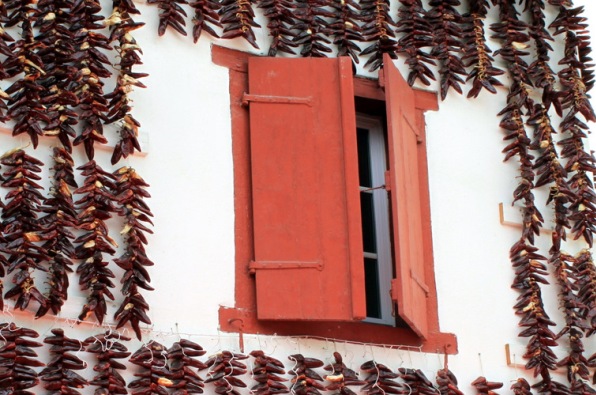 It's here! This season's crop of Piment d'Espelette arrived at our doorstep this week, ready to transform our dishes with its mild heat and fruity, almost tomatoey flavor. Piment d'Espelette's mild flavor is the cornerstone of the traditional Basque stews, and in keeping with Basque tradition we consume our Piment d'Espelette seasonally, making way for each new crop when it comes in.
The seasonal rotation isn't the only thing traditional about the pepper of Espelette. Piment d'Espelette bears the distinction of being the only spice with an official AOC designation. Being recognized by the AOC, or Appellation d'Origine Contrôlée, guarantees that the product which bears its seal will be produced in traditional manners, and originate only from their traditional region. In such illustrious company as true french Champagne, only the superior pepper grown in the ten, tiny approved Basque villages may be labeled as Piment d'Espelette.
Piment d'Espelette originates in the area that joins the southwestern-most corner of France with northeastern Spain, historically known as Basque country. In the region, late summer and early fall are marked by festoons of peppers drying against white stucco houses, just as they have for centuries. Each October, the end of the harvest is marked by a vibrant festival, complete with parade, where peppers are sold fresh, pickled, or dried and ground, as we carry it.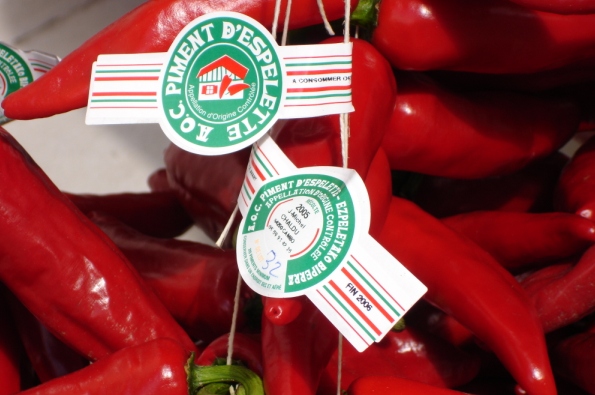 The Basque have another tradition worth imitating- that of the txoko, or gastronomical society. Generations of Basques have gotten together to cook, sing, and experiment with food in thousands of private clubs. While it might not have centuries of tradition, we've got a kind-of txoko of our own, the World Spice Cookbook Club, that meets up to try out recipes from a new cookbook each month. Singing is purely optional.
So come pick up some of the freshest and most flavorful flakes of Piment d'Espelette available in the United States by the ounce or by the jar, and if you're feeling adventurous drop us a line and come out to the next meeting of our Cookbook Club for a little gastronomical bonding. On egin!