Tagged With:
Tandoozy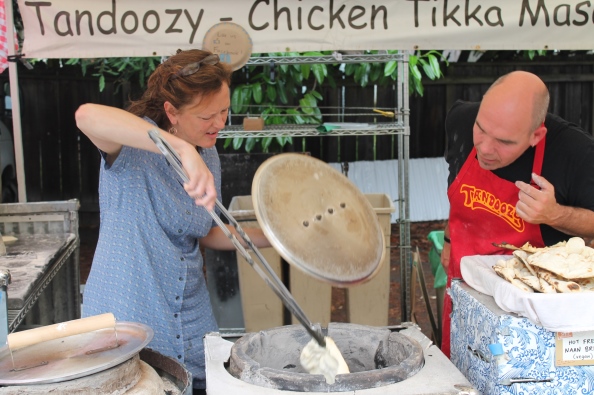 Spanking the tandoor oven to make naan bread is HOT stuff; and certainly not as easy as the pros at Tandoozy make it  look. We found out the fun way!
After busting a move all spring to move and expand our warehouse and production digs — we celebrated with a party, and the tigers from Tandoozy fed us all very well.
Tandoozy – Food for Naan Believers – is Seattle's only Tandoori food stand. Using a custom-designed, portable Tandoor oven, the folks at Tandoozy serve up chicken tikka masala, dahl, and hot naan with sweet mango chutney at farmer's markets all over the city. The chicken is halal and what is NOT chicken is vegan. Best of all, they've been buying fresh ground spices from us since the very beginning. Sound good to you? Well, it was! We loved all of it. If you haven't experienced Tandoozy yourself and would like to, check out their schedule here. We can't tell you what spices they purchase (trade secrets and all), but if you would like to try these flavors at home, we have two great blends to get you started: Tikka Masala and Tandoori Curry.
For more information about traditional Tandoor ovens, click here. Fun to eat and fun to watch. We definitely enjoyed our Naan-making lesson. Check out that smile in the final picture — that is one happy spice merchant/novice naan thrower.