The Tasmanian pepperberry is a rare find, native to Australia and wild harvested in limited quantities. The pepperberry holds a dazzling array of flavors that make it ideal for use it is in all kinds of infusions such as honey, oil and alcohol. (Added bonus – it adds a pinkish-purplish color to your infusion!)
In this recipe, we use a pepperberry-infused honey mixed in with fresh strawberries, blackberries and raspberries to create a heavenly combination perfect for brunch or dessert. Try it on waffles, french toast or pancakes, or better yet… liberally pour it over ice cream, then sit on the front porch and enjoy the lazy summer afternoon. We won't tell…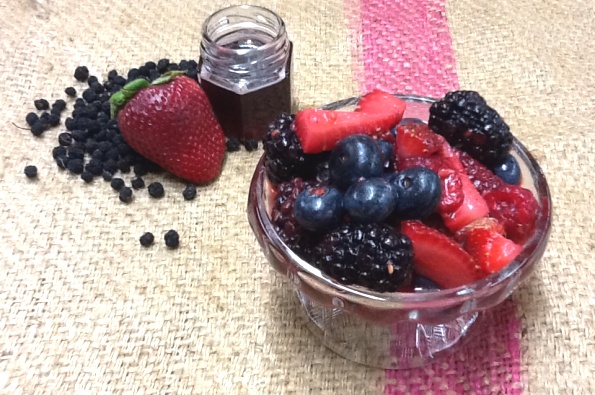 Tasmanian Pepperberry Macerated Berries
Ingredients
1/3 cup honey
1-1/2 teaspoons ground Tasmanian pepperberry
2 oranges, juiced
1/2 pint fresh blackberries
1/2 pint fresh raspberries
1/2 pink fresh blueberries
1 pint fresh strawberries, cut into bite-sized pieces
1 teaspoon vodka, rum, tequila or other liquor (optional)
Instructions
Put the honey into a small pan and heat on low until the honey has become more "liquid". Pour into a bowl and add the ground Tasmanian pepperberry, mixing well. Allow to cool before you add it to the berries.
Put the berries into a big bowl. Whisk together the cooled honey, orange juice and alcohol (if using) in a small bowl. Pour over the berries and gently toss. It's ok if some of the berries get smooshed.
Let sit at room temperature for about an hour, stirring occasionally (this will help the berries "break down" a bit - that just makes it taste even better).
Notes
You can make the infused honey ahead of time. Even consider making extra, so you have extra to use for other things.
Serving Suggestion: You can serve this for any meal or snack. This tastes just as good on pancakes as it does on ice cream or even just mixed in with Greek yogurt.
https://www.silkroaddiary.com/tasmanian-pepperberry-berries/
World Spice Merchants https://www.worldspice.com