Tagged With:
Poudre Douce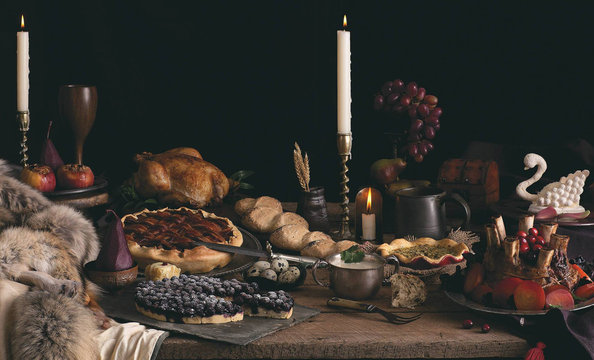 Many fans of the HBO Series "Game of Thrones" are still reeling from last week's blood drenched "Red Wedding" episode. Readers of the book series A Song of Ice and Fire, on which the show is based, have a few advantages over the TV viewers:
They totally knew what was coming.
They had the pleasure of reading the author's glorious descriptions of feasts and food.
By now, most fantasy foodies are familiar with the depictions of heavily laden tables known to induce jealous belly growls. Now you can put those burbles to bed, because World Spice carries the series' official companion cookbook, "A Feast of Ice and Fire!"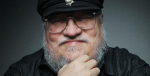 Author George R.R. Martin introduces "A Feast of Ice and Fire" by saying, "Food is one of life's great pleasures." We couldn't agree more! The book is divided in to sections based on cuisines from Westeros, Braavos, and other regions of the Game of Thrones empire.
This book is also ripe with real history, as well as quotes and excerpts of narrative recipes from actual medieval books of cookery and baking. Many of the recipes, such as pork pie (which incidentally looks fantastic), offer a historically accurate recipe, and follow it with a "modern" recipe, boosted with the likes of hot sauce and other spices or seasonings that wouldn't have been available in the early European kitchen. Each recipe is introduced by a decadent quote from one of the many scenes of feasting found in Martin's books.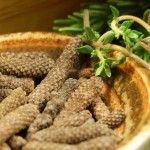 World Spice has long been the spice source for medievalists seeking Poudre Douce and Poudre Forte ("sweet powder" and "strong powder," respectively), and both are used often throughout the book. Both blends rely heavily on cassia and ginger, with a dose of grains of paradise or long pepper, both of which were used in true medieval cooking, as they pre-dates the domestication and cultivation of the black peppercorns we know today. Also used again and again are two forms of pastry dough, which use a generous pinch of saffron for color and heavenly flavor.
For the lord or lady looking to to surprise guests with a spread of goat, elk, or venison, our English Beef Rub will tame the gamey edge of these meats, using the unmistakable flavor of juniper in combination with these warm, sweeter spices to excite even a mundane beef roast and delight your honored guests. Whatever you choose to serve, please observe the hospitality laws. Failing to do so is a sure fire way to ruin dinner and spoil your appetite. Bread and salt, people. Bread and salt.
You can bet my next "Game of Thrones" screening will include a feast fit for the Iron Throne room- perhaps Mutton in Onion-Ale Broth, Trout Wrapped in Bacon, Roman Buttered Carrots, Cheese and Onion Pie, a Salad from Castle Black, and finish the whole lot with Poached Pears, Elizabethan Lemon Cakes, and a challis of Mulled Wine– but I'm open to your suggestions (from anyone but House Frey)!
Categories:

British Isles, Cookbook Club, Hot Topics, Notes from the Field, Tools of the Trade
Tags:

Feast, Game of Thrones, Ice and Fire, Medieval, Poudre Douce, Poudre Forte, Saffron
Leave a comment
The baker's spice holy trinity of Ginger, Cassia and Allspice in our Poudre Douce blend make this upside-down fruit cake an essential for the winter holidays — and it's a table-top stunner, too! We made a festive selection of dried fruits over the classic pineapple to allow the spices to shine through. Less sweet than those pineapple upside-down cakes of our childhoods, we like this cake at brunch as well as for dessert!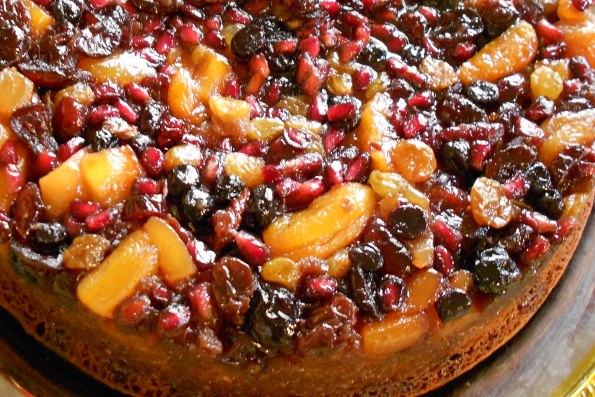 Poudre Douce Bejeweled Cake
Ingredients
2 cups mixed dried fruit
1/4 cup fresh pomegranate seeds
boiling water
2 tablespoons butter
1/3 cup dark brown sugar
1-3/4 cups all-purpose flour
2 tablespoons Poudre Douce
3/4 teaspoon baking powder
1/2 teaspoon baking soda
1/2 teaspoon Murray River Flake Salt
1/2 cup almond flour
10 tablespoons unsalted butter, softened
2/3 cup dark brown sugar, packed
1/2 cup honey
3 large eggs
1 teaspoon vanilla extract
Instructions
Preheat oven to 350 degrees.
Put the dried fruit into a small bowl and cover with boiling water. After 10 minutes, drain and set the rehydrated fruit aside.
Put the 2 tablespoons of butter into a 10 inch round cake pan and put it into the oven to melt. Remove from oven and swirl the melted butter around, coating bottom and sides evenly. Sprinkle the 1/3 cup brown sugar onto the bottom of the pan and spread around evenly. Set aside.
Sift the flour, spices, baking soda, and baking powder into a bowl. Whisk in the almond flour and salt, and set aside.
Beat the softened butter, brown sugar and honey until creamy and a light color (about 3 minutes). Beat in the eggs, one at a time, then the vanilla extract.
Add the dry ingredients and mix until smooth. Put the drained, rehydrated fruit in the cake pan, patting down to make sure every inch is packed with fruit. Pour the cake batter on top of the fruit and smooth out.
Bake for about 40 minutes (or until a cake tester inserted in the middle of the cake comes out clean). Cool the cake in the pan on a rack for about 15 minutes. Run a knife around the sides of the pan (to make sure the cake is loosened), then invert cake onto a plate.
https://www.silkroaddiary.com/bejeweled-spice-cake/
World Spice Merchants https://www.worldspice.com
Categories:

British Isles, Course, Global Cuisines, North America, Recipes, Sweet Somethings
Tags:

Brunch, cake, dessert, Fruit, holiday, Poudre Douce
Leave a comment