Bar-H Beef Rub Marinade
Chock full of lemon and chile, Bar-H Beef Rub was made for summer grilled steaks. The only thing that could make it better, of course, is beer! We marinated this glorious tomahawk-cut steak overnight, then grilled it over red hot coals for a crispy exterior and a juicy, medium-rare interior. The Newcastle brown ale we used brought a nutty component, perfectly offsetting the tangy spice of the rub itself.
Topped with a thick slice of a compound butter also made with Bar-H Beef Rub, this steak is the definition of decadent, but still oh-so rugged. We can still smell it sizzling on the grill…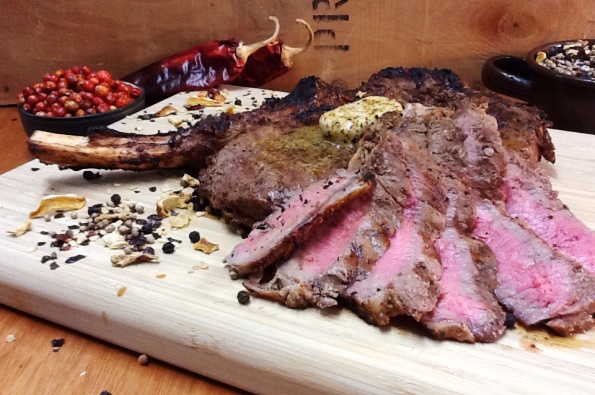 Ingredients
1 big, beautiful steak, your favorite cut
1 tablespoon ground Bar-H Beef Rub
1/2 cup beer
2 tablespoons olive oil
1 clove garlic, crushed
Instructions
Put the the steak into a large zip-lock bag (or a shallow air-tight container). Mix the rest of the ingredients together and pour over steak. Seal bag (or container tightly). Refrigerate for 2 hrs or overnight.
Bring steak to room temperature before grilling or broiling. (A room temperature steak cooks better and more evenly than a cold one.) Top with a thick slice of an herb and spiced flavored butter, letting it melt slowly over the steak.
Notes
For the beer, we used Newcastle Brown Ale, but any good beer will do.

© 2021 World Spice Merchants https://www.worldspice.com