Grandma's Swedish Cardamom Bread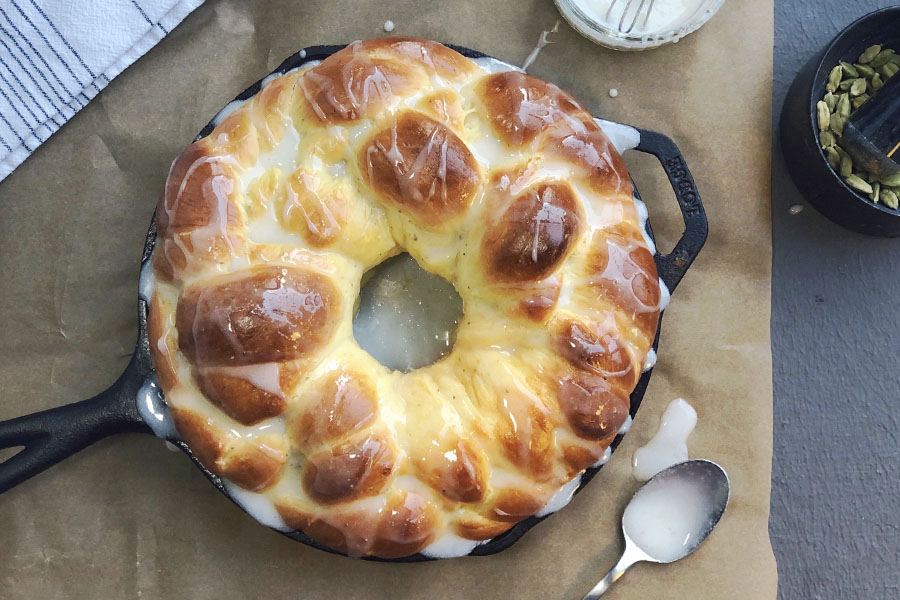 This holiday treat comes to us from our friend Erica,who graciously agreed to share her family recipe with the blog. The bread it makes is rich and sweet, with the cardamom and orange zest adding just the right amount of spicy flavor. We'll leave it to her to talk about the history…
From Erica: My Swedish Grandma, Esther Priscilla Wiberg, passed this recipe onto my mother who passed it on to me. I make it every Christmas as a braided wreath, adorned with Holly leaves and berries secured with a red velveteen ribbon. My friends and neighbors pay homage to Grandma Esther every holiday by devouring a slice of homemade bread with butter or homemade cranberry sauce. Last year, after moving to Montana, my husband and I delivered the bread to our new neighbors via horseback through the snow.
Ingredients
1/2 cup (1 stick) butter
1 package yeast, active dry or compressed
3 tablespoons warm water (lukewarm for compressed yeast)
2 eggs, beaten
1 cup milk, scalded and cooled
1/2 cup sugar
1/2 teaspoon Kosher salt
Grated peel of 1 orange (optional)
About 5 cups unsifted regular all-purpose flour
1 egg yolk
1 tablespoon milk
Instructions
Melt butter and set aside to cool.
Dissolve yeast in the warm water.
In a large mixing bowl combine beaten eggs, milk, sugar, salt, cardamom, grated orange peel, yeast mixture, and butter.
Stir in enough flour to a point where the dough no longer sticks to your fingers (less than 5 cups)
Turn onto a floured board and knead until dough is smooth.
Shape into a ball and place in a greased bowl; cover.
Put in a warm place and let rise until doubled in bulk, about 2 hours. Punch down and divide into 2 equal portions
Divided each portion into thirds. Roll each third between your hands to form strands 18 -24 inches long (make all the same length) rolling out from the center.
Place 3 strands on a board, crossing in the center, and braid to each end.
Form braids into a ring and pinch together.
Place on greased cookie sheet.
Cover lightly with wax paper and put in a warm place until nearly double in bulk, from 2 - 2-1/2 hours.
Paint each braid with a mixture of egg yolk beaten with the 1 tablespoon milk
Bake in a moderate over (350 degrees) for about 40 minutes or until a medium brown. Or until internal temperature reaches 200 degrees.
Let cool on wire racks (or serve warm). Decorate if desired. Wrap airtight; to freeze braids, seal in aluminum foil.
Slice to serve.
© 2022 World Spice Merchants https://www.worldspice.com