Le Quebecois Mini Pies
We were recently asked by another spice company to change the name of our Montreal Steak Spice because they owned the rights to the name. Well, okay….
While we were busy brainstorming a new name, taking the labels off of jars in gift sets, redoing the store displays, and adjusting our website, I recalled a quote by Johann Wolfgang von Goethe:
'We must always change, renew, rejuvenate ourselves; otherwise we harden.'
 Change can be good, our store displays are fresh and new our website got a nice update, we have a fantastic new name for one of our earliest blends and an outstanding recipe to go with it.  Introducing…… Le Quebecois Steak Spice!
Paying homage to the Canadian Provence were the blend originated, Le Quebecois Steak Spice showcases both the French flair for deft seasoning, and the British love of beef. While usually associated with steak, we tried it in these vegetarian mini pies with great success – you know how how we love to play with our food!  Bon appétit.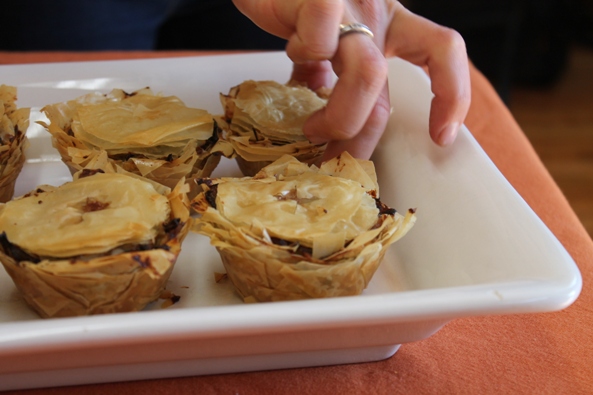 Ingredients
2 tablespoons olive oil, plus more for brushing pastry
1 pound Swiss chard, stems and leaves thinly shredded and separated
1 large onion, diced
2 stalks celery, thinly sliced
2 scallions, chopped
2 ounces arugula
1/2 bunch fresh parsley
1 ounce chopped fresh mint
2 tablespoons chopped fresh dill
4 ounces ricotta, drained
3.5 ounces aged white cheddar
2 ounces feta, crumbled
Grated zest of one lemon
2 eggs
1/4 cup Le Quebecois Steak Spice
1/3 teaspoon salt
1/2 teaspoon granulated sugar
9 ounces filo pastry, thawed but still cold
Instructions
Preheat oven to 350 degrees.
Heat 2 tablespoons olive oil in a deep skillet over medium heat. Add onion to pan and saute until translucent, about 8 minutes, then add chard stems and celery, cook about 4 minutes, stirring occasionally.
Add chard leaves to the skillet, raise heat to medium high and cook, stirring, until wilted, about 4 minutes. Add scallions, arugula and herbs. Cook for two minutes more and transfer to a colander.
Once cool enough to handle, squeeze out as much liquid as you can. Transfer to a bowl and mix in cheese, zest, eggs, salt, sugar and Le Quebecois Steak Spice.
Lay out a sheet of filo, cut into 12 squares and brush with olive oil. Lay the oiled squares into the cups of a muffin tin. Repeat, alternating the angles of the squares so that they cover the sides of each muffin cup, until you have 5 layers of filo.
Fill each cup with herb mixture and fold excess filo over the edges of the filling. To top each cup, make another 5 layer filo piece, cut in a round, and place atop of each cup.
Brush lightly with olive oil and bake for 40 minutes until the filo turns golden brown. Serve warm or at room temperature as an an appetizer or an accompaniment to roast lamb or beef
Notes
https://www.silkroaddiary.com/mini-herb-and-chard-pies-with-le-quebecois/
World Spice Merchants https://www.worldspice.com