Tagged With:
Sauce
The rich and toasty taste of our Besar blend makes an ideal complement for the pop of fresh cranberry in this exotic twist on a holiday classic. Candied ginger and dried apricots round out the fruity flavors, and the result is an intensely flavored chutney that you can serve well past Thanksgiving. You can try variations too- add an apple to mellow the flavors or some chopped walnuts for a little crunch. Any way you make it, the bright flavor of cranberries add a bit of sunshine to a winter feast. Go cranberries!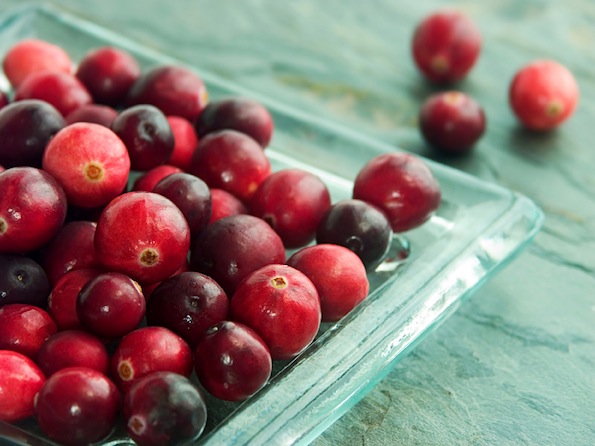 Ingredients
2 tablespoons olive oil
1 bag (12 oz) fresh cranberries
1 onion, diced (use a sweet or red onion for extra flavor)
1/4 cup chopped candied ginger
1/2 cup chopped dried apricots
1 large orange (or 2 medium), zested and juiced
1 lime, juiced
3/4 cup brown sugar
3/4 cup cider vinegar
1 teaspoon Murray River flake salt
3 tablespoons ground Besar
2 teaspoons Aleppo pepper
Instructions
Put olive oil in a medium saucepan over medium heat. Add the diced onions and saute for 5 minutes.
Add the rest of the ingredients and, stirring frequently, cooking for about 15 minutes. Taste for seasoning. You might want to add more salt, vinegar or brown sugar.
If you want a 'smoother' sauce, cook for another 10 minutes. Remove from heat. Let cool, then put into a covered container in the refrigerator. This will keep for about a week.
https://www.silkroaddiary.com/besar-cranberry-chutney/
World Spice Merchants https://www.worldspice.com
Categories:

Course, Global Cuisines, Holiday, Hot Topics, Middle East, North America, Recipes, Sides
Tags:

aleppo, Appetizer, Berries, Easy, Fall, holiday, Lamb, Make Ahead, meat, Sauce, Side-dish, Vegan
6 Comments
Folks just love their ketchup. Whether it's for fries, hashbrowns or barbecues, there's always a bottle in the refrigerator. Next time you find yourself in need of this essential condiment, use our simple recipe to make this version at home.
We like our ketchup spicy, so we've added one of our favorite blends to it: Berbere is most commonly used in North African stews or roasted meats, but it has an affinity for ketchup. Whether you choose to keep it rustic or blend it smooth, both versions are sure to please. We like to keep some on hand all summer for dipping fries, topping burgers and hot dogs, or to use as a "secret ingredient" in BBQ sauces.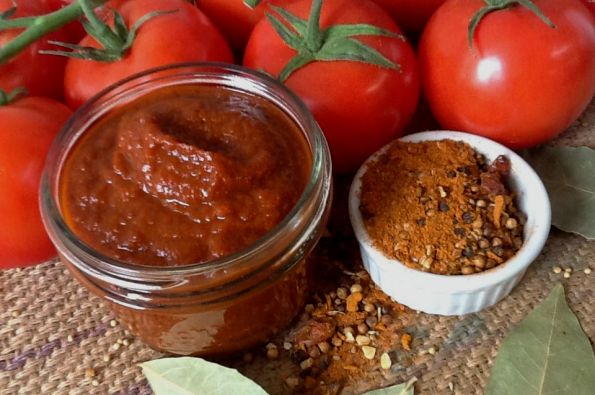 Ingredients
2 tablespoons olive or vegetable oil
1 large onion, any variety, diced
4 cloves garlic
2 – 14.5 oz cans of fire-roasted tomatoes, pureed
½ cup brown sugar
1 tablespoon ground Berbere
2 teaspoons Murray River flake salt
1 teaspoon Tellicherry black pepper, ground
½ teaspoon ground allspice
½ cup red wine vinegar (but you can use any kind)
2 tablespoons tomato paste
1 teaspoon lemon crystal
Instructions
Pulse garlic and onion into a food processor until finely chopped.
Heat oil in a deep saucepan over medium heat. Add onion/garlic mixture and sauté until lightly browned. Add the remaining of the ingredients and cook until ketchup is thickened, stirring occasionally. Taste for seasoning and remove from heat.
Decision time. You can leave the texture "rustic" or you can puree it smoother in a blender.

Note:

Be careful pureeing hot things – make sure the center plug has been removed from the blender's lid, and carefully hold a folded towel to cover the hole.
Transfer to a refrigerator-proof container. Allow to cool completely before covering. This will keep in the refrigerator for a couple of weeks - but you will find excuses to use it before then. Trust us.
https://www.silkroaddiary.com/berbere-ketchup/
World Spice Merchants https://www.worldspice.com
Categories:

Africa, BBQ, Global Cuisines, Hot Topics, North America, Recipes, Sides
Tags:

BBQ, Berbere, Condiment, Easy, Grill, Healthy, Sauce, Vegan
Leave a comment