Black-Eyed Pea, Kale and Calico Salad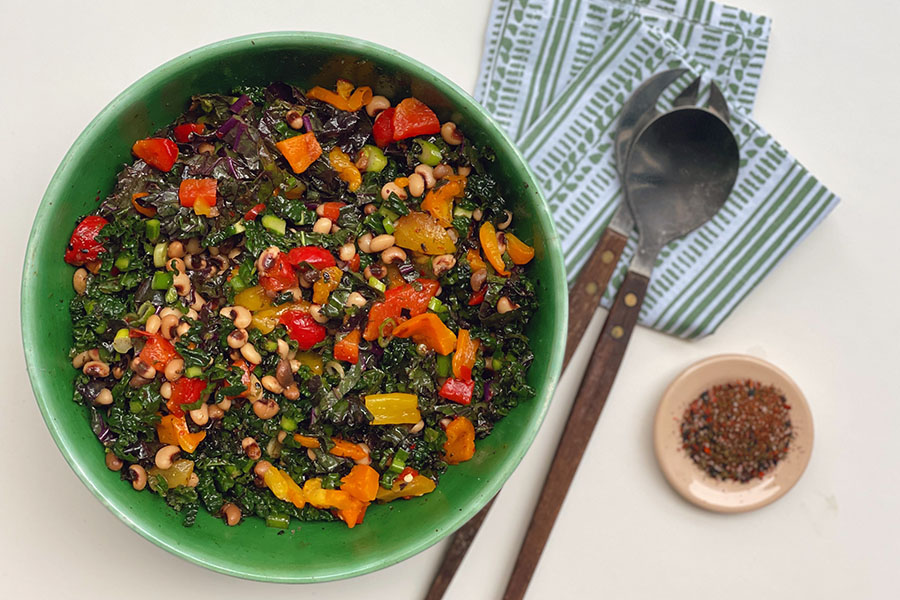 After the holidays, we all face the realization that we might've overindulged on the heavy foods. Salads like these save the day! This southern classic got a PNW twist with local Mustard and Co. mustard and Calico Fish Rub in the dressing. Before I lose you, the Calico Fish Rub's ingredients just make sense. It's spicy from the Korean chile flake and citrusy and fresh from the dill weed and sumac. Once combined with the fresh mustard and brown sugar, the dressing is balanced and full of flavor that will infuse into the kale and black-eyed peas. 
Ingredients
2 15.5- ounce cans black-eyed peas, rinsed and drained
4 cups Tuscan kale, thinly sliced into ribbons
4 cups purple curly leaf kale, thinly sliced into ribbons
3 large roasted assorted color bell peppers, diced
2 scallions thinly sliced
1-1/2 tablespoons apple cider vinegar
1 tablespoon brown sugar
2 tablespoons Calico Fish Rub
1 tablespoon Mustard & Co. - Classic Mustard
2 tablespoons vegetable oil
Instructions
Combine black-eyed peas, kale, roasted peppers, and scallions in a large bowl.
In a small bowl add the apple cider vinegar, brown sugar, Calico Fish Rub and mustard. Whisk together until combined and slowly pour in the oil until dressing is emulsified and combined. Pour over black-eyed pea mixture and stir well. Taste and add salt, if needed.
Refrigerate for 2 hours. The flavors in the salad will meld and the kale will become tender after sitting. Store any leftovers in an airtight storage container in the refrigerator.
© 2023 World Spice Merchants https://www.worldspice.com