Chicken Nigella Caesar Pasta Salad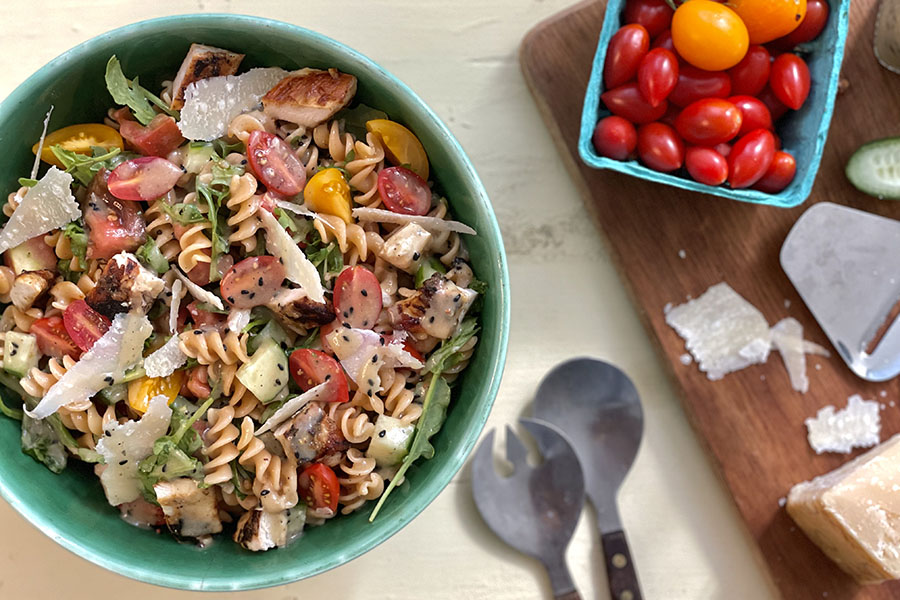 "What's good on chicken?" Being salad season, our Nigella Caesar has been my go to answer lately, and for good reason! It makes chicken breast juicy and brown nicely. It's also a delicious sprinkle and makes such an easy homemade dressing, only needing water and oil. This dressing is awesome to have on hand, not just for a twist on a traditional Caesar salad, but also as a marinade and sauce. In this recipe, it gets used both ways — to marinate our chicken and to coat the pasta salad. We used some summer staples like fresh tomatoes, cucumber and arugula to bring it all together. We also dabbled with some lentil gluten-free pasta for some extra protein, but feel free to use your own favorite pasta. Enjoy this salad warm or as cold leftovers, if you have any! 😉
Ingredients
Nigella Caesar Dressing
Pasta Salad
8 ounce chicken breast
8 ounce gluten-free red lentil rotini (or your favorite pasta)
2 cups grape tomatoes, halved
2 cups English cucumber, chopped,
2 cups greens, spinach, arugula or watercress
1/2 cup Parmesan cheese, shredded
Instructions
Nigella Caesar Dressing
Add the Nigella Caesar seasoning to a 1 quart container with a wide base, such as a Mason jar.
Pour in the water and blend well with an immersion blender.
With the immersion blender running and immersed in the liquid, slowly pour in the oil, and continue blending until emulsified and thick. The result should be creamy.
Chicken
Place the chicken breast in a zip lock bag and add half of the prepared Nigella Caesar dressing. Close the baggy and move the dressing around until the chicken breast is completely coated. Place the baggy on a plate, in case it leaks. Refrigerate for a couple hours. Once the chicken is marinated, discard the marinade and baggy. In a small non-stick saute pan on medium-high heat, add the chicken breast and sear on one side for 4 minutes. Flip when the edges start to get brown. Cover the chicken breast and cook for another 5 minutes or until the juices run clear. Set the chicken aside so that it can rest for a few minutes before cutting the chicken into bite-sized pieces.
Pasta Salad
Cook the pasta according to package instructions and let cool.
Meanwhile, in a large bowl, add the cooked chopped chicken, tomatoes, cucumber, and greens. Add the pasta and the remaining Nigella Caesar dressing, then give everything a gentle toss until coated. Garnish with parmesan cheese and serve.
© 2023 World Spice Merchants https://www.worldspice.com