Classic Crab Cakes
The first time I ever had a crab cake, I was thirteen and accompanying my dad on a business trip to San Francisco. We dined in the fanciest restaurant I'd ever been to, and I ordered the crab cake appetizer. It was tender, moist, perfectly seasoned, and it blew me away. I've attempted many times since to recreate it, with varying degrees of success.However these beauties, elegantly spiced with our Classic Crab seasoning and a generous handful of tarragon, put that first memorable cake to shame! Do be sure to use Panko, the Japanese bread crumbs, for this recipe to get that lighter-than-air crust.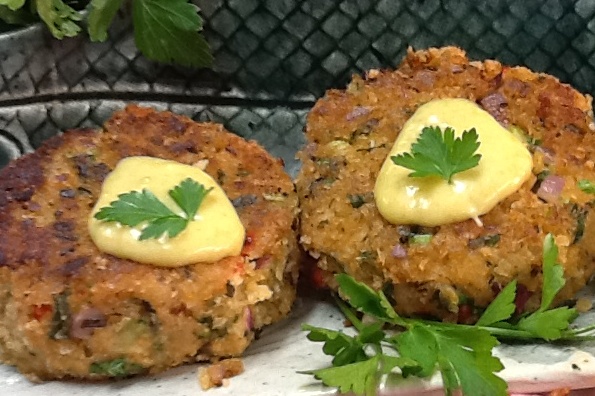 Ingredients
2 pounds lump crab meat
1 red bell pepper, finely diced
1 small red onion, finely diced
2 celery ribs, finely diced
1 lemon, zested and juiced
1/4 cup dried tarragon
1½ cups mayonnaise
1½ cups unsalted Panko bread crumbs, plus more for coating
2 tablespoons Classic Crab
Instructions
Preheat oven to 250 degrees.
Blend all ingredients together in a large bowl, taking care to leave some large pieces of crab claw meat intact.
Form cakes in to handful-sized portions, about 5-6 oz., and dredge in remaining Panko. Sear in a hot, oiled skillet until golden brown on both sides, flipping only once, as the crab cakes are delicate and will fall apart with too much handling.
Place seared crab cakes on a parchment paper lined cookie sheet, and place in the pre-heated oven for 15 minutes.
Serve with a dollop of your favorite aioli. You can even just add some fresh lemon juice and zest to mayonnaise for a quick topping.
https://www.silkroaddiary.com/classic-crab-cakes/
World Spice Merchants https://www.worldspice.com