Baked Crab Dip with Crostini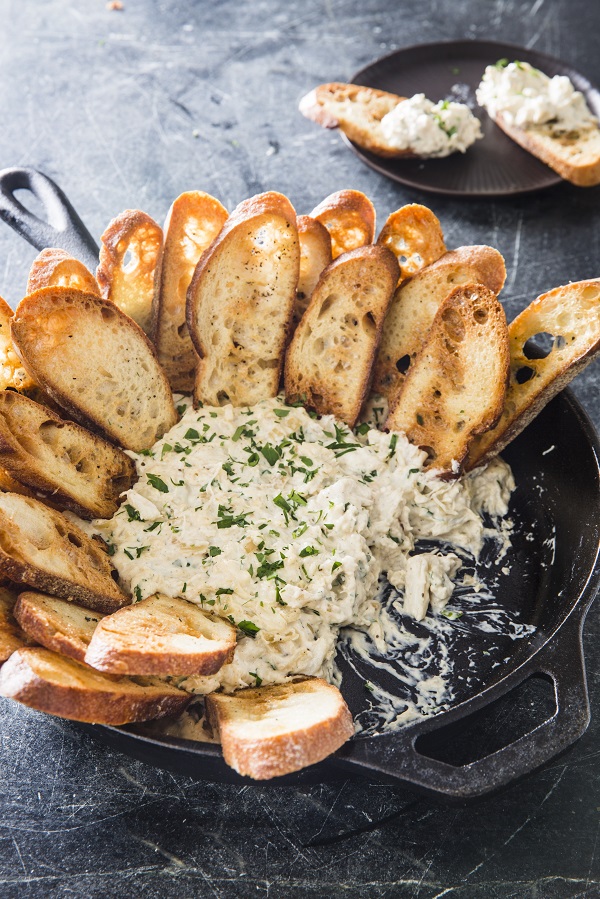 Whether you want to have a few friends over to watch a football game or movie, or you want to celebrate a holiday, you're going to need a few things to nosh on. Make the decision easier – and a lot less stressful – by using this wonderful book from the experts at Cook's Illustrated. This All-Time Best Appetizers Cookbook of 75 "only the best" appetizer recipes will make it easy to create a spread with everything from things that can be dipped and/or spread, or eaten by the handful or even two-bite treats. This Baked Crab Dip with Crostini makes perfect use of our delicious Pacific Northwest crab in making a appetizer that will become your "go to" dish to make for any gathering. To find out more about other appetizers and treats for any occasion, go to Cook's Illustrated's website.
From the authors: "why this recipe works – In its ideal form, crab dip is a warm, decadent party pleaser full of creamy, meaty seafood and savory spices. Unlike other versions of this popular appetizer, ours has a high ration of crab to cheese, allowing the sweet crab flavor to come through. To make it even more party-friendly, we used a cast-iron skillet as an oven-to-table cooking vessel, which ensures that your guests will enjoy the dip while it's hot. For a serving option that was sturdy enough to scoop into the rich dip without any need for a spoon, we made a quick batch of crostini from sliced baguettes. To make a savory base for the crab dip, we first cooked onion in the skillet, adding just a bit of Old Bay seasoning and coriander. We then removed the sautéed onions from the skillet and combined them with cream cheese, mayonnaise, and parsley. After gently folding the crabmeat into the mixture, we put the whole thing back in the skilled and baked it until it was warm and bubbly, with the crostini fanned around the perimeter. Do not substitute imitation crabmeat here. To soften the cream cheese quickly, microwave it for 20 to 30 seconds."
Ingredients
2 (12-inch) baguettes, sliced 1/4 inch thick on bias
1/4 cup extra-virgin olive oil
1 onion, chopped fine
1 teaspoon Old Bay seasoning
1 teaspoon ground coriander
8 ounces cream cheese, cut into 8 pieces and softened
1/2 cup mayonnaise
4 teaspoons minced fresh parsley
12 ounces lump crabmeat, picked over for shells and pressed dry between paper towels
Instructions
Adjust oven racks to upper-middle and lower-middle positions and heat oven to 400 degrees. Arrange bread slices in even layer on 2 rimmed baking sheets and bake until dry and crisp, about 10 minutes, rotating sheets and flipping slices halfway through baking. Brush crostini with 2 tablespoons oil and season with salt and pepper; set aside.
Heat 10-inch cast-iron skillet over medium heat for 3 minutes. Add remaining 2 tablespoons oil and heat until shimmering. Add onion and cook until softened, about 5 minutes. Stir in Old Bay (Classic Crab) and coriander and cook until fragrant, about 30 seconds; transfer to large bowl. Stir cream cheese, mayonnaise, 1 tablespoon parsley, 1/4 teaspoon salt, and 1/4 teaspoon pepper into onion mixture until thoroughly combined. Gently fold in crabmeat.
Spread dip evenly in now-empty skillet, then shingle crostini around edge, submerging narrow ends in crab mixture. Transfer skillet to oven and bake until dip is heated through and crostini are golden brown, about 10 minutes. Sprinkle with remaining 1 teaspoon parsley. Serve.
Notes
assembling crab dip - Shingle crostini around edge of skillet, submerging narrow ends in crab mixture.

© 2023 World Spice Merchants https://www.worldspice.com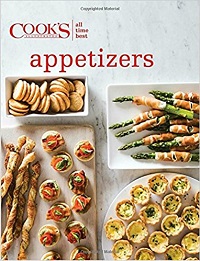 Recipes courtesy of America's Test Kitchen from the All-Time Best Appetizers Cookbook. Photo Credit: Joe Keller.
All-Time Best Appetizers Cookbook is the November 2017 selection for the World Spice Cookbook Club. All-Time Best Appetizers Cookbook is currently available for purchase at the America's Test Kitchen.