Spicy Fish Salad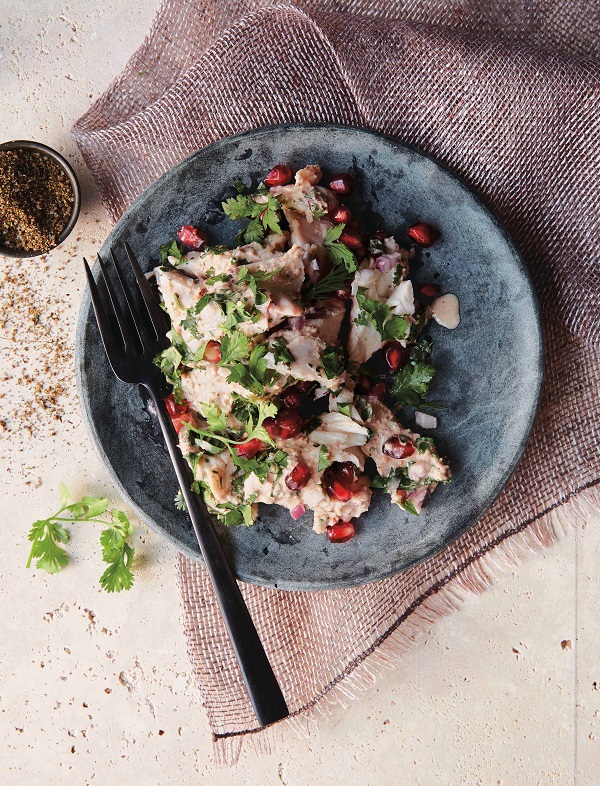 The countries in the Persian culinary region are home to many religions, languages, cultures and politics. In culinary traditions, however, they all have a deep love for food that has tart flavors and is fresh and colorful. You'll find fresh herbs at every meal and colorful ingredient used such as pomegranates and saffron. Naomi Duguid's latest book  Taste of Persia shows us through delicious recipes and fascinating stories how diverse and wonderful this region is. This gorgeous looking salad uses poached fish and makes for something a little bit different for any meal. To find out more about Naomi Duguid's other great cookbooks and her culinary travels around the world, go to Naomi Duiguid's website.
From the author: "Kuchmachi is a Georgian dish that's most often made of simmered chicken or beef or lamb, a kind of meat salad dressed with a savory rich walnut sauce and served at room temperature. This version is made with poached fish. I first tasted a version of fish kuchmachi at a Palm Sunday fasting feast in Akhalkalaki hosted by the Bishop of Javakheti. The guests, most of whom were keeping the Lenten fast (no animal products except for a few days when fish is permitted), were happy to be able to eat fish on this special day. Outside, the landscape was spare and beautiful, with snow capped peaks on the horizon. Not far away lay the borders with Turkey and Armenia. Serve this on a hot day as a main course with an assortment of salads, or serve it as one course in a winter feast, preceded by a clear soup and followed by roast meat or roast vegetables."
Ingredients
2 or 3 bay leaves
5 medium garlic cloves, or to taste
About 3 pounds whole white-fleshed fish (1 large or 2 smaller fish), cleaned and scaled, or 2 pounds fish fillets
2 cups walnuts or walnut pieces
2 tablespoons white wine vinegar
1 teaspoon ground coriander (see Note)
1 teaspoon ground blue fenugreek, or 1 teaspoon powdered dried fenugreek leaves plus ½ teaspoon ground fenugreek (see Note)
1 teaspoon powdered dried marigold petals (optional)
½ teaspoon powdered dried red chiles (see Note)
½ teaspoon dried summer savory or thyme
1 teaspoon sea salt, or to taste
About 1 cup pomegranate seeds (optional)
1 small red onion or 2 shallots, minced (about ½ cup)
½ cup coarsely chopped fresh coriander (cilantro) or dill weed
Instructions
Pour 1/2 inch of water into a wide heavy skillet. Add the bay leaves and 3 of the garlic cloves and bring to just below a boil over medium heat. Slide in the fish, cover, reduce the heat, and poach until the fish is barely cooked through, 5 to 10 minutes, depending on thickness, turning it after 4 minutes. Remove the fish from the water and set aside on a plate to cool. Reserve the cooking broth.
If using whole fish, pull the flesh off the bones and discard the bones and skin. Separate the flesh (from whole fish or fillets) into bite-size pieces, using your fingers or a knife. Set aside in a bowl.
Grind the walnuts to a fine powder in a food processor or in a large mortar. Mash the remaining 2 garlic cloves to a paste. Place the walnuts and garlic in a bowl, add the vinegar and about 1?4 cup of the reserved cooking broth, and whisk until smooth. Add the coriander, fenugreek, marigold petals, chiles, summer savory, and salt and whisk again. The sauce should be pourable; if necessary, add a little more fish broth.
Pour the sauce over the fish and toss gently to coat it with dressing. If you have the pomegranate seeds, add them, reserving a few for garnish, and mix gently. Let the salad stand for 10 minutes, or as long as an hour, before serving to give the flavors time to blend.
Just before serving, add the minced onion or shallots and the fresh herbs and toss gently to mix well. Taste and adjust the seasoning if necessary. Transfer to a platter or wide shallow bowl and sprinkle on the reserved pomegranate seeds, if using.
Notes
Note on Fish:
Fish you might use include black sea bass, striped bass, or snapper.
NOTE: If you have Georgian spice blend (Khmeli Suneli), use 1 tablespoon of the blend instead of the coriander, fenugreek, and chiles.
Or make your own - Georgian spice blend (Khmeli Suneli):
3 tablespoons ground blue fenugreek, or 2 tablespoons powdered dried fenugreek leaves plus 1 tablespoon ground fenugreek, 2 tablespoons ground coriander,
3 tablespoons powdered dried marigold or safflower petals (optional),
1 teaspoon powdered dried red chiles
Optional Extras:
2 teaspoons dried dill, or to taste, 2 teaspoons dried basil, or to taste, 2 teaspoons dried mint, 1 teaspoon dried summer savory, 1 teaspoon freshly ground black pepper,
½ teaspoon ground celery seed.
Combine the fenugreek, coriander, dried flowers, if using, chiles, and optional spices and herbs as you like in a bowl. Store in a wide-mouthed glass jar.
© 2023 World Spice Merchants https://www.worldspice.com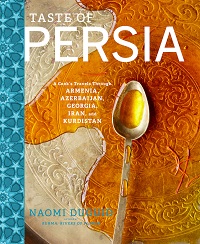 Excerpted from Taste of Persia by Naomi Duguid (Artisan Books). Copyright © 2016. Photographs by Gentl & Hyers.
Taste of Persia is the October 2017 selection for the World Spice Cookbook Club. Taste of Persia is currently available for purchase at our retail store and online.