Spiced Fig Salad
For the next meeting of our World Spice Cookbook Club, we're embracing the warm weather with Salmagundi: A Celebration of Salads from around the World. This recipe for a spiced fig salad, which comes from the book, artfully combines sweet and spicy flavors in a spice-infused honey for predictably delicious results.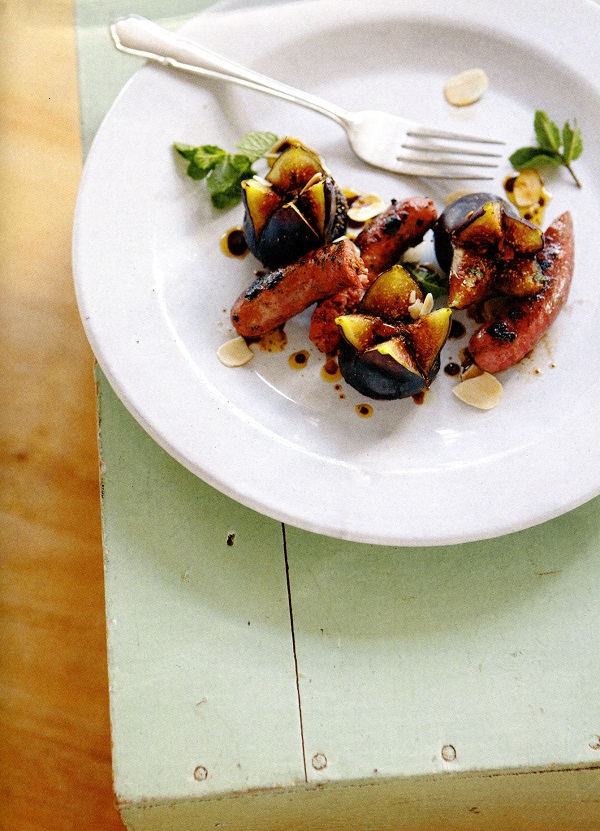 From the Author: "This is a rather special salad. Actually, figs have the capacity to render pretty much anything special: their appearance is lush for starters – they have but to lie down on a plate or pose in a fruit bowl and they steal the show. They are also feted for their aphrodisiac properties: yup – they are the all-around floozy of the fruit world."
Ingredients
FOR 2
½ tsp ground coriander
½ tsp ground cumin
¼ tsp smoked paprika
pinch of caraway seeds
pinch of red pepper flakes
½ tsp dried mint
pinch of salt
3 tsp runny honey
6 fresh figs
6 merguez sausages (or Spanish chorizo)
smidge of oil
1/3 cup / 1¼ oz / 35g slivered almonds
1 3/4 oz / 50 g dark green salad leaves
handful of frisee (curly endive) lettuce
FOR THE DRESSING
Instructions
Preheat the broiler. Mix the spices, mint, and salt with the honey. Make a cut through each fig from the top to within a few millimeters of the base, followed by another at right angles to the first cut, so that you effectively end up with a cross cut through the top of the fruit.
Pinch the 4 quarters created by the incisions so that the fig opens up like a flower, and divide the spiced honey between the figs. Broil them for around 1½ minutes until the fruit starts to sizzle. Turn the oven off, but leave the figs sitting there to retain their heat.
Slice the merguez on the diagonal into ½ in / 1 cm thick oval slices. Heat a teeny bit of oil in a pan and cook the sausage for around 3 minutes, then remove with a slotted spoon. Toast the almonds in the same pan for a minute or so until they start to color.
Toss the greens in a bowl. Whisk the ingredients for the dressing together. Arrange the figs on top of the salad, and scatter with merguez and almonds. Drizzle with the dressing and serve with crusty bread.
© 2023 World Spice Merchants https://www.worldspice.com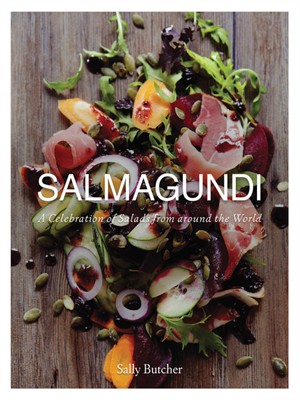 Salmagundi is the August 2016 selection for the World Spice Cookbook Club. Salmagundi is currently available for purchase at our retail store and online.
Recipe from Salmagundi, © 2014 Sally Butcher, published by Interlink Books. Image from Salmagundi, © 2014 Yuki Sugiura, published by Interlink Books.