Pasilla Oaxaca Black Bean Dip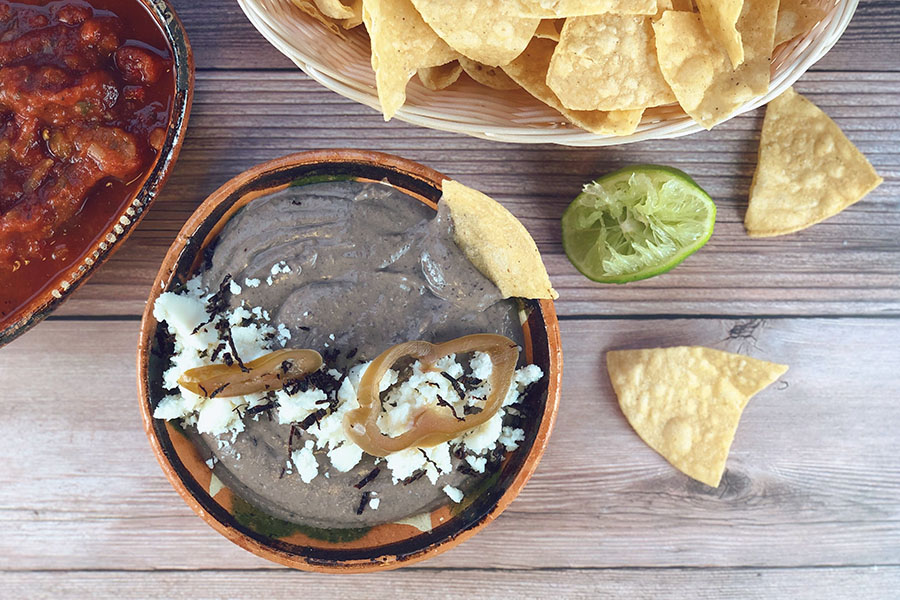 We know it's wrong to have a favorite child, but pasilla Oaxaca reigns as our favorite chile. Don't tell the others. They are great in their own ways, but pasilla Oaxaca has it all. Piquant and smoky, without being too much of either, these chiles can be used in soups and stews, sauces and more. If you've never used them, this dip is a fantastic introduction. Pasilla Oaxacas are dried smoked chilaca peppers. They have more heat than their ancho pepper siblings, but less than chipotle, they are smoky and have a great depth of flavor. Just pop one of these in while the beans are cooking, then blend it all up for this creamy dip. Tasty hot or cold, this dip is delicious.
Ingredients
1 tablespoon vegetable oil
1/4 yellow onion, diced
2 garlic cloves, minced
1 teaspoon cumin, ground
1/2 cup dried black beans, soaked for 20 minutes, then rinsed
6 cups water
1 pasilla Oaxaca, destemmed and deseeded
1 teaspoon Kosher salt
2 tablespoons sour cream
2 teaspoons fresh lime juice
Instructions
In a medium-sized saucepan on medium-high heat, add the vegetable oil, onion, garlic and cumin. Saute, stirring occasionally, until translucent and fragrant, about 5 minutes.
Add the bay leaves, rinsed black beans, pasilla Oaxaca chiles and water.
Bring beans to a boil. Leave them uncovered and adjust the heat as necessary to maintain a gentle simmer. Cook beans for an hour and a half, or until tender.
Once the beans are tender, bring the heat up to medium-high and reduce the liquid until it's thick and gravy-like, about 5-10 minutes. Remove and discard bay leaves and pasilla Oaxaca.
Add the salt, sour cream and lime juice and blend with a immersion blender until beans are smooth and creamy. Adjust salt to taste.
Serve warm with tortilla chips. Store any leftovers in the refridgerator.
Notes
Garnish suggestions - Sprinkle queso fresco cheese, avocado, pickled peppers or your favorite salsa.
© 2023 World Spice Merchants https://www.worldspice.com