Sri Lankan Banh Mi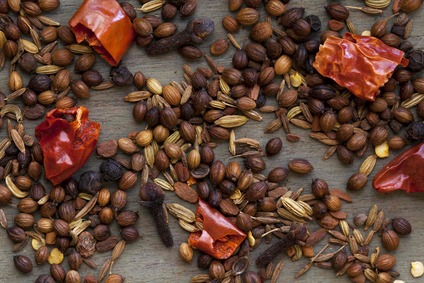 The World Spice Cookbook Club is grilling, steaming and frying at the August 2015 Meet & Eat. We are all cooking from Andrea Nguyen's classic Asian Dumplings: Mastering Gyoza, Spring Rolls, Samosas, and More and her more recent and crazy-popular The Banh Mi Handbook: Recipes for Crazy-Delicious Vietnamese Sandwiches. We are going to taste so many different types of banh mi, and this is perhaps the most anticipated maybe because we are all so fond of our Sri Lankan Curry.
From the author: "When Viet people eat curry with baguette, they typically dip the bread into the spiced coconut-scented sauce. San Francisco chef Alex Ong sent me his recipe for this bewitching curry (the name comes from the dark-colored spice blend), insisting that it would be perfect stuffed inside a baguette for banh mi. He was right, but to avoid a soggy sandwich, I hand shredded the cooked chicken and recooked it in the sauce, allowing it to fry in the residual oil and become encrusted with the seasonings. It became like an Indonesian rendang or, as my husband put it, a curried chicken carnitas. It's fantastic."
Ingredients
½ teaspoon cardamom, ground
¼ teaspoon black pepper, ground
½ teaspoon cinnamon
1 teaspoon cloves, ground
1 teaspoon cumin, ground
1½ teaspoons coriander, ground
3 cloves garlic, coarsely chopped
A hefty ¾-inch (2-cm) knob of ginger, peeled and coarsely chopped
1 slender stalk of lemon-grass, trimmed and coarsely chopped (2 to 3 tablespoons)
1 large Fresno or jalapeño chile, coarsely chopped
¾ cup (3.5 oz/115 g) coarsely chopped shallot
1¾ pounds (800 g) boneless, skinless chicken thighs
2 tablespoons virgin coconut or canola oil
1 teaspoon brown mustard seeds
¾ teaspoon salt
1? cups (330 ml) coconut milk
Instructions
In a small bowl, combine the cardamom, pepper, cinnamon, mace, cloves, cumin, and coriander. Set the spice blend near the stove. Use a mini or full-size food processor to finely chop the garlic, ginger, lemongrass, chile, and shallot. Keep by the spices. Trim the chicken of large fat pads and set nearby.
In a 4-quart (4 l) pot, heat the oil over high heat. When hot enough to sizzle a mustard seed upon contact, add all of the mustard seeds. Swirl or stir for about 10 seconds, until a few seeds crackle and pop, then add the shallot mixture. Cook for 3 to 5 minutes, stirring, until no longer raw smelling.
Lower the heat slightly, add the spice blend, and stir for about 30 seconds, until toasty and a dark chocolate color. Add the chicken, turning to coat with seasonings. Add the salt and coconut milk, which should barely cover the chicken; add water if necessary. Adjust the heat to simmer, uncovered, for 30 minutes. Stir occasionally to prevent scorching; the pot contents will shrink to roughly half the original volume. Remove from the heat and let cool for 20 minutes.
Transfer the chicken to a plate and hand shred, with the grain, into pinkie finger–wide pieces; set aside. Pour the sauce into a large nonstick skillet. Over high heat, vigorously simmer for about 6 minutes, stirring frequently, until reduced by half and pools of coconut oil dot the surface. Lower the heat slightly, then add the chicken and any accumulated sauce. Cook, stirring frequently, for 8 to 12 minutes, until the chicken has darkened to a rich brown and is coated with crusty seasoning; the sauce will no longer be visible and the chicken will gently fry in hissing oil.
Cool slightly, then season with extra salt, if needed. For great flavor, enjoy the chicken slightly above room temperature in banh mi.
Notes
To let the rich, spiced chicken shine in a black curry chicken banh mi, use just a bit of regular mayo and omit or go light on Maggi. Add pickled shallots, chile, cucumber, and cilantro. Try as a regular banh mi or slider.
Refrigerate for up to 3 days, reheating in a microwave oven or a skillet over medium heat, with a splash of water to moisten and refresh. Perfect for make-ahead banh mi. Instead of fresh chile, add 1/2 to 1 teaspoon of cayenne to the spice blend. Or substitute 2 tablespoons of a favorite curry powder for the spice blend (our Sri Lankan Curry would be perfect). If you have fresh curry leaf (Murraya koenigii), fry 5 or 6 large leaves along with the mustard seeds; remove the leaves before reducing the sauce
© 2023 World Spice Merchants https://www.worldspice.com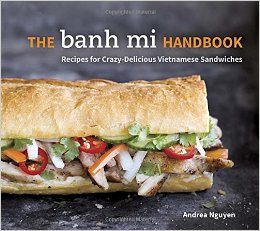 The Banh Mi Handbook: Recipes for Crazy-Delicious Vietnamese Sandwiches is one of the August selection for the World Spice Cookbook Club. The Banh Mi Handbook: Recipes for Crazy-Delicious Vietnamese Sandwiches is available for purchase on Amazon.
Reprinted with permission from The Banh Mi Handbook by Andrea Nguyen. Copyright © 2014 Published by Ten Speed Press, a division of Random House, Inc. Photography © 2014 by Paige Green