Banana Upside Down Cake
This Banana Upside-Down Cake sounded so delicious that we just have to make it for our "Brazilian Barbecue & Beyond" Cookbook Club Meet & Eat!
From the authors, "In Brazil there are many types of banana cakes: cuca, a German cake with a rich, crumbly topping; banana bread; bolo cakes, which are sometimes made in a ring shape and often spread with cinnamon; and our favorite, the upside-down cake. Like the French tarte tatin, this indulgent cake is cooked with a layer of caramelized bananas at the bottom, then turned upside-down to show its sticky-sweet banana topping. Perfect as a teatime treat."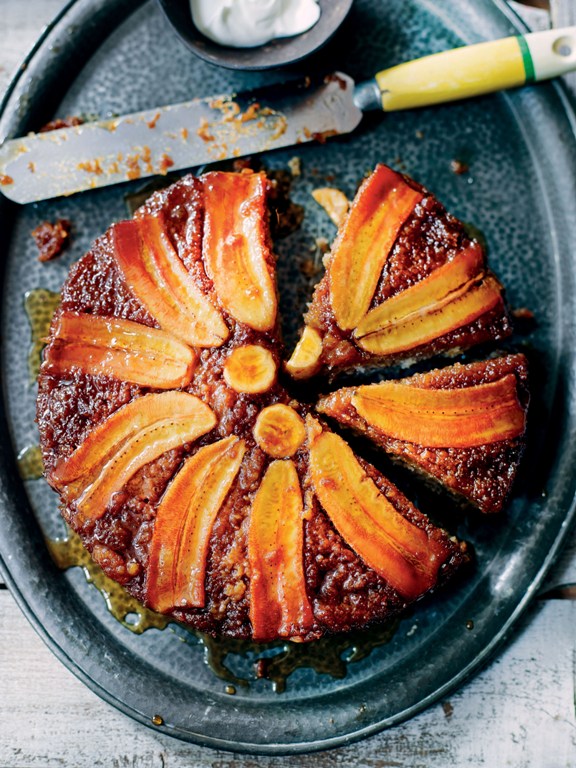 Ingredients
For the banana caramel:

11/2 cups superfine sugar
4–5 ripe bananas
1/4 teaspoon cinnamon

For the cake batter:

2/3 cup soft unsalted butter, plus extra for greasing
11/4 cups all-purpose flour
11/2 teaspoon baking powder
1 teaspoon ground cinnamon
4 eggs, separated
3/4 cup unrefined superfine sugar
2 large ripe bananas, peeled and mashed
Instructions
Preheat the oven to 325°F. Generously butter the bottom and sides of a heavy 9-inch diameter springform cake pan, then line it with baking parchment.
To make the banana caramel, put the sugar and 2/3 cup water in a heavy pan and cook over high heat until the sugar has dissolved. Let it boil until thickened to a golden-brown caramel, taking care not to burn it. Remove and immediately pour it into the cake pan, tipping the pan slightly from side to side until evenly coated.
Peel the bananas and halve them lengthwise. Arrange them over the caramel in a neat pattern, trimming as necessary, then dust with the ground cinnamon.
For the cake, sift together the flour, baking powder, and cinnamon into a bowl.
Put the egg whites in a separate clean bowl and whisk to stiff peaks.
Put the butter and sugar in another large bowl and whisk until light and fluffy. Slowly whisk in the egg yolks one at a time. Fold in the mashed bananas, followed by the dry ingredients. Finally, fold in the egg whites.
Pour the batter into the pan and spread evenly with a spatula. Bake for 50 to 60 minutes, or until a skewer inserted into the center comes out clean.
Remove and let cool for a few minutes before unmolding. (It is easier to unmold while it is still warm, before the caramel base hardens). Run a thin knife around the inside of the pan. Put a large flat plate over the top and, holding the pan and the plate, invert it, gently lift off the pan and peel off the baking parchment.
Serve warm.
© 2023 World Spice Merchants https://www.worldspice.com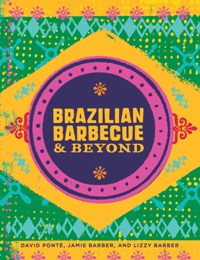 Brazilian Barbecue & Beyond is the June selection for the World Spice Cookbook Club. Brazilian Barbecue & Beyond is currently available for purchase at our retail store.
Reprinted with permission from Brazilian Barbecue & Beyond, published in 2014 by Sterling Epicure. Text © 2014 Cabana; Photography © 2014 Martin Poole. All rights reserved.