Chinese Five Spiced Apple Carrot Pie
Tender carrots are surprisingly sweet when baked in a brown sugar syrup, especially when united with perfect Washington apples and plump little raisin gems. The fresh ginger is a classic pairing with the carrot, and is highlighted perfectly by the Star Anise in our Chinese Five Spice. The all-butter crust recipe I've included is a long-time standby of mine, and produces some of the flakiest and best pastry I've ever tasted. It will definitely be making an appearance at my Thanksgiving table this year!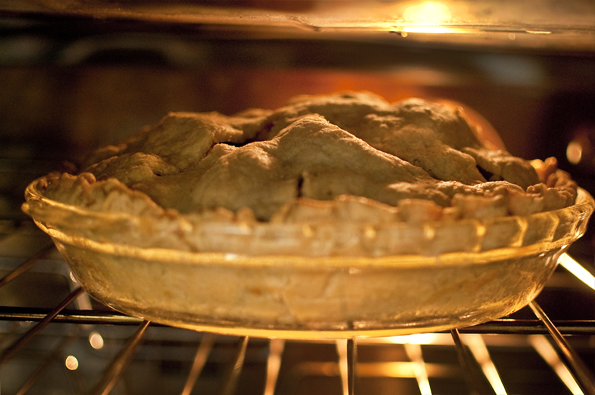 Ingredients
For the Crust:
2 ¼ cups unbleached all-purpose flour
1 cup chilled, unsalted butter
½ cup very cold water
1 teaspoon table salt
1 teaspoon granulated sugar
For the Filling:
3 medium Granny Smith apples, peeled
3 medium McIntosh or Pink Lady apples, peeled
6 large carrots, peeled
1 cup raisins
1/2 cup granulated sugar
1/3 cup brown sugar
½ teaspoon Lemon Crystal
1 tablespoon minced fresh ginger
1/4 teaspoon Utah basin salt
1 tablespoon ground Chinese Five Spice
1 teaspoon Vietnamese Cassia Cinnamon
½ cup boiling water
3 tablespoons dry sherry (or port/liquor of your choosing)
3 tablespoons flour
2 tablespoons softened butter
Instructions
Crust:
Pre-heat oven to 425 degrees
Pour boiling water and 1 tablespoon of the sherry over raisins, and allow to soak
In a food processor, pulse flour, salt, and sugar several times to combine. Add butter. Pulse until mixture mostly resembles coarse meal, with few pea-size pieces remaining. Be wary of over-working. (This can be done using a pastry cutter, two knives, or your hands.)
Sprinkle in cold water, beginning with 3 tablespoons. Pulse until dough is crumbly, but holds together when squeezed. Add water, 1 tablespoon at a time, until this happens. Again, do not over-work.
Turn dough out onto a cutting board. Divide in to two equal portions, and form each portion in to 3/4-inch-thick disks. Wrap tightly in plastic wrap, and refrigerate until firm, at least 1 hour.
While dough chills, assemble filling.
Filling:
Peel and core apples, and cut in to slices 1/8 of an inch thick. Cut carrots on the bias so they're approximately the same size as the apple slices, but 1/16 of an inch thick.
In a large bowl, toss apples, carrots, ginger, sugars, Lemon Crystal, Chinese Five Spice, salt, and flour until well incorporated.
Drain raisins, and incorporate with other filling ingredients. Add remaining 2 tablespoons of sherry to filling mixture.
Unwrap dough; place on a large floured cutting board. Roll dough to a 14-inch round. Wrap dough around rolling pin and carefully unroll over a 9-inch pie plate. Gently fit into bottom and up sides of plate. Using a fork, prick holes all around the dough to allow crust to vent and prevent shrinkage.
Fill crust with filling, pressing gently to tamp down. Dot top of filling with softened butter.
Roll out second dough disk to a ten inch round. Wrap around rolling pin, and drape over filled pie dish.
Trim overhang, and crimp top and bottom crusts together.
Bake pie at 425 for 25 minutes, then reduce heat to 375 for another 35 minutes, or until crust is golden, juices are bubbling, and apples and carrots are tender. Cool for four hours, and serve alone or with lightly sweetened whipped cream.
Notes
For the crust, I recommend using Gold Medal or King Arthur brand flour, and the highest quality butter you can afford.

© 2023 World Spice Merchants https://www.worldspice.com