Noon Chai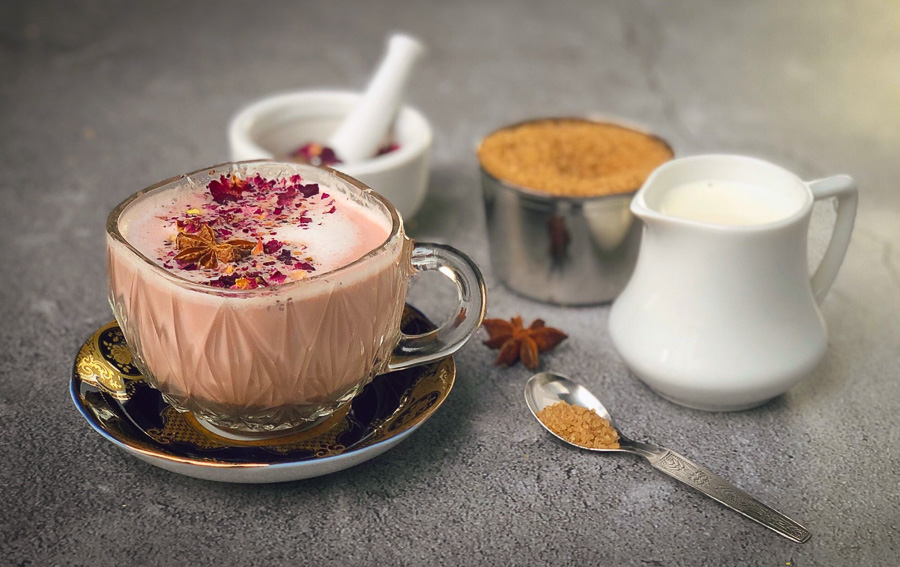 Tackling new culinary challenges is one of my great joys, and I'm always on the lookout for new techniques to try. As it happens, I also love all things floral and pink so when I came across this Noon Chai, it went to the top of my list.
Traditionally made for brides on their wedding day or for special occasions, the drink gets it's beautiful color from aerating the green tea and adding a pinch of baking soda. The two react, creating a deep rouge color. Never did I realize that a cup of tea would require such a technique!  After several failed attempts on mastering this delicacy, luck would have it that a wonderful customer at the spice shop gave me some important tips!
The result was unlike any cup of tea I've ever had. The tea is creamy, floral and scented with cardamom, star anise and roses — with just a little Himalayan pink salt. We garnished the tea with pistachios, rose petals and a star anise, making it a tasty afternoon treat. The marriage between sweet and salty is just perfect.
Ingredients
Noon Chai
For Serving
1-1/2 cups half and half
3 tablespoons toasted pistachios, crushed using mortar and pestle
3 tablespoons roses
star anise, 1 whole star per cup
Instructions
In a medium saucepan over medium heat, add 6 cups water, gunpowder tea, star anise, cardamom pods, Himalayan pink salt, roses, and baking soda.
Simmer the mixture gently for 45-60 minutes or until the liquid is reduced by half. Occasionally use a ladle to aerate the mixture by scooping some up, then pouring it back into the saucepan.
Once reduced by half, remove from heat, and add the ice water and sugar. Further aerate the tea for 10 minutes by scooping some into a ladle, and allowing it to stream back into the pan.
The tea will deepen in color and look frothy. Return to heat and bring the mixture back to a simmer. Immediately take it off the heat and strain with a chinois or fine-mesh strainer.
Taste the tea and adjust sweetness and salt level, if necessary.
Pour tea into cups and top with half and half.
Sprinkle the cups with crushed pistachios, rose petals and 1 star anise. Enjoy warm.
Store tea base in an airtight container up to a week in the fridge.
© 2023 World Spice Merchants https://www.worldspice.com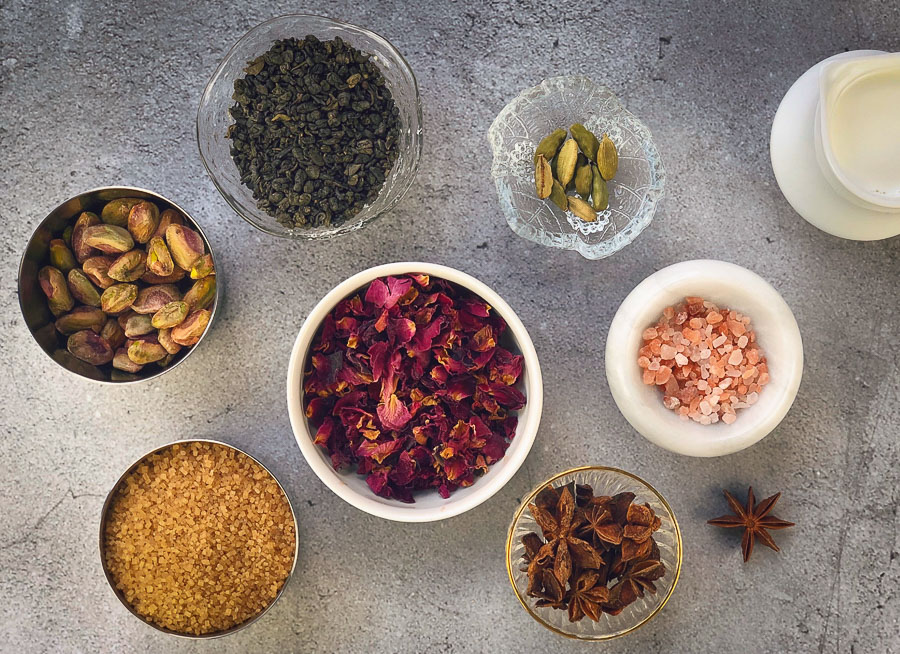 A special thanks to Hassaan Arshad, for sharing his moms technique and giving me the tools to master this treat!