Southern-Style Pork Vindaloo and Green Bean Verakka with Cardamom Cornbread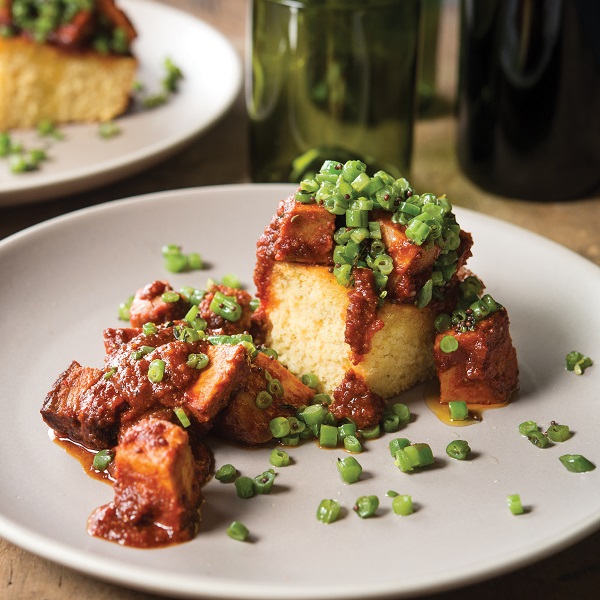 If you've never had vindaloo, you don't know what you're missing. From My Two Souths and Chef Asha Gomez, we get this recipe for a Southern-Style Pork Vindaloo and Green Bean Verakka with Cardamom Cornbread. Tangy, spicy, garlicky pork goes perfectly with the Cardamom Cornbread The Green Bean Verakka is the perfect flavorful complement to both dishes. And, if you're not one to eat pork, lamb will also work perfectly as a substitute. Here's one dish from our September 2017 Cookbook Club book selection that you'll make over and over again. For more on Asha Gomez's recipes, follow her on Twitter and/or Facebook.
From the author: "Vindaloo is a recipe that best represents Kerala's diverse culinary influences, and it also reflects many of my own. My first encounter with tongue-searing pork vindaloo served in many Indian restaurants in the US was a bit jarring. I remember thinking how vastly different it was from the pork vindaloo I grew up eating in Kerala. Like many dishes traveling across the seas amid many interpretations, I feel vindaloo got lost in translation. Vindaloo was originally inspired by a Portuguese dish, carne de vinha d'alhos (meat with wine and garlic), with the wine substituted with palm wine vinegar. This dish was introduced to Kerala and Goa by Portuguese who stored chunks of meat in wine barrels on the ship; the wine would turn to vinegar and thus preserve the meat for long journeys. When they got to shore, the sailors would add local spices to the meat and cook a stew. This dish has many nuances: your palate experiences the tang from the vinegar, sweetness from the sugar, heat generated more from garlic than chiles, and a touch of bitterness from ground mustard seeds. Here, sugar, hot paprika, and a generous amount of garlic transport the pork roast to a faraway land. Choose a nice fatty pork shoulder, or Boston butt, to ensure lusciousness. I particularly enjoy the flavor of the rich sauce once it seeps down into the Cardamom Cornbread. Serving it this way brings to the plate a little something extra; my Louisiana friends refer to this as lagniappe."
Ingredients
For Southern-Style Pork Vindaloo:
12 garlic cloves
1 tablespoon hot paprika
1 teaspoon brown mustard seeds
2 teaspoons white granulated sugar
1 teaspoon kosher salt
1 tablespoon tomato paste
1/2 cup white vinegar
1/4 cup canola oil
1 medium red onion, chopped
1/2 teaspoon crushed red pepper flakes
2 pounds pork shoulder (Boston butt), cut into 1/2-pound pieces
For Green Bean Verakka:
2 tablespoons coconut oil
1 teaspoon brown mustard seeds
1 teaspoon cumin seeds
1 pound (about 4 cups) green beans, trimmed and cut into 1/8-inch rounds
2 teaspoons fresh thyme leaves
1 teaspoon kosher salt
For Cardamom Cornbread:
5 tablespoons melted unsalted butter, divided
2 cups cornmeal
2 teaspoons green cardamom powder
1 teaspoon kosher salt
1 1/2 teaspoons white granulated sugar
1/2 teaspoon baking soda
2 large eggs
2 cups buttermilk
Instructions
For Vindaloo - In a food processor or blender, combine the garlic, paprika, mustard seeds, sugar, salt, tomato paste, vinegar, and ¼ cup water. Blend the mixture until smooth.
In a large skillet, heat the oil over medium-high heat. Add the onion and red pepper flakes and cook, stirring, until the onion is golden brown, about 5 to 6 minutes. Add the pork and the blended sauce.
Stir well to coat the pork, cover, reduce heat to low, and cook until the pork is falling apart and the sauce is thick and lush, about 45 minutes.
During this time, start making the cornbread. After 45 minutes, if needed, uncover the pork, raise the heat, and bring the sauce to a boil to thicken it, about 3 to 5 minutes.
For Verakka - Heat the coconut oil in a medium wok over medium-high heat. Add the mustard and cumin seeds; when the seeds begin to pop, add the green beans, thyme, and salt.
Add ¼ cup water and cook, stirring, until the beans are just tender and the water has evaporated, about 4 minutes.
For Cornbread - Heat the oven to 425°F. Grease a 9-inch cast-iron skillet with 1 tablespoon of the butter.
In a large bowl, mix together the cornmeal, cardamom, salt, sugar, and baking soda.
In a separate bowl, whisk the eggs and buttermilk together.
Pour the buttermilk and eggs into the large bowl with the dry ingredients and mix well. Add the remaining melted butter and whisk. Pour the batter into the skillet and bake for 15 to 20 minutes. Serve warm.
Notes
Notes: For those who abstain from pork, boneless untrimmed leg of lamb can be substituted with great results.

© 2023 World Spice Merchants https://www.worldspice.com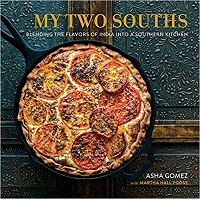 Reprinted with permission from My Two Souths: Blending the Flavors of India into a Southern Kitchen © 2016 by Asha Gomez with Martha Hall Foose. Photo credit: Evan Sung. Published by Running Press.
My Two Souths: Blending the Flavors of India into a Southern Kitchen is the September 2017 selection for the World Spice Cookbook Club. My Two Souths: Blending the Flavors of India into a Southern Kitchen is currently available for purchase at our retail store and online.