Yucatan Rojo Fish Tacos
I don't know about you, but this sunshine activates my wanderlust something fierce! Long days, hot sun… I crave a remote beach and what I like to call "barefoot cuisine." Short of a trip to the yucatan, these tacos do just the trick!
Far from the oily, breaded fish tacos you've had before, these tacos are perfect summer fare, getting their flavor from beautiful swordfish, the smoke of the grill, and the tangy, complex flavor of Yucatan Rojo BBQ Rub. The creamy and crunchy slaw and the crisp, spicy pickled vegetables are refreshing in their acidity, and a perfect complement to the dense corn tortillas. Garnish with plenty of fresh cilantro, and if you've got them, slices of  buttery avocado. With my eyes closed and taco in hand, the Yucatan Peninsula comes to me!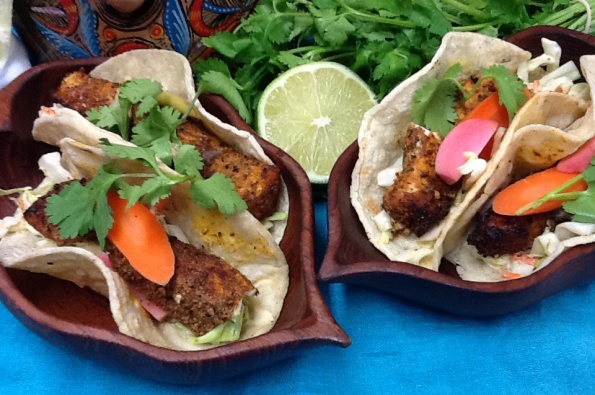 Ingredients
For the fish:

2 lbs. firm white fish, like halibut, swordfish or cod
1/2 cup ground Yucatan Rojo BBQ Rub
vegetable oil (for grilling)

For the slaw:

1/2 head green cabbage, shredded
1 carrot, grated
1/3 cup mayonnaise
3 tablespoons rice wine vinegar
1 lime, zested and juiced
1 tablespoon cumin
salt to taste

For the pickled veggies:

1 bunch radishes, quartered
1 carrot, sliced
1 jalapeno, sliced
1/2 medium white onion, thinly sliced
2 garlic cloves
1 cup rice wine vinegar
2 cups water
3 tablespoons kosher salt
1 tablespoon pequin

To assemble:

Corn tortillas
Lime wedges
Sliced avocado and tomatoes
Fresh cilantro
Instructions
Cut fish into 1 inch strips. Toss the fish and the BBQ rub into a Ziploc bag, making sure that the fish is covered with the spice.

Refrigerate overnight

.
Combine all of the ingredients for the pickled veggies together in a covered container, and let them

marinate overnight

in the refrigerator.
Combine all of the ingredients for the slaw together in a large bowl. Taste for seasoning (you might want to add more salt). Transfer into a covered container and refrigerate.
Season the fish with salt and a squeeze of lime, and grill quickly over high heat, lightly brushing with a little oil once the pieces have been flipped.
Heat the tortillas on both sides on the grill. Put a spoonful of slaw on the tortilla, then some grilled fish, then top with the pickled veggies, sliced avocado and tomatoes.
Enjoy!
© 2023 World Spice Merchants https://www.worldspice.com