Five Seed Roasted Potatoes
This fabulous twist on roasted potatoes generously comes to us from chef Jerry Traunfeld of Poppy restaurant here in Seattle. The spice mix is a version of Bengali Five Spice, a.k.a. Panch Phoron, using ajwain seed in place of fennel. I made this for a celebratory Sunday evening feast after enjoying  the sunny afternoon harvesting potatoes. Lots of love went into growing our potatoes this year, and it was a joy to toss them with this exquisite mixture.  Thanks, Jerry!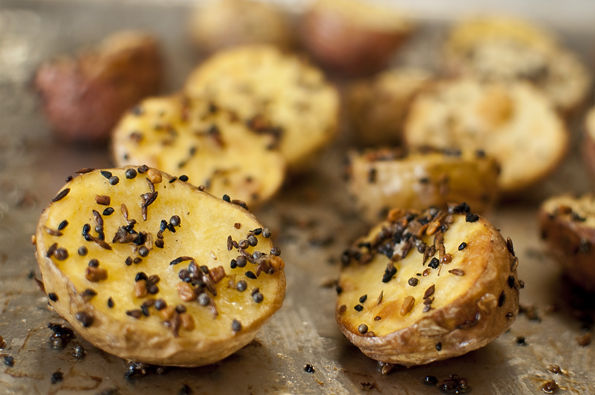 Instructions
Parboil whole potatoes until just tender, drain and slice in halves.
In a small heavy skillet, heat oil over medium heat and add brown mustard seeds. When they begn to pop, add fenugreek seeds and toast for a minute or two. Then add remaining seeds and toast for a few minutes more until all are browned.
Toss toasted seeds and oil with potatoes, add 1/2 tsp. salt and roast on a sheet pan at 425 degrees for 20-30 minutes until golden. Remove from the oven, sprinkle with another 1/2 tsp. of salt and serve.
These flavorful potatoes make a lovely side dish alongside roasted meats, breakfast eggs or just about anything!
© 2023 World Spice Merchants https://www.worldspice.com